Comics & Sculpture
Sculpture, one of the oldest of the arts, consists of the conception and realisation of forms in three-dimensions, including both freestanding and bas-relief.
Some of the earliest examples of what we might call sculptural "comics" are to be found in religious edifices. At the time, these sculptures were a tool for educating and proselytizing to a largely illiterate populace. By visually depicting the direct consequences of sin —hell— these works of narrative art could dissuade the audience from coveting his neighbor's wife, or seeking out the greener pastures over the hill. We find an example of this form in Hildesheim Cathedral in Germany. The Bernward Doors (c. 1015) are ornamented with sixteen sculpted panels depicting bible stories: On the left, the story of Adam and Eve, and on the right, that of the life of Christ.
Sculpture: an Educational Tool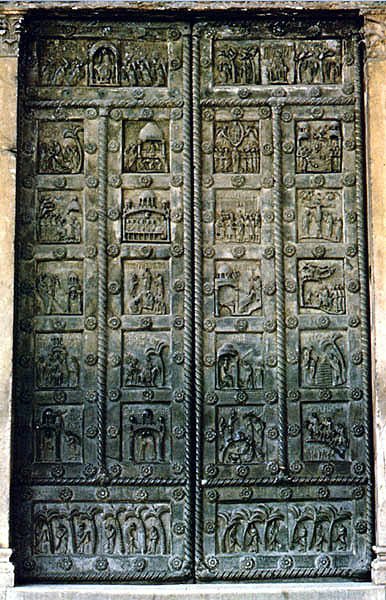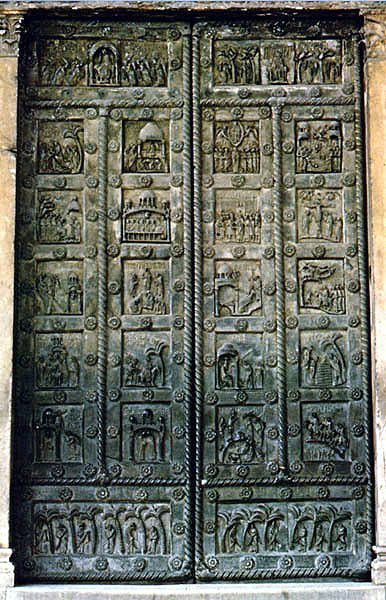 If we expand our definition of sculpture to include materials such as stained glass, we find the many of the finest examples of the art have similar "comic book" elements. Sainte-Chappelle in Paris and the cathedral of Chartes are adorned with narratives that tower over 12 meters in height.
Stained glass windows are particularly interesting in that the medium's technique of depicting characters and scenes in sharp outlines and field of bright color echoes the look we find in ligne-clair comics, one of the emblematic styles of franco-belgian bande dessinée. This technique, defined by simple lines and bold fields of color, with each element isolated by black lines of a regular weight. In both comics and stained glass, this style emerged as a response to the technical restraints of the medium.








In a more modern example, we can think of the pop-up book. A pop-up book uses hidden mechanisms, folds, window, pull tabs, and more, to create volume and movement within the pages of an otherwise flat book. The dynamism and action of certain comic books have lent themselves well to adaptation in this sculptural format, such as Astérix, les bagarres, le pop-up (2015, éditions du Chêne). The album was created by José Pons, a pop-up book designer, and included scenes which extended over 30cm off the page. The comics periodical Fluide glacial got in on the action with nine animated scenes, and Panama Editions brought the friendly neighborhood Spider-Man to life in three dimensions with the aptly named The Amazing Spider-Man Pop-Up (2007).
Fan or Sculptor?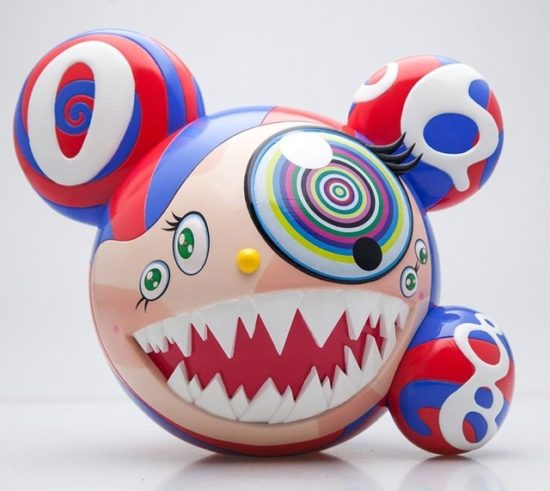 Comic books have had a clear impact on the collective imagination of the world, and many modern sculptors have clearly drawn inspiration from the medium.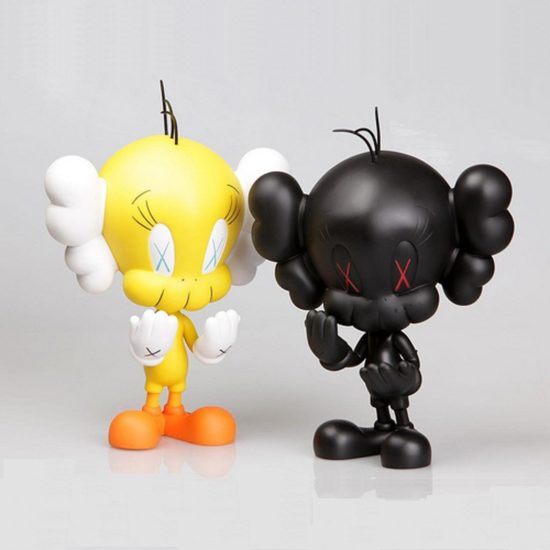 Takashi Murakami, a Japanese fine sculptor, painter, and designer, creates works that are deeply connected to the culture of manga.
Kaws, a famed New York street artist, is also inspired by pop culture and references of comic book characters abound in his work. While Kaws began by working in the world of 2-D art, his creations have been recreaded by the company Medicom as limited edition products…

Which begs the question: Are these just toys for adults, or sculptures in their own right?

Figurines and statues of comic book characters are to be found across the globe, from mass-produced items designed to make a buck, to homages from fans, and even civic installations in cities eager to showcase their cultural patrimony.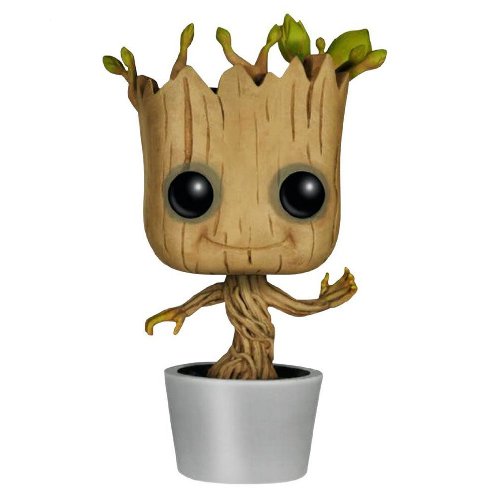 Want to know more?
Le sculpteur, Scott McCloud (2015, Rue de Sèvres)
Camille Claudel, Éric Liberge and Vincent Croisé (2012, Glénat)
Strangers in Paradise, Terry Moore (1993, Abstract Studio)