Our Mission
MCAF's mission is to be a leading platform for the comic arts in Quebec and beyond, to broaden public knowledge of and engagement with the comic arts, and to promote cultural exchanges and interactions between creators, readers, and the public at large.
MCAF seeks to expand the role of the comic arts in the cultural sphere and to improve the dynamism of Quebec's comic arts industry. MCAF will become a crossroads between Europe and America, a professional and bilingual organization which unifies the field's players.
Our goals for 2021:
Present the comic arts from both francophone and anglophone traditions and perspectives
Create a meeting place for encounters, exchanges, and education
Become an important source for information on comic arts in the digital space
Promote Canadian and Quebecois comic arts internationally
Promote Montreal as an international center for the comics arts
Develop the social and educational potential of the comic arts
History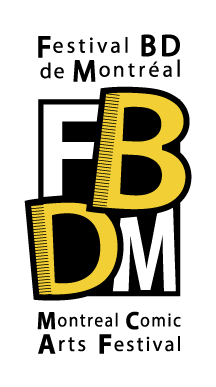 Founded in 2011, by François Mayeux and Myriam Lalumière, the Montreal Comic Arts Festival is a non-profit organization. MCAF is organized by a General Director supported by a committee of volunteers and contract workers. In 2019 MCAF was able to bring on a full-time Exhibitions and Special Events Coordinator, thanks to the support of Emploi Québec.
May 2018
For it's seventh year, MCAF launched a series of events at the Grand Hall of Montreal City Hall. The rain didn't keep nearly 11,500 comic book lovers from visiting the Festival's iconic tents in La Fontaine Park to appreciate the work of over 170 cartoonists. This year's programing was easy to navigate due to a convenient booklet that included all the details on the over 70 activities and 10 expositions MCAF presented.
This year's poster was designed by  Meags Fitzgerald (Long Red Hair).
In the fall, MCAF organized a delegation of a dozen cartoonists to promote Quebecois comic arts at the Festival international de la BD d'Alger.
May 2017
MCAF joined forces with the team at PLANCHES to curate and present the outdoor exhibit Rues de Montréal, which brought together the work of 13 creators as part of the celebration of Montreal's 375th anniversary. This project will be released as a book in May of 2019.
This year also saw MCAF nominated as a finalist for the prestigious Grand prix du Conseil des arts de Montréal. More than 12,000 visitors came to the Festival — which had grown to fill two enormous tents — to meet and greet with over 180 cartoonists and to attend 64 activities.
The 2017 poster was created by Boum (Boumeries).
May 2016
Attendance at the Festival topped 10,000 visitors for the first time, and an additional 45,000 people visited one of MCAF's many expositions throughout the month of May. For the first time, cartoonists from the USA were included in the programing. More than 150 cartoonists were present, including a strong contingent of self-published creators who sold their creations from 28 tables. 1,200 people participated in the Festival's programming, with over 50 events on offer.
This year's double poster was designed by Jean-Paul Eid (La Femme aux cartes postales).
May 2015
This was the year that the Festival de BD Montréal became officially bilingual and unveiled its anglophone name: The Montreal Comic Arts Festival! The Festival held its first-ever press conference and became the first comic arts festival in Montreal history to be held for four consecutive years. Despite some unpleasant weather, over 6000 attendees crowded into our tents along with nearly 150 creators.
This year's poster was designed by Seth (Palookaville).
May 2014
A delegation of Algerian cartoonists were among the 115 creators present at the Festival, to the great pleasure of over 8000 attendees.
This 2014 poster was designed by Jacques Ferrandez (Carnet d'Orient).
May 2013
Our second annual Festival attracted no less than 7000 visitors and some 120 cartoonists, including 11 international creators.
The creators of the Nombrils series, Delaf and Dubuc, drew this year's poster.
May 2012
Over 5000 attendees and participants braved the rain to make it out to the inaugural Festival.
Michel Rabagliati (creator of the Paul series) designed the event's poster.

---