The driving force behind the festival is a small, passionate and motivated team. Here they are with three questions.
1- What motivates you in your job at MCAF?
2- What is one of your ambitions for the future of the festival?
3- Can you tell us about one of your discoveries for the year 2022?
Thanks to Boum who made the beautiful portraits of our team!
Team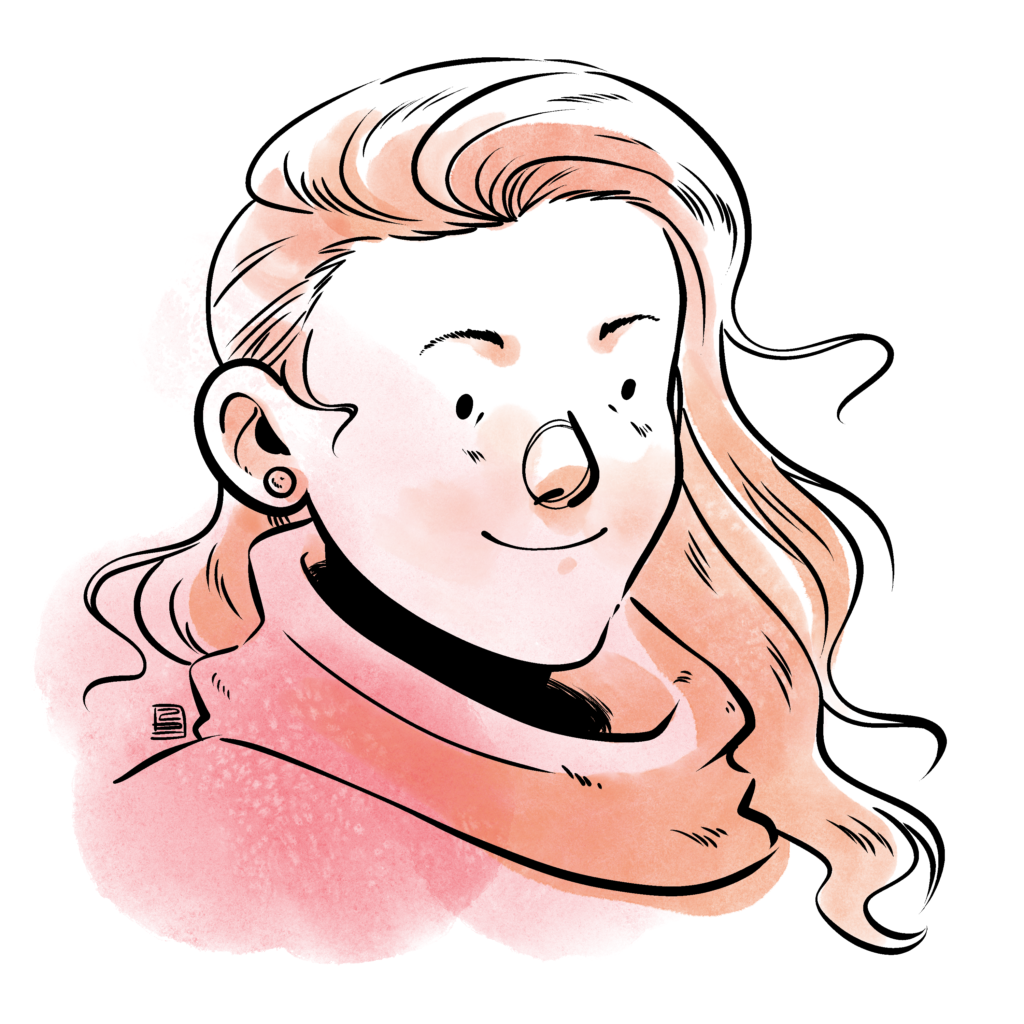 Mélanie La Roche
Executive Director
Comic artists and the quality of the Quebec comics published; they deserve the best festival to showcase them!
I would love to present large-scale immersive comic arts exhibitions with original panels.
I had the pleasure of discovering Alain Chevarier's drawing and Mark Mcguire's writing in Géant aux pieds d'argile.


Virginie Mont-Reynaud
Programming Director
I love discovering new things. Even if I unfortunately don't have the time to read everything, my job allows me to explore all that comics have to offer and it's magical!
I hope to see Montreal become completely comics to celebrate the richness of the medium and the community that makes it happen.
La couleur des choses by Martin Panchaud. This is a beautiful UFO in the world of comics today. A little reluctant at first, I let myself be carried away by this excellent comic.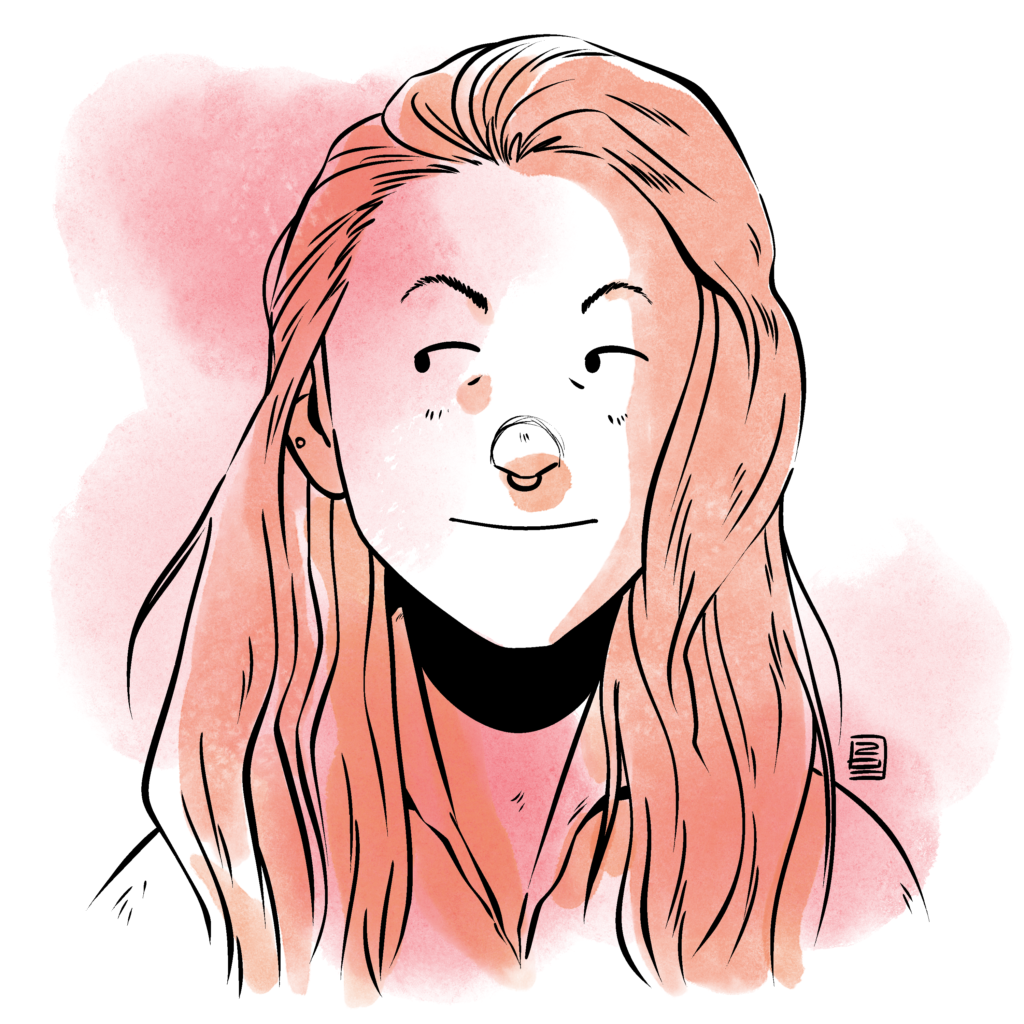 Maude Bourassa-Francoeur
Project Manager – Cultural Mediation
Read a lot of comics and help others discover them through original activities. Share the good news that comics are for everyone.
I hope that MCAF will welcome more and more creators, both international and local.
Rereading feminist concepts under the microscope of Liv Strömquist. It's much more digestible than some essays, and it's really funny.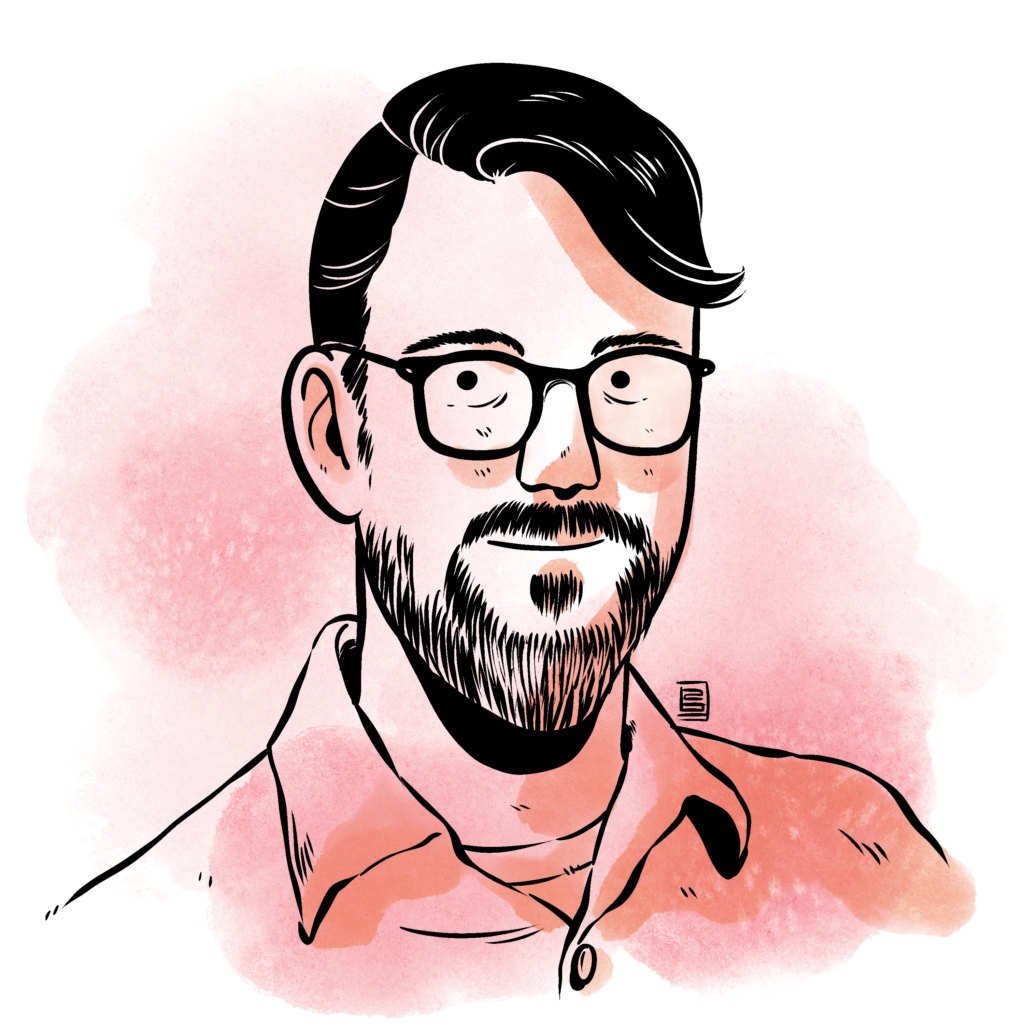 Dominique Carrier
Copywriter and Social Media Manager
Having been in the world of comics for years, both as a reader and an author, I feel privileged to be able to combine this passion with my work on a daily basis.
I wish to help diversify and showcase artists from here and abroad and introduce people of all ages to the vast world of comics.
Confessions d'une femme normale by Éloïse Marseille. Funny, touching and expertly told, it should be read without hesitation, especially considering this is her first published work!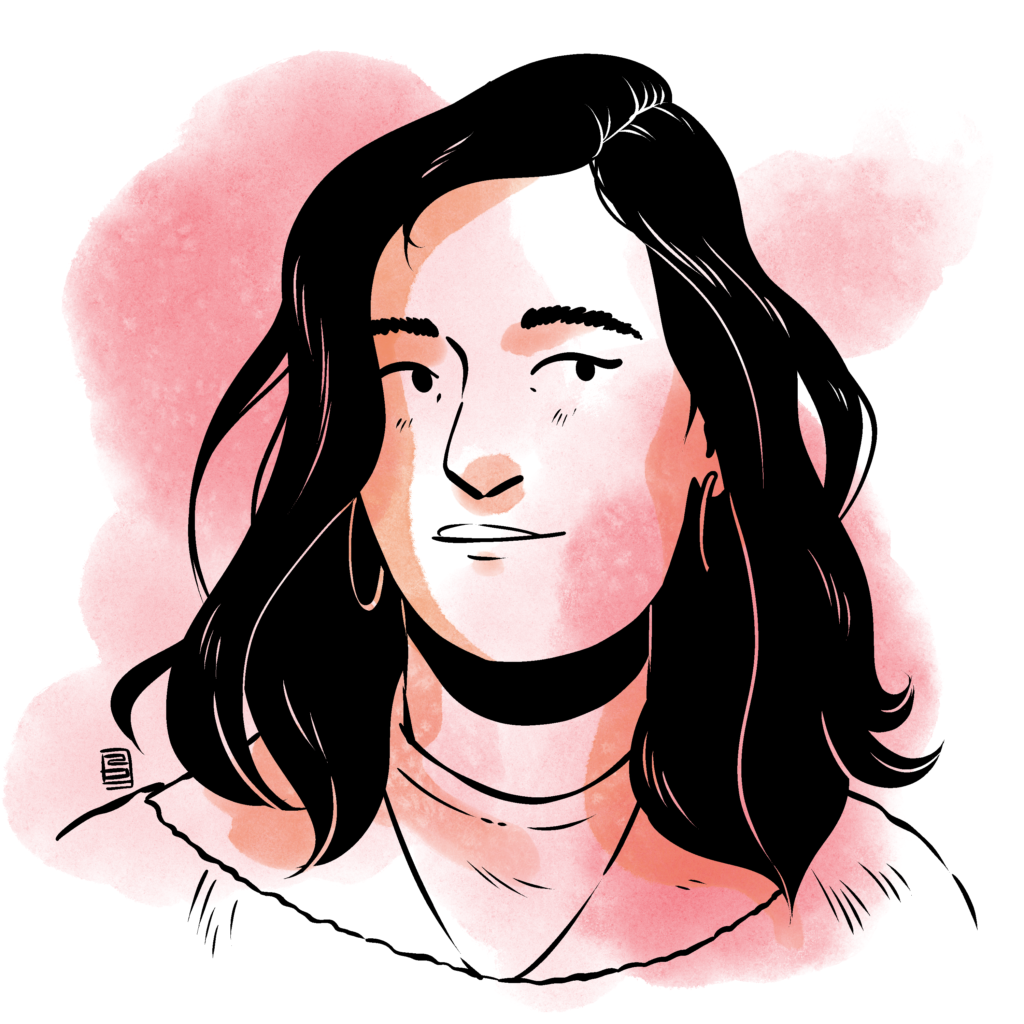 Manon Laborde
Project Manager – Programming and Logistics Support
Just arrived from France for an internship, I am highly motivated to find myself at the heart of an event that brings so many people from all walks of life, all united by their passion for literature and the promotion of the ninth art! It's also an opportunity to discover a new way to work, as well as new artists and new books, obviously.
To make it known internationally and across the Atlantic! 
I really liked how coming of age is depicted in L'année où je suis devenue ado, by Nora Dasnes. The story is pretty classic, but it works well, and the soft colour illustrations are really nice.
Organization Committee
The Festival team is also made up of passionate volunteers, experts in their respective fields, who share the same love of the comic arts and the same desire to make its creators known. The members of committee present themselves here by answering three crucial questions.
1- What do you do for a living?
2- What do you like about the Festival?
3- What kind of comics do you like to read?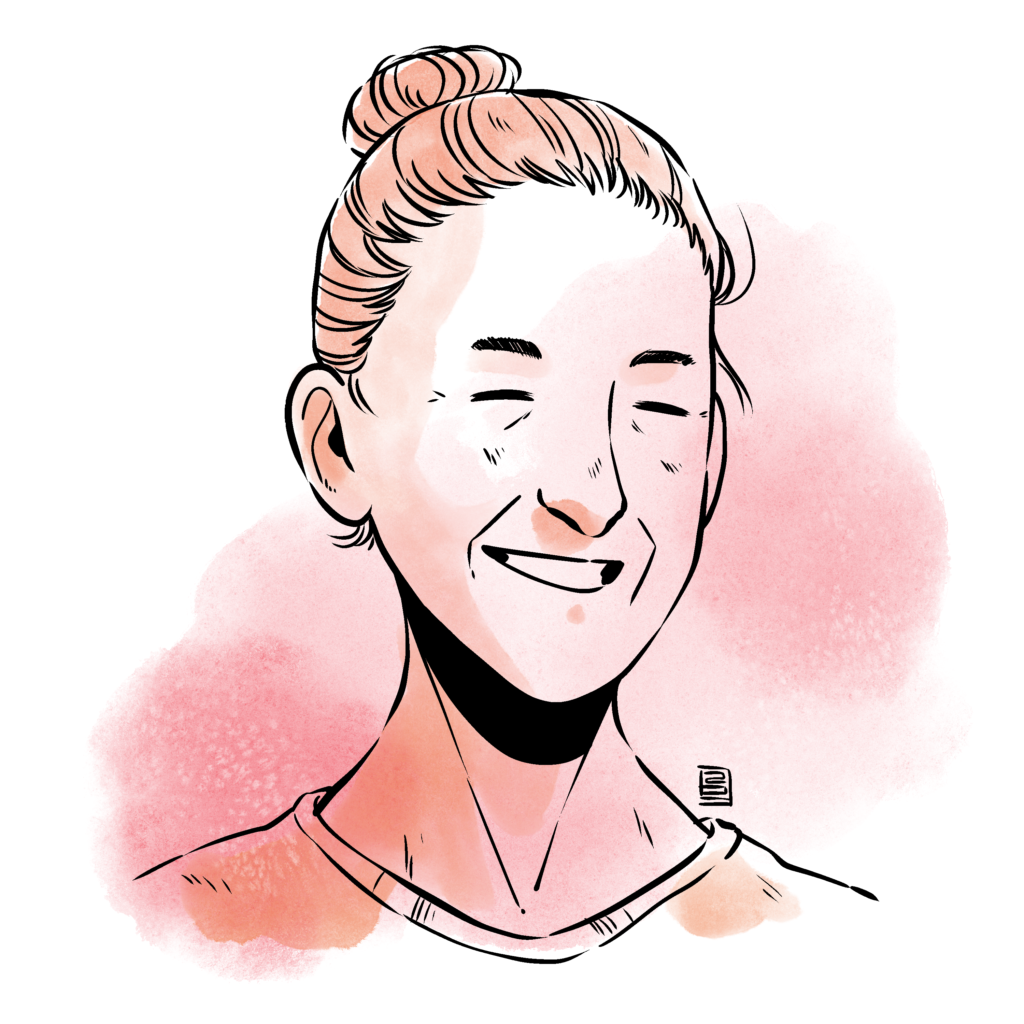 Cécilia Boissy
Graphic Designer
Member of the committee since 2013
I have been a senior graphic designer for the past 15 years in a communication and marketing agency in Montreal. Otherwise, I ride my bike all year round, rain or shine, which allows me to discover new places. My two favorite hobbies are comic books and model airplanes.
I love the idea of participating in the organization of an event around comics with a great team like ours. I love interacting with all the creators and all the people who come to visit us, whether it's at the signing sessions or in the lines. And let's not forget the discovery of new artists, and as many graphic styles!
My reading choices will depend on my mood, the weather, suggestions, word-of-mouth… so my choices are very disparate. I read classic franco-belge, dystopian, historical, SF, youth, Japanese or Korean manga, as well as Quebecois comics. The main thing in all this is that I can escape, discover and learn. However, I don't have enough time to get into American comics…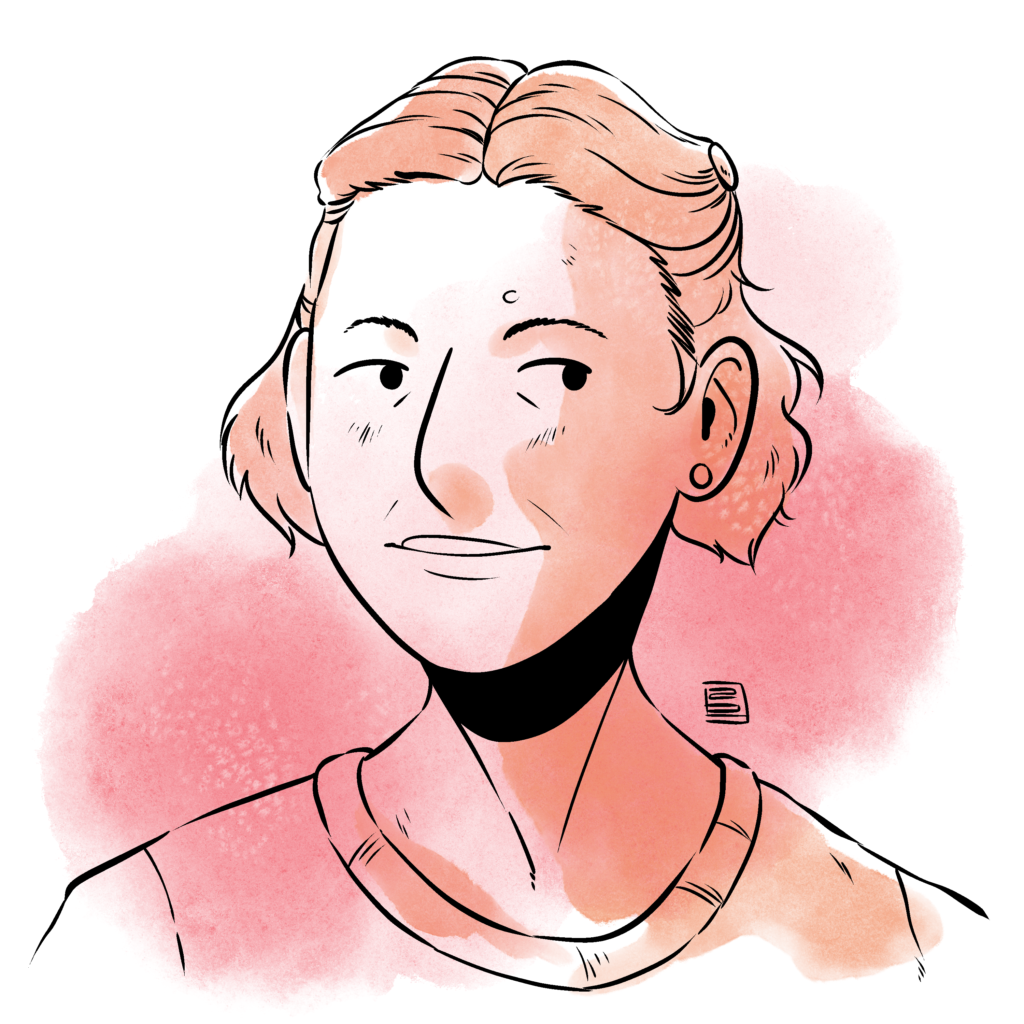 Linda Furstenberger
Web Development
Member of the committee since 2013
I am the director of web technologies at code67. I supervise the team of developers, I do technology watch and I implement solutions… also technology!
I love the collaborative atmosphere that reigns within the organizing committee. It's really a great gang of passionate people! I also like the atmosphere of the event; it's outdoor, it's family-oriented, it's free, it's fun… the whole package!
I read mostly graphic novels… I read the whole "De Troy" universe series when I was a teenager (Lanfeust, Trolls, Gnomes, etc.). In bulk, I love: Michel Rabagliati, Manu Larcenet, Boum, Jean-Paul Eid, Boulet, Guy Delisle and the Magasin Général series, read from France before coming here!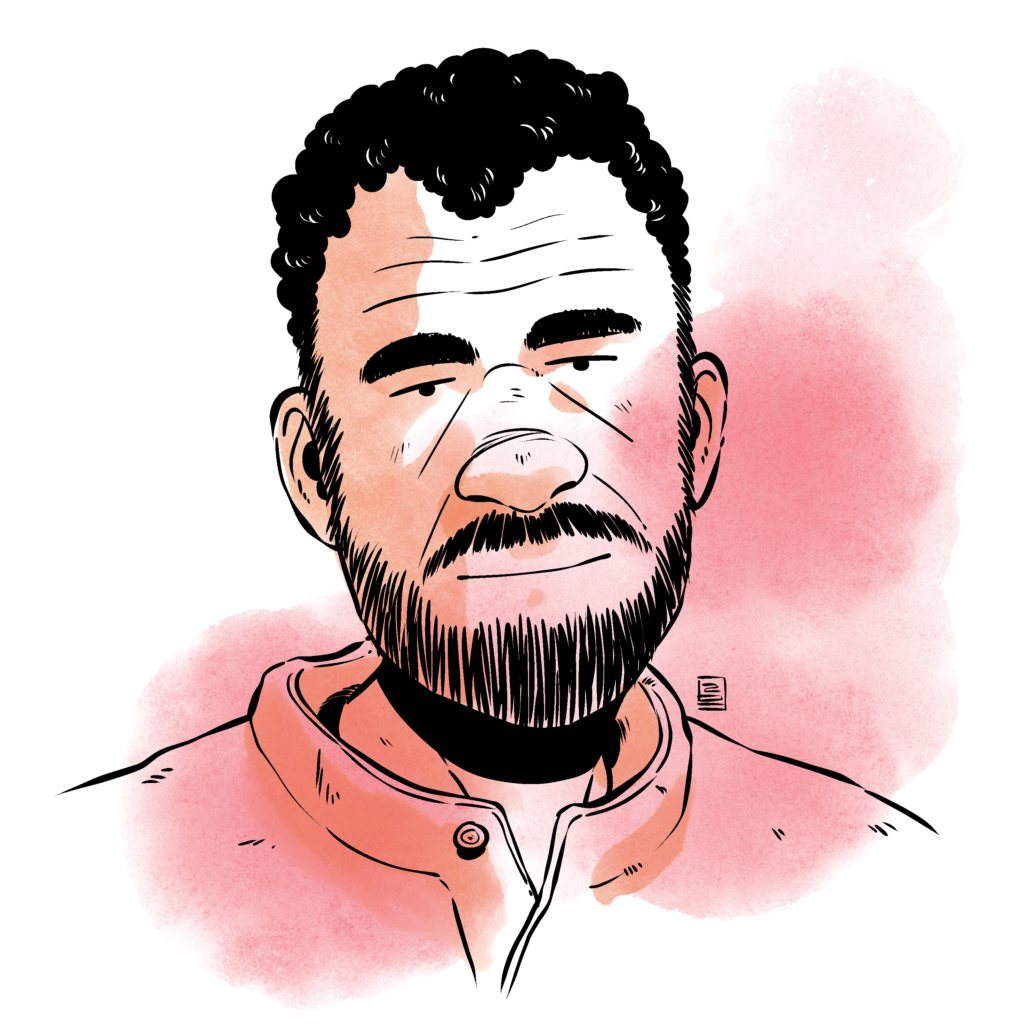 Martin Morin
Facebook Manager, Editor
Member of the committee since 2015
I am a financial editor, which may surprise (and scare) those who know me. To make a better impression, I'll say that I'm also an editor for the comic book magazine Planches and that I'm the literary director of Mécanique générale.
I love walking around the Festival to see familiar faces, discover new ones, receive comments or questions from people who visit us, the adrenaline of the opening, the frenzy of the busy times, the complete oblivion that I have to be careful with my money, etc.
I started to read comics again so I'm a "late bloomer" and I'm still playing catch-up. I went from Philemon's adventures to American comics, then I stumbled upon the publisher Vertigo (read: Sandman) and from there I tried everything from horror manga to illustrated poetry. I don't like reading comics on screen, though.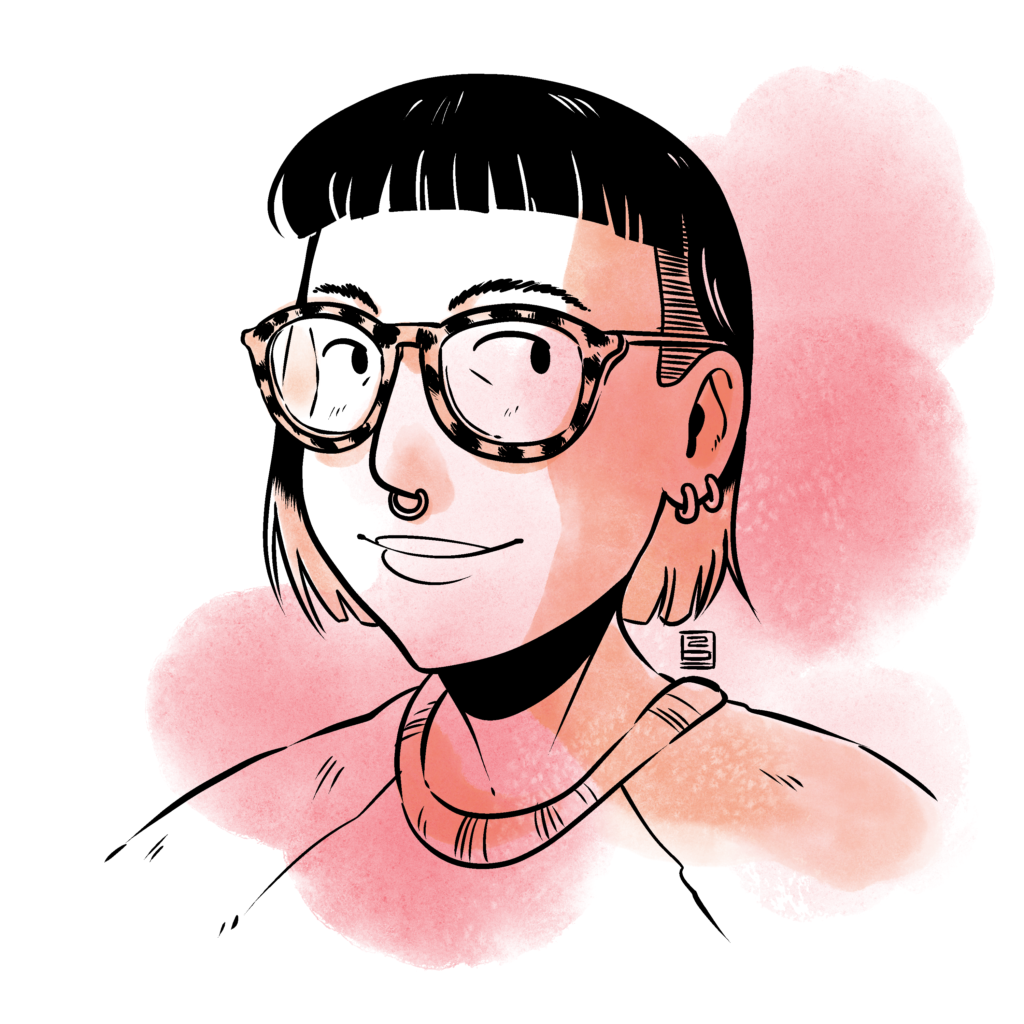 Pauline Laurent
Volunteers Manager
Member of the committee since 2019
I'm a project manager in an agency that makes video game trailers. I love seeing the project go from the initial concept to the final video and seeing the reactions of the players once it's online. It's like working on a comic book, but it's a video, and it's for video games… It's not exactly the same actually….
I like the richness and the life of the festival, each year more and more complete and varied. I like that it is part of the tradition of free festivals in Montreal, that culture is part of the life of the city.
I read everything: Franco-Belgian comics, Quebecois comics, comics, manga… I am very attracted by the work of colors and when the emotions are right, but I also like absurd humor and science fiction.
Programming Committee
This year sees the creation of a Programming Committee whose mandate to develop and prepare a unique, diverse and interesting programing slate for the Festival that reflects the broader cultural moment. All the people chosen have been involved with the Festival for several years and are important individuals in the Montreal comics community.
Catherine Emmanuel Brunet | Moderator
Rodolphe Legrand | Representative & Comics creator
April Petchsri | Comics creator
François Vigneault | Cartoonist & Translator