A New Publishing House from Montreal
The Montreal Comic Arts Festival has long had the idea to launch a publishing house, it's a dream that always got put on the back burner each spring, when all of our team's energies inevitably were dedicated to the business of putting on our annual Festival. But we just couldn't keep the idea out of our heads, so here we are!
Why a new publishing house? Well, it was a natural extension of MCAF's mission, and we let ourselves get carried along by the idea. Publishing an anthology (as we had successfully done in collaboration with PLANCHES (Rue de Montréal) and the Lyon BD Festival (Montréal-Lyon), is an ideal way to do the very thing that has always been at the heart of our mission: To bring comics and bande dessinee to readers here in Montreal and beyond, celebrating the artform in all its forms and styles.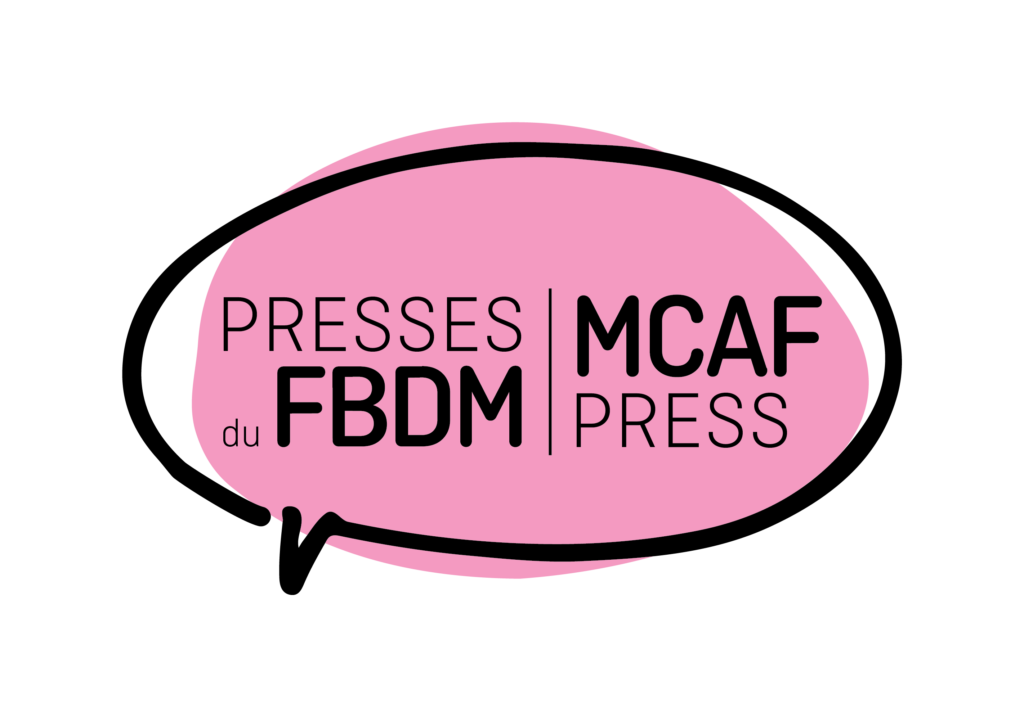 In fall of 2019 MCAF finally decided to take the plunge, and Les Presses du FBDM | MCAF Press was officially launched in spring of 2020… Yup, right in the midst of a global pandemic! Because as they say, timing is of the essence!
The first volume of our ongoing series Montreal Comic Arts Fables, Lettres à Montréal, appeared in May of 2020. This book set the template for the new series, featuring a collection of creators both from Montreal and beyond who have made their mark on the Festival over the years.
One year later, the family grew with the addition of X, an anthology that was part of the Montreal Comic Arts Festival's tenth anniversary celebrations. Once again a diverse and bilingual group of creators created unique works for the book.
Thank you, dear reader, for joining us on this adventure. We could never have brought this wild dream to fruition without your support. Each of the volumes of Montreal Comic Arts Fables was financed in part by a crowd-funding campaign, with tremendous support from the community. With your encouragement and enthusiasm we'll be creating new books every year so that no matter where you are in the world you can experience the pleasures of MCAF, on paper at least!
Book 1 : Lettres à Montréal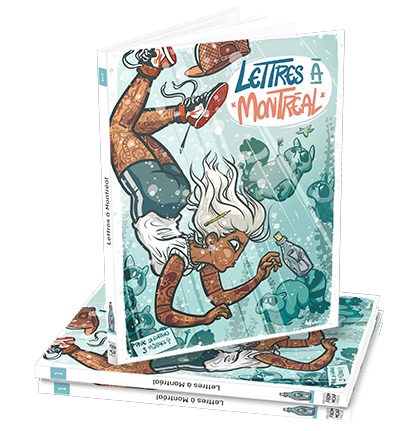 No less than 27 cartoonists participated in the creation of the inaugural publication of Les Presses du FBDM | MCAF Press. Within their stories, in French or English, the city of Montreal is waiting to be discovered.
This first collection does not, however, have the ambition to be an anthology of love letters to the metropolis. Some will see the opportunity to do so, of course, but the intention is simply to make even the thinnest of reference; a wink that reminds us that it is here, in this ambivalent city, that we embrace the dualism that is both European and American, French and English. Like the city and the festival, Lettres à Montréal is bilingual, with each story being told in the language of the creator.
Axelle Lenoir / Boum / Catherine Bard / Christopher Olson / David Daneman / Dimani Mathieu Cassendo / El Diablo / Elyon's / François Vigneault / Iris / Jackie Davis / Jacques Ferrandez / Jeik Dion / Jennifer Kiakas / Julie Rocheleau / Julien Dallaire-Charest / Keenan Poloncsak / Laurence Dea Dionne / Meags Fitzgerald / Mélodie Vachon Boucher / Michel Hellman / Pierre Lecrenier / Richard Suicide / Salgood Sam / Xavier Cadieux
** An unthinkable error has sadly become reality: the magnificent story created by Jean-Paul Eid was printed without the text. All books purchased from now on will have an insert with the story as it should have been published, so you will have everything as it should have been from the start.
Book 2 : X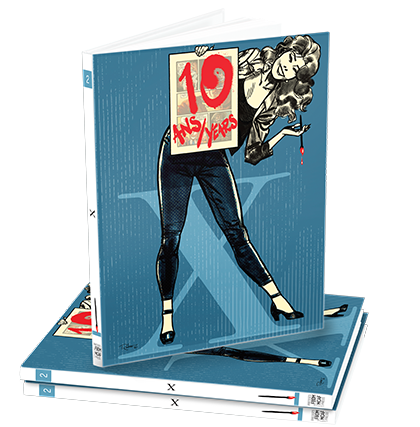 This second volume of MCAF's annual comics anthology includes the work of 25 creators from around the world (even all the way from Japan!), all of who have visited the Festival in years past and made their mark on the Montreal comics community.
All of the stories in this volume, presented in a dizzying array of styles and forms, connect in some way with the enigmatic title of the book, X, a winking allusion to the Festival's tenth anniversary, which was celebrated in 2021. The delightful stories collected here showcase the amazing artistic diversity of the global comics community, just like a Festival between two covers! The package is completed with a pair of introductions, in French and English, by two essential figures from the Montreal comics community: Michel Viau and Salgood Sam.
Brigitte Archambault | Frédéric-Vivianne Auln | Jimmy Beaulieu | Sophie Bédard |Hélène Bouchard | Myriam Bourgeois | Talhí Briones | Cab | Catherin | Dame Darcy | Francis Desharnais | Jean-Paul Eid | Philippe Girard |Jordana Globerman | Mélanie Leclerc | Christian Quesnel | Rokkakkei | François Samson-Dunlop | Yokoi Sanpo | Squared-Idea | Jessica Thomas | Henriette Valium | Marc-Renier Warnauts
Book 3 : Rencontres
Coming in 2022!