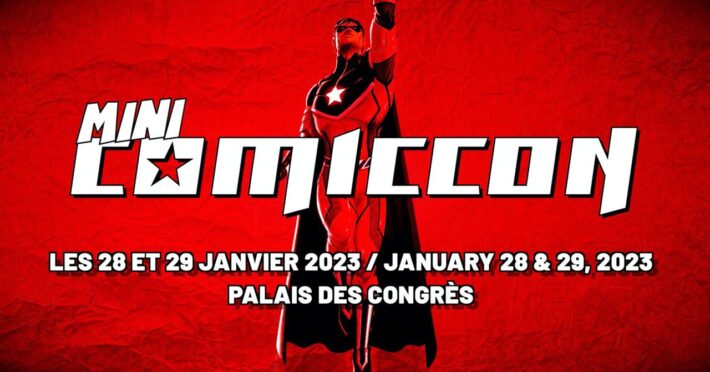 Mini Comiccon de Montréal 2023! // 2023 Montreal Mini-Comiccon!
28 January 2023 11:00 - 19:00
Palais des congrès de Montréal
1001, place Jean-Paul-Riopelle, Montréal H2Z 1H2
Le mini Comiccon de Montréal est de retour au Palais des congrès les 28 et 29 janvier 2023. Le mini Comiccon est un événement destiné aux amateurs de culture populaire. Il s'agit d'une occasion unique de dénicher des articles uniques, entre autres des T-shirts, des « comic books », des jouets, des figurines, des DVD ou Blu-ray, ou encore des répliques.
La diversité des activités et des thèmes abordés au Comiccon de Montréal attire un public de tous les âges, des jeunes familles aux collectionneurs aguerris en passant par des adolescents passionnés.
L'entrée est GRATUITE pour tous!
HEURES D'OUVERTURE!
Le samedi 28 janvier 2023 de 11 h à 19 h
Le dimanche 29 janvier 2023 de 11 h à 17 h
Plus d'info à venir!
___
The Montreal Mini-Comiccon is back at Palais des congrès January 28 & 29, 2023. It features a shopping experience aimed at fans that are looking for all collectors of games, T-Shirts, comics, toys, statues, DVDs/Blu-rays, replicas and more.
The vast range of activities and interests represented at Montreal Comiccon draws attendees of all ages, from families with young children to teenaged fans to seasoned collectors.
FREE admission for all!
OPENING HOURS!
Saturday, January 28, 2023 from 11:00 a.m. to 7:00 p.m.
Sunday, January 29, 2023 from 11:00 a.m. to 5:00 p.m.
More info to come!