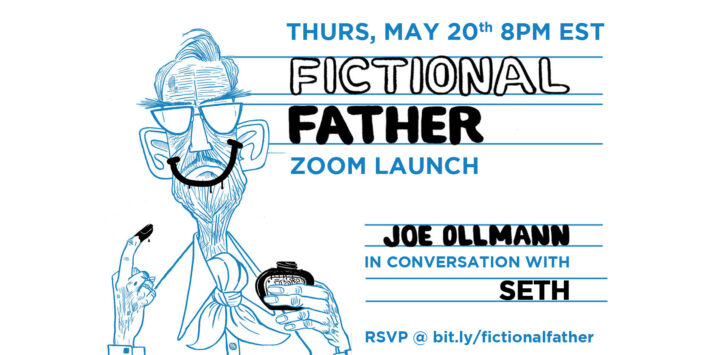 Joe Ollmann's FICTIONAL FATHER launch w/ SETH!
Thursday, May 20th at 8PM EST, The Beguiling and VANCAF present cartoonist JOE OLLMANN live on zoom to celebrate the release of his new book FICTIONAL FATHER from Drawn and Quarterly. Joe will be joined in conversation by the one and only SETH! While supplies last, bookplates signed by Joe Ollmann will be available at the Beguiling with purchase of FICTIONAL FATHER, available May 18th.
Preorder yours here on our webstore: http://bit.ly/fictionalfatherbeguiling
RSVP to the zoom event or watch it here on our Facebook Live
——————————————————
About Fictional Father: A RECOVERING ALCOHOLIC LIVES IN THE SHADOW OF A WORLD FAMOUS COMIC STRIP AND ITS TYRANNICAL CREATOR Caleb is a middle-aged painter with a non-starter career and a checkered past. He also happens to be the only child of one of the world's most famous cartoonists, Jimmi Wyatt. Known for the internationally beloved father and son comic Sonny Side Up, Jimmi made millions drawing saccharine family stories while neglecting his own son. Now sober, Caleb is haunted by his wasted past and struggling to take responsibility for his present before it's too late. His always patient boyfriend, James, is reaching the end of his rope. When Caleb gets the chance to step out from his father's shadow and shape the most public aspect of the family business, he makes every bad decision and watches his life fall apart. Is it too late to repair the harm? Are we forever doomed to make the same mistakes our parents did?