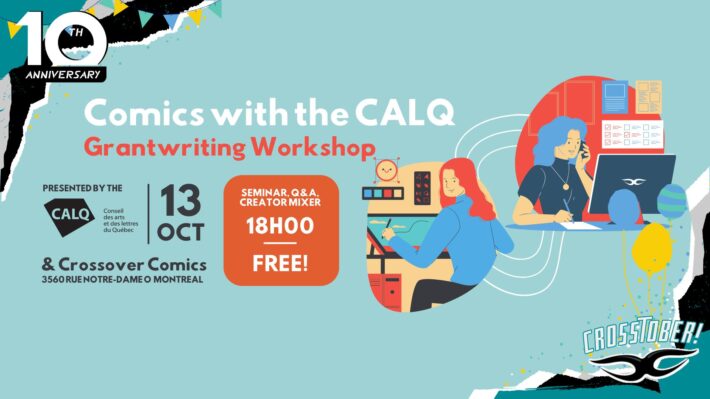 Comics and the CALQ: Grantwriting Workshop
Crossover Comics
3560 rue Notre-Dame Ouest Montréal, QC H4C 1P4
514-284-7373
Librairie Crossover Comics is celebrating our 10th year anniversary in 2022! We are running many events this CROSStober, and this one's for every kind of comic creator in Montreal: Professional, emerging, aspiring! Penciller, inker, colorist, letterer, writer, auteur!! Traditional and digital, print and web!! Every possible genre! We would like to invite you all to a Grantwriting Workshop featuring the Conseil des Arts et Lettres du Québec!
Taking place in the store's basement on October 13 at 18h00, program officer Dominique Bilodeau will be giving a presentation on the CALQ, its' practices, and how to apply for Quebec grants. You may also have many questions for him regarding eligibility and processes, which he will heartily answer.
Lastly! We encourage you to bring a small amount of your wares-- hang out and socialize after the presentation, get to know your "co-workers", trade tips and zines! Maybe even take two minutes to approach us, Crossover Comics, to take on your creations on consignment!
Creators are the lifeblood of our community so we hope this is a good introduction of us to you, in this, our wonderful month of Crosstober.