The Programming of the 12th MCAF!
Montréal, April 25 2023 – The Montreal Comic Arts Festival presents a rich program for its 12th edition with more than 60 free activities offered around its " Creation: from imagination to reality " theme. For a second year in a row, MCAF will be held on SDC Rue Saint-Denis territory from Friday, May 26 to Sunday, May 28, 2023. Saint-Denis will become a pedestrian street for the occasion between Roy and Gilford Streets to welcome more than 250 artists and 160 exhibitors from here and abroad under its tents.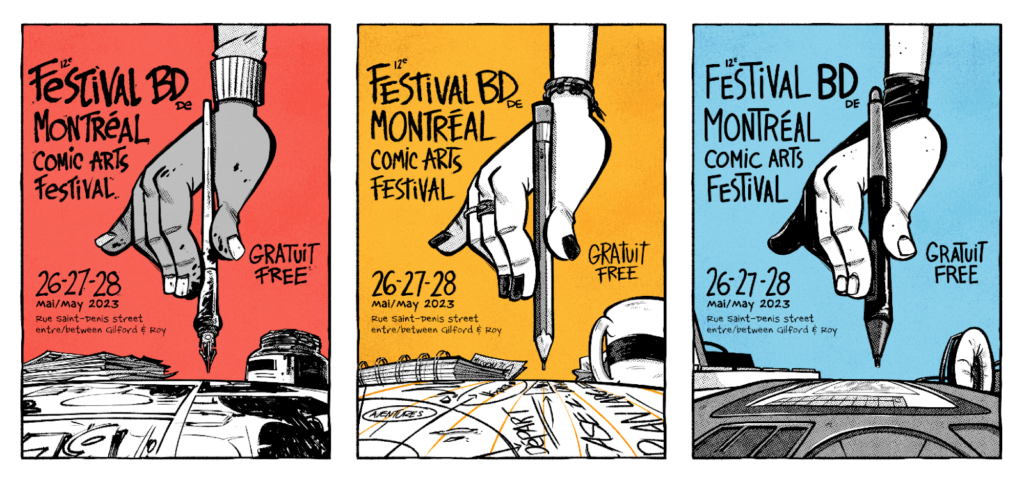 Renowned Comic Artists Gathered in Montreal
For its 12th edition, MCAF is pleased to welcome more than 250 comic artists from Québec, Canada, and abroad to Montreal. Among the guests in attendance will be Martin Panchaud, who won the Fauve d'or prize of the Angoulême Festival with La couleur des choses, authors Aisha Franz and Dorothée de Monfreid, in addition to Manuele Fior, Fábio Moon, and Gabriel Bá who illustrated the Umbrella Academy series which has been adapted for television and is available on Netflix.
As for American artists, MCAF will welcome Sarah Andersen, well known on Instagram with her Sarah's Scribbles series and Nick Drnaso whose last work Acting class has just been translated to French. Canadians Cole Pauls and Joe Ollmann will also attend. Québec artists will be in the spotlight with more than 200 local artists, including Cab, Réal Godbout, Walter Scott, Arizona O'Neil, Brandon Moitchell, Alex A. and Wes Craig.
A Variety of Activities to Learn About and Celebrate Comic Arts
MCAF offers a host of activities for manga fans this year, including a round table, a conversation and 4 workshops dedicated to Japanese comic arts. Also, the festival has the pleasure of welcoming Sourya Sihachakr, the artist behind Talli, Daughter of The Moon, as well as Jean-François Laliberté and Sacha Lefebvre who have published Les élus Eljun, the first manga formated 100% Québec-made comic book.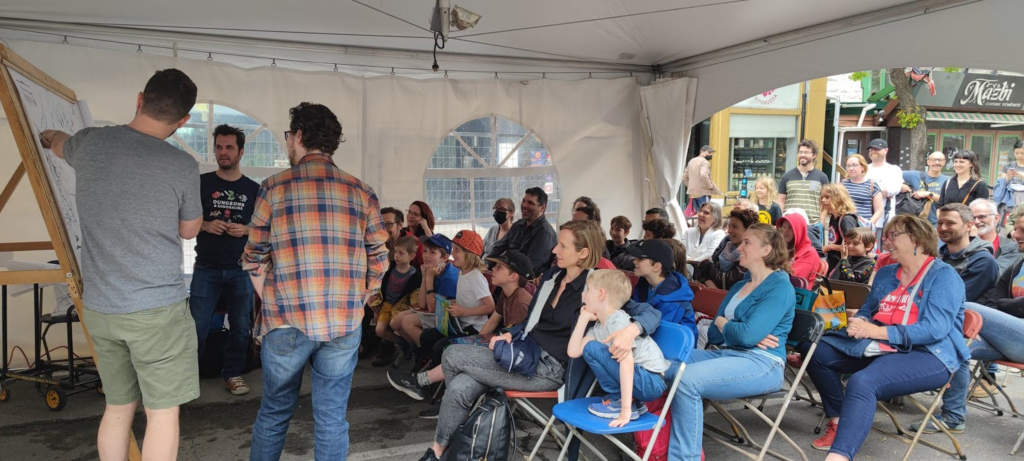 Presented by Desjardins, live drawing animations will be back this year to bring families together and amaze festival-goers. Creation workshops ranging from script to drawing and storyboarding will be offered for young and old alike. The round tables presented by La Presse will cover a variety of topics such as biographical stories, despicable characters in comics, working with colour and light, the second life of a book, and how to talk to children about sensitive issues. Other intimate conversations will allow different subjects to be discussed, including artificial intelligence, Fanzine creation and father figures. Lastly, a mural on the theme of comics will be created during the festival on Saint-Denis in partnership with the Mu organization.
Exhibitions That Bring Comic Arts From Here and Abroad to Light
During the festival, ninth art enthusiasts will be able to learn all about Brazilian comics thanks to an exhibition presented by the Consulate General of Brazil in Montreal. The winners of the first Manga O-Taku grant will also have their own exhibition. Plus, the general public will be able to discover the steps involved in creating a comic book with the exhibition How to create a comic book. This exhibition has been revised and improved for the occasion thanks to the contribution of comic artist Alex A.
A Festive and Accessible Comic Book Stroll
Proud of last year's success, the Montreal Comic Arts Festival is once again setting up its tents on a pedestrianized Saint-Denis Street, between Gilford and Roy. Festival-goers will be able to walk along a 1,2 km comic book stroll filled with activities, exhibitions and encounters, rain or shine. Located near the Laurier, Mont-Royal and Sherbrooke metro stations, MCAF is easily accessible by public transit or bicycle and invites its public to three days of free festivities.
May, Comic Arts Month
Comic arts celebration kicks off with Mai, mois de la BD with activities offered throughout Montreal in May. An exhibition dedicated to the 2023 Bédélys finalists will be held at esplanade Tranquille from May 1 to the 31st where a discussion with Catherine Ocelot and Étienne Poisson will take place on May 2 as part of the Mardis Tranquille. Liseur public will bring to life the works of Cab on May 9 and Richard Suicide on May 16 during public readings in the neighbourhoods that inspired the two comic artists. The 7th and 9th arts meet in a screening of the feature film Seth's Dominion at the NFB on May 12. In partnership with Cinéma Public, a screening of Wim Wenders' Every Thing Will Be Fine will be held on May 19 at Casa d'Italia and will be followed by a discussion with Stéphane Lemardelé who published Le Storyboard de Wim Wenders. Mai, mois de la BD is an initiative from Bibliothèques de Montréal, which the FBDM has been collaborating to since 2016.
Professional Day and Bédélys Award Ceremony
MCAF invites comic artists to its professional day, which will be held Thursday May 25 at Montreal CoWork. Master class, training, networking opportunities and other activities for artists will be offered. The day will end with the opening night of the festival and the 24th Bédélys award ceremony recognizing the best comic books and graphic novels published in 2022. The winners will be announced at Livart and the event will be hosted by journalist and host Marie-Louise Arsenault.
BD POP!
This year, five free workshops on comic books, including a comic improvisation activity between cartoonists Cab and Alex A., will be offered to students from preschool and elementary school as part of BD POP!, the main school offering from MCAF. The event will take place Friday, May 26 and is presented in collaboration with the librarians of the CSSDM, CSSMB and CSSPI, and École en réseau. Classes from everywhere in Canada who wish to attend the workshops by videoconference can register before May 25. Last year, over 40 000 kids enjoyed the activity! (Workshops are currently offered only in French.)
Partners
The Montreal Comic Arts Festival, in collaboration with the SDC Rue Saint-Denis, would like to thank its partners for their precious collaboration: Desjardins, La Presse, Canadian Heritage, Canada Council for the Arts, SODEC, Ministère de l'Emploi et de la Solidarité sociale, Conseil des arts de Montréal, Service de la culture de la Ville de Montréal, Tourisme Montréal and Arrondissement Plateau–Mont-Royal.
MCAF aslo thanks its many programming partners: ProChile, le Consulat Général de France à Québec, Consulate General of Brazil in Montreal, Italian Cultural Institute of Montreal, Consulate of Switzerland in Quebec, Pro Helvetia, Wallonie-Bruxelles International, Bibliothèques de Montréal, École en Réseau, CSSDM, CSSMB, CSSDP, Le Livart, le Salon du livre de Montréal, Liseur Public, Cinéma Public, l'ONF, Drink & Draw Montréal, the Cinémathèque québécoise and Montréal CoWork.

About MCAF
For the past 12 years, the Montreal Comic Arts Festival has provided a platform for exchanges and encounters between comic book creators and publishers and the medium's ever-growing audience. Through its annual spring event, it promotes Québec and Canadian comics locally and internationally, while contributing to the development and dissemination of knowledge about the "9th Art." To learn more about MCAF, visit fbdm-mcaf.ca.
-30-
MCAF contact: 
Mélanie La Roche, Executive Director, melanie.laroche@fbdm-mcaf.ca
Press agency Rugicomm contacts: 
Stéphanie Culakowa, Senior Consultant, stephanie.culakowa@rugicomm.ca
Audrey Gosselin, Public Relations and Social Media Manager, audrey@rugicomm.ca