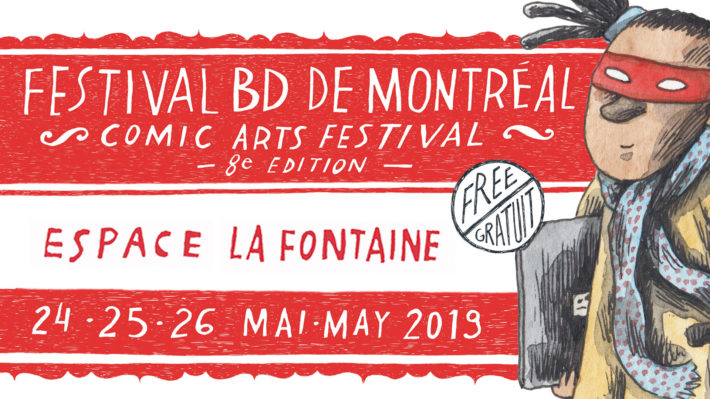 MCAF Reveals Programming Schedule for 2019 Festival: Towards the International!
(Montreal, May 1 2019) The Montreal Comic Arts Festival has released its programming schedule for the 8th edition of its annual Festival, with a special focus on the International. MCAF, a bilingual and eco-conscious event that is free and open to the public, will be held from Friday, May 24 – Sunday, May 26 2019 at L'Espace La Fontaine in Montreal.
Towards the International
Over the course of eight years, the Festival has become a crossroads for comic arts, bringing together the best elements of anglophone and francophone comic arts from across North America and Europe. MCAF aims to promote talents from Quebec and Canada on the world stage, as well as to cement Montreal's reputation an international capital of the comic arts.

The Festival's programming, round-table discussions, workshops, expositions, screenings, and interviews with creators allow visitors of all ages to learn more about the comic arts.

Featured Guests
MCAF is delighted to welcome comics creators from Germany, Belgium, France, the United States, and of course from Quebec and Canada. These creators will share their thoughts on origins, identity, borders, and many other subjects as they connect with the comic arts and their creations. Featured guests are:
Maryse & Jean-François Charles (Belgium)
Anne Simon (France)
Delaf & Dubuc (Sherbrooke, Quebec)
Fabien Toulmé (France)
Charles Forsman (United States)
Brigit Weyhe (Germany)
Julie Rocheleau (Montreal, Quebec)
Yoann (France)
2019 Poster
This year, the Montreal Comic Arts Festival is honored to present our official poster designed by Liniers, full of color, character, and energy.

Liniers (Ricardo Liniers Siri) is a Argentinian cartoonist and painter, currently in residence at the Center for Cartoon Studies (CCS) in White River Junction, Vermont. His work has frequently graced the cover of The New Yorker. Liniers' daily strip Macanudo, which has been published daily in Argentina by La Nación since 2002 and as English-language collections in the United States since 2014, has grown to be one of the most celebrated cartoon strips in South America, and Liniers has become one of the continent's most popular cartoonists. Liniers won the Inkpot Award for career achievement in 2018 and an Eisner Award for his graphic novel for younger readers Good Night, Planet.

PLEASE NOTE: Unfortunately, an unexpected scheduling conflict has made it impossible for Liniers to be present at this year's Festival.

---
Programming 2019
MCAF is offering up three days of activities and events that are sure to charm and delight everyone who comes the the Festival. Organized in four main themes (Family Fun, Meet the Creators, Read Between the Lines, and International Experiences), the Festival's programming allows each and every attendee to discover the imagination, beauty, and pure joy of comics.

The programming schedule is presented in five formats: Special Events, Activities at Calixa-Lavallée, Activities at L'Espace La Fontaine, Expositions, and After-Hours Events:

Special Events
Theme
Day
Activity
Enjoy Family Time
Saturday, May 25
Drawing Battle

Ton histoire en musique
(Jeunesses Musicales Canada)
Sunday, May 26
Brunch Manga
Meet the creators
Saturday, May 25
Conversation avec Delaf et Dubuc
(Les Nombrils)
Q&A with Charles Forsman
(The end of The F****king World)
Sunday, May 26
Dans l'univers de Fabien Toulmé (L'Odyssée d'Hakim)
Read Comics
Friday, May 24
Art as Therapy
Saturday, May 25
Snakes Ladders & Closure, the Mechanics of Comics Art
Sunday, May 26
Influence du lecteur sur l'œuvre
Go International
Saturday, May 25
Émotions sans frontières
Caricaturer l'actualité
Sunday, May 26
Website confidential
Activities at Calixa-Lavallée
The activities presented at Calixa-Lavallée can accommodate a limited number of attendees; online registration is required to reserve a place.
Activities at Espace La Fontaine
The program includes a range of activities for everyone. Please consult this page for full details.

Exhibitions
The 2019 Festival includes several exhibitions, including off-site exhibitions. Full descriptions and information are available in the program.
Date
Exhibition
May 1-15 2019
Comics from Le Monde Diplomatique Germany
May 1-26 2019
Julie Rocheleau : Journeys and Destinations
May 13-26 2019
La petite Russie by Francis Desharnais
May 15-26 2019
Quebec in International Comics
May 15-31 2019
Heroi(ne)s
May 24-26 2019




Trophies from the Bédélys Awards
ITAI DOSHIN
The World of Anne Simon
Bringing the Art of Bookbinding in the World of Comics

Comics Evenings
Four can't-miss evening events:
Date
Soirée
Friday, May 24 8 pm
Bédélys Awards Ceremony

Saturday, May 25 6 pm
Launch Rue de Montréal Book
Saturday, May 25 6pm

Launch TRIP no 10
LaunchLe Festival des corbeaux
Sunday, May 25 8pm



Live-Drawing Concert
Kévin Morens, pianist and François Vigneault, illustrator

Exhibitors: MCAF sets a record number of registered exhibitors

This year MCAF has set a record number of registered exhibitors (79), who will be set up on site for the duration of the festival to welcome visitors. The full list of exhibitors is attached.

May, Comic Arts Month

Starting today, the month of May is celebrating the comic arts! Created in partnership with MCAF and Montreal Public Libraries, May Comics Month offers up dozens of activities all month long, all open to the public, at a wide range of locations. See the full program.

---
Partners
It is with great appreciation that MCAF thanks the following partners:
Financial Partners: Caisse de la culture, Conseil des Arts de Montréal, Conseil des Arts du Canada, Consulat général de France à Québec, Goethe Institut, Gouvernement du Canada, SODEC, Tourisme Québec, Ville de Montréal, Wallonie – Bruxelles International.be.
Services Partners: Bibliothèques Montréal, Commission scolaire Marguerite-Bourgeoys, Commission scolaire de Montréal, Espace La Fontaine, Newad et Le Plateau-Mont-Royal.
Media Partners: 24 Heures, CISM 89,3, CULT Mtl, Culture Cible, La vitrine.com; Huffpost, Le Devoir, NATCHAV et la revue PLANCHES.
---
Information
Site : Espace La Fontaine (3933, avenue du Parc-La Fontaine, Montréal)
No cars are allowed in the park / Parking available on side streets

Schedule : Friday, May 24, 1pm -7pm – Saturday, May 25, 10 am – 6pm- Sunday, May 26, 10am – 5pm

Consigne : The park is bottle free. We recommend you bring your own water bottle

ACCREDITATIONS:
For any request to participate in the Festival, please contact Chantale Baar at (514) 992-6463 / presse@fbdm-montreal.ca with your name, the media you represent and the days you will be on the site.

---
About MCAF
MCAF's mission is to be a leading platform for the comic arts in Quebec and beyond, to broaden public knowledge of and engagement with the comic arts, and to promote cultural exchanges and interactions between creators, readers, and the public at large. MCAF seeks to expand the role of the comic arts in the cultural sphere and to improve the dynamism of Quebec's comic arts industry. MCAF will become a crossroads between Europe and America, a professional and bilingual organization which unifies the field's players

The MCAF is proud to present its new logo and new website that have benefited from a refresh of image and content to better meet the needs.

– 30 –
Further Information :
Chantale Baar
MCAF Public Relations
(514) 992-6463
presse@fbdm-montreal.ca