24th Bédélys Awards – Bédélys Independent Anglophone
The Montreal Comic Arts Festival is proud to announce the finalists for the 2023 Bédélys Independent Anglophone Award.
The Bédélys Independent Anglophone category rewards the best self-published anglophone comic book created in Quebec and is accompanied by a $1,000 grant.
The works in this category were selected by a jury of readers composed of librarians, booksellers, publishers and professionals working in the book industry.
The winners will be announced on Thursday, May 25, at Livart, during the opening night of the Montreal Comic Arts Festival. The event will be hosted by journalist and host Marie-Louise Arsenault.
Find all the details of the different categories of the Bédélys awards.
The finalists are:
Cave Grave, Shawn Kuruneru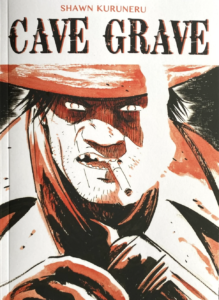 Cave Grave is a Western noir story about three outlaws and a robbery that leads them down a terrifying path.
Shawn Kuruneru is an artist making paintings and self publishing comics. In 2022, Kuruneru was selected for the Koyama Provides grant. In 2020 his comic Elvis and Daisy was awarded a mini grant from MICE. Kuruneru also collaborated on Box of Rain, a collection of comic poems with Jennifer Castle.

Insomnia Funnies, James Collier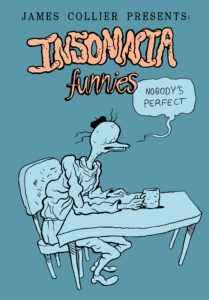 Insomnia Funnies is a printed zine about sleeplessness and disorientation, made during a winter of very little sleep.

James Collier is a Montréal-based cartoonist and visual artist. He was raised in Hamilton, Ontario.

It'll be alright, Ariane Cloutier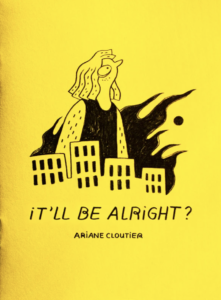 It'll be alright? (Apocalypse in French) is a bittersweet story written in reaction to the events of March 2020. We follow the journey of a protagonist who transforms into a giant in order to try to survive the apocalypse. Done in 48 hours during the «48 heures de la fin du monde» challenge created by Jimmy Beaulieu.
Ariane Cloutier has been drawing characters filled with softness and anxiety ever since she completed her studies in Graphic Design at UQAM (2018). In between existential crises, she is working on her first long comic book – a project started during a residency with the publishing house Front Froid (2020).

It's a blur, Éric Péladeau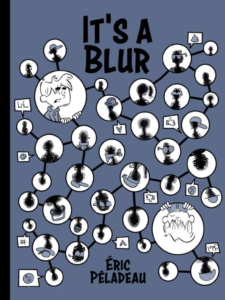 Francis wakes up one morning with a blurry vision. But not everything is out of focus… just people. Everyone seems to be… scribbled, dotted, etched, or else. He's obviously concerned and immediately tries to find out what is wrong with him. Is this all in his head or is he really suffering from some rare disease. The story allows us to reflect on our relationship to technology and the cost it has on our social interactions.

Éric Péladeau studied graphic design, cartooning and, more recently, comics. He has written and illustrated a large number of books for various publishers (La Bagnole, Quintin, Bayard, etc.). He is currently a contributor to the magazine Les Explorateurs with his comic Hubert et le monde fantastique de Koür.

Lost Virtue #0, Art or Die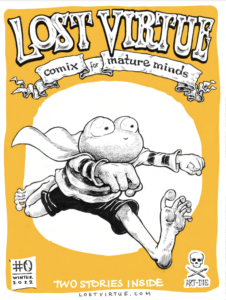 Almost entirely created using traditional techniques (pencils, ink and paper), Lost Virtue #0 includes two short comic stories in this first release. First, we follow the macabre and twisted adventures of Sappy, a young and gluttonous amphibian who visits his charming grandmother. The second story features puppeteers in a cynical and disturbing mise en abyme.
ART or DIE, is that a name? Well, that's how Mauricio G. signs his works. Since his childhood, stories pop in his head without any warning. All the time, anywhere. From age 10 or so, he started drawing those bits of adventure. Dozens of them. He knew he would become a cartoonist. What he didn't know was it would take some 20 years for that to happen. After a couple of tests and false starts, in December 2022 his comic book, Lost Virtue, was released. Only death can stop him now.