24th Bédélys Awards – Bédélys International
The Montreal Comic Arts Festival is proud to announce the finalists for the 2023 Bédélys International Award.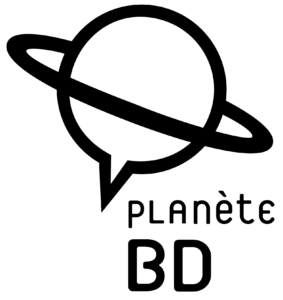 The Bédélys International category rewards the best French-language comic book created outside Québec The Bédélys International award will be offered by Librairie Plantète BD.
The works in this category were selected by a jury of readers composed of librarians, booksellers, publishers and professionals working in the book industry.
The winners will be announced on Thursday, May 25, at Livart, during the opening night of the Montreal Comic Arts Festival. The event will be hosted by journalist and host Marie-Louise Arsenault.
Find all the details of the different categories of the Bédélys awards.
The finalists are:
Fungirl, Elizabeth Pich (Les Requins marteaux)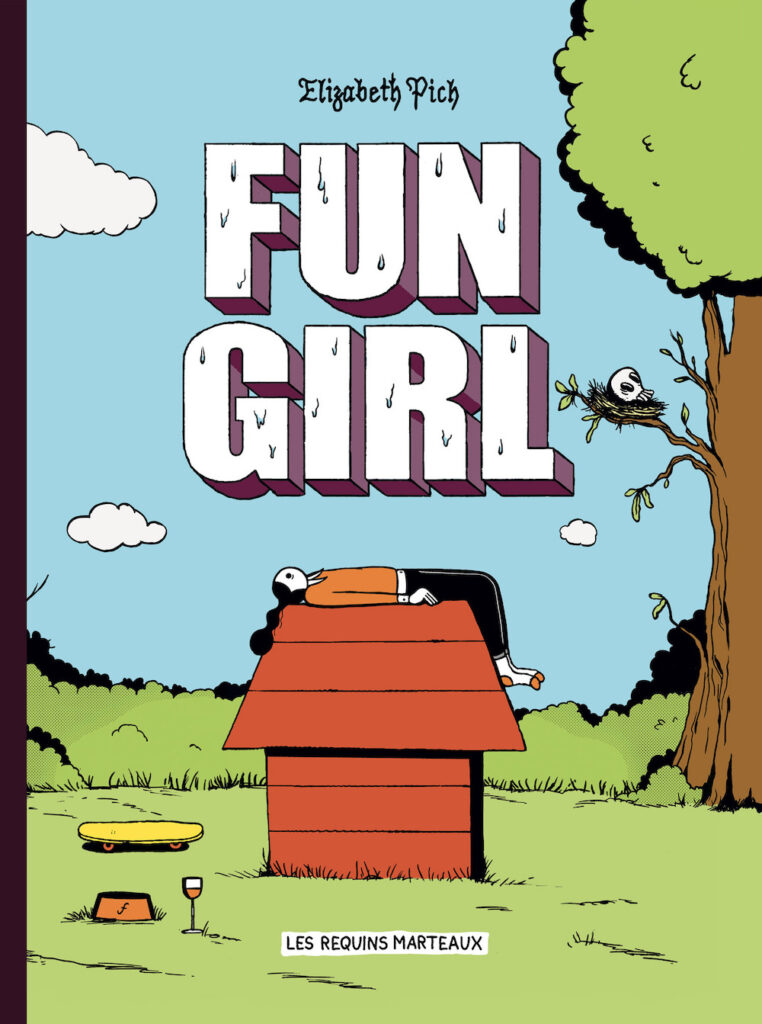 Fungirl is a hapless (hopeless) hot mess of a woman crashing through life, leaving chaos in her wake. Although her oblivious antics infuriate her roommate, terrify the teenage skaters she tries to impress, and threaten her every opportunity for employment, Fungirl remains charming, transgressive, and hilarious. Pich's cartoonish art is simple and quirky, with clean lines and bold colors. The art transforms potentially graphic scenes of sex and violence into adorably cute, almost sweet, vignettes. Pich renders Fungirl's particular messiness deliciously palatable, like an inappropriate wedding cake.
Elizabeth Pich was born in 1989 in Germany and grew up in the United States of America until she was 14. After studying computer science at the University of Saarland, she went on to study at the Saarbrücken Art School. There she met Jonathan Kunz, with whom she launched the webcomic Wars and Peas, a series of strips inspired by the Monthy Python's absurd humor. After the account accumulated more subscribers than the population of the Saarland, the duo was published in the United States and three other countries (War and Peas: des sorcières et des hommes, First Editions, 2021). In parallel to the success of War and Peas, she started a solo comic book, Fungirl, published in French by Les Requins Marteaux in November 2021. In 2022, in the wake of Fungirl, Elizabeth Pich and Les Requins Marteaux continued their collaboration with the exhibition "Fungirl" and the publication of Vulva Viking, a spin off of Fungirl, published in October.

Khat, journal d'un réfugié, Ximo Abadía (La Joie de lire)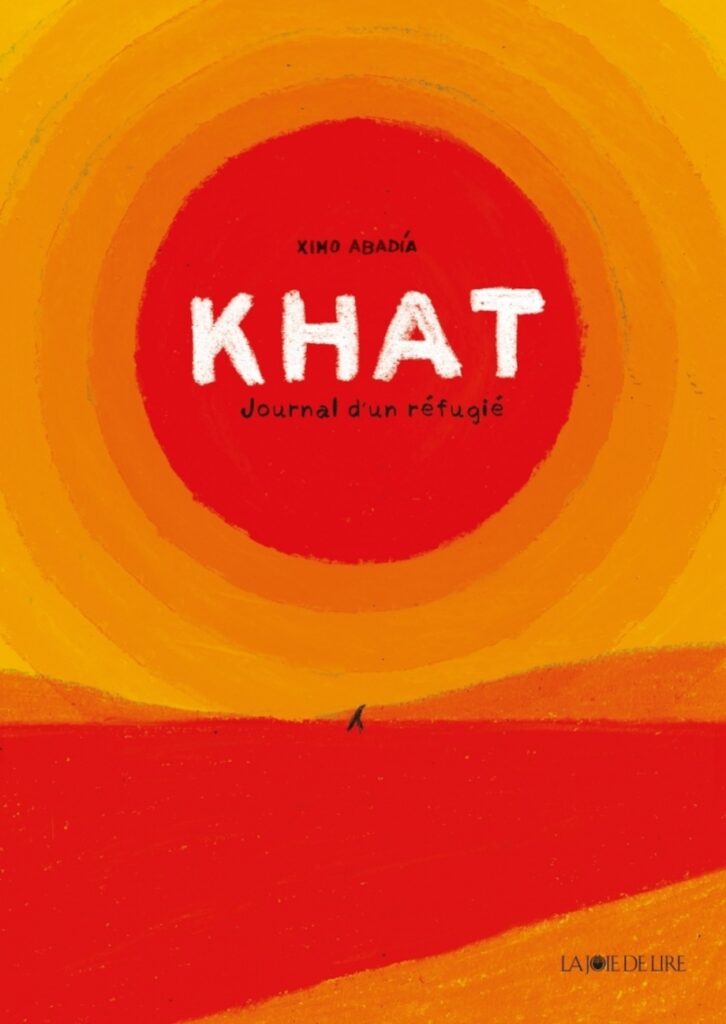 On June 17, 2018, three boats docked at the port of Valencia. On board, hundreds of migrants. Ximo Abadía tells the story of one of these anonymous people he met. The journey of Natan, a young Eritrean, begins at a very young age. To escape the dictatorship, his family leaves for Ethiopia. But the situation is not much better in the neighboring country. Very quickly, Natan's life became a real hell. However, hunger and misery do not affect his optimism and especially his survival instinct. After a succession of stays in prison, he decides to try everything to reach Europe… A powerful comic book that combines a fascinating economy of words and a line that becomes brilliantly abstract.

Ximo Abadía (real name Joaquim Abadía Pérez) was born in Alicante, Spain in 1983. He spent his childhood reading French and American comics and Spanish underground magazines. He spent several months in Mexico and published graphic novels. In 2010 he had success with his album Clonk and was even nominated in the category "revelations of the year" at the Barcelona Comics Fair and praised by the Los Angeles Times in 2011. He lives in Madrid and is one of the most talented young Spanish illustrators of his generation. In France he has already published La bipolarité du chocolat at Diabolo Editions.

La couleur des choses, Martin Panchaud (Éditions çà et là)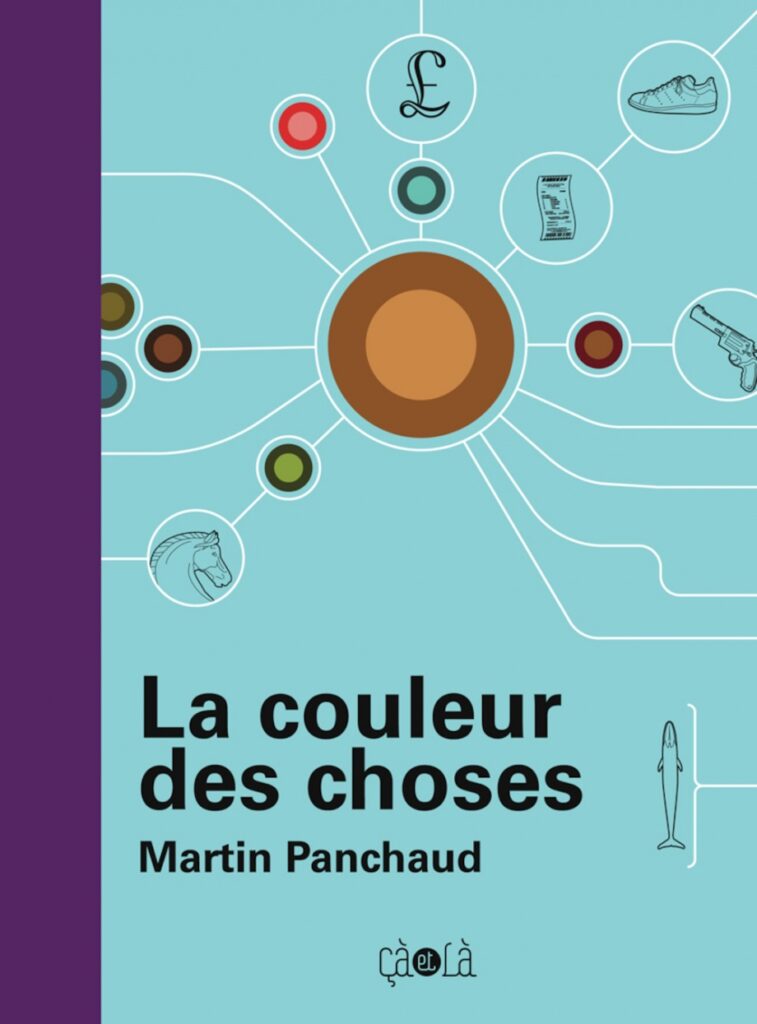 Simon, a pudgy 14-year-old English boy, is constantly teased by the other boys in his neighborhood, who recruit him for all sorts of chores. One day, while shopping for a fortune teller, she tells him who the winners of the prestigious Royal Ascot horse race will be. Simon secretly bets all of his father's savings on one horse and wins over 16 million pounds. But when he returns home, he finds his mother in a coma and the police tell him that his father has disappeared… Being a minor, Simon cannot cash in his betting ticket. To do so, and to find out what happened to his mother, he must find his father. At the end of an adventure full of adventures and surprises, Simon, the eternal loser, will become a very resourceful kid.
Martin Panchaud was born in 1982 in Geneva, Switzerland, and has been living in Zurich for a few years. Author and illustrator, he has produced several comics, large format graphic stories and numerous computer graphics, in a unique visual style. His very strong dyslexia was a hindrance to his schooling and prevented him from pursuing higher education. He nevertheless followed a comic book and graphic training. His dyslexia made him place reading, as well as the interpretation of forms and their meanings, at the center of his research, and incited him to choose a very particular style to express his creativity and tell stories. Exhibited in various cultural institutions in Europe, such as the Barbican Centre in London and the Onassis Stegi Cultural Centre in Athens, he is most notable for his impressive work titled SWANH.NET, a 123-meter long drawn adaptation of Star Wars Episode IV, released online in 2016. La couleur des choses, his first graphic novel, was originally published in German by Edition Moderne in 2020 and has won numerous awards in Switzerland and Germany.

La jungle, Nicolas Presl (Atrabile)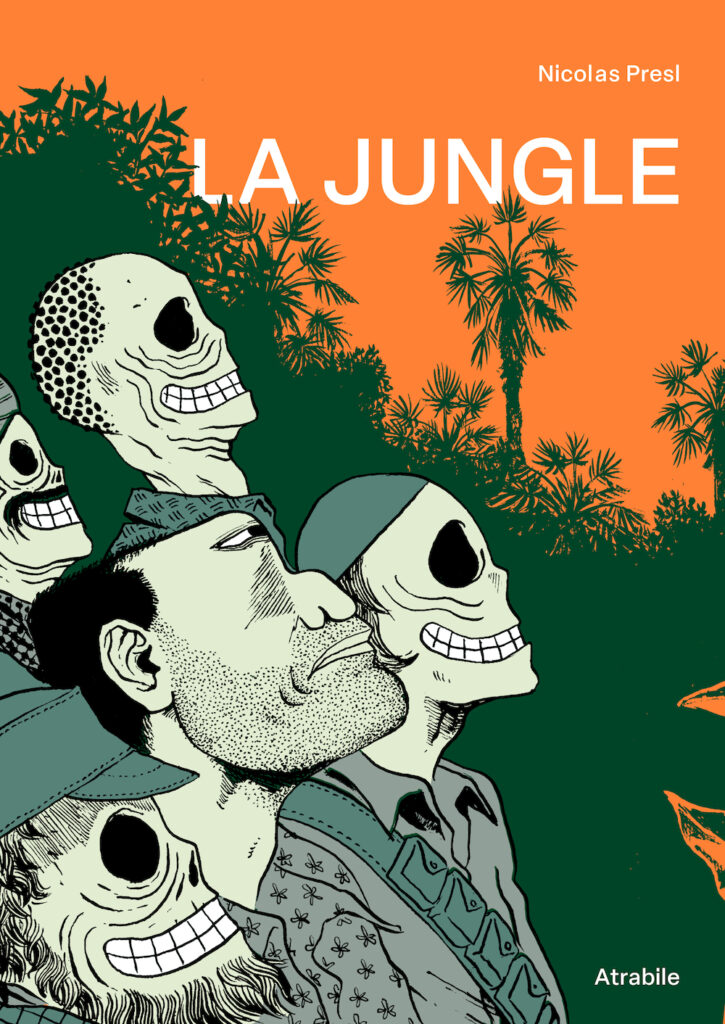 Explosions ravage the city. As the buildings collapse, a fighter flees. The man discards his weapon, he seems tired, soon it appears he is haunted by death. As a ship crosses the sky, the man makes his way through the crowd. To flee, even further, even if it means changing his life, his country. Even if it means dealing with smugglers, boarding a dilapidated boat with other fugitives, guided by hope. Then begins a dark epic filled with pitfalls and challenges, in a silent story that skillfully mixes (science) fiction and current events.

Discreet but subversive, Nicolas Presl published, between 2006 and 2009, three outstanding albums with the Swiss publisher Atrabile. The eloquent titles of these albums (Priape, Divine Colonie and Fabrica) are echoed in works that deal with resistance under totalitarian regimes or feverishly deal with the quest for identity. In 2010, on the same subject, he published with The Hoochie Coochie, Le fils de l'ours père, a silent parable that sacrifices the text to the evocative power of the drawings.

Le petit frère, JeanLouis Tripp (Casterman)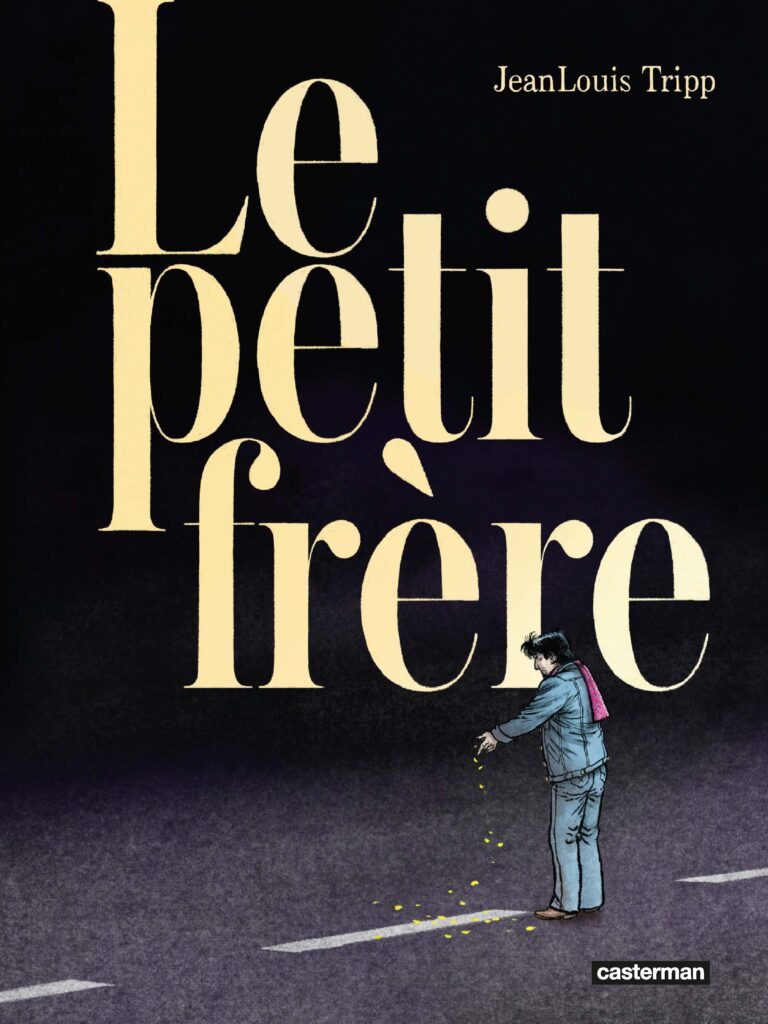 One evening in August 1976. Jean-Louis is 18 years old. It is the time of family vacations, of the great heat and of carefree life… But a brutal event will interrupt everything: Gilles, Jean-Louis' brother, is struck by a car. Transported to the hospital, the boy succumbs to his injuries a few hours later. For Jean-Louis, haunted by guilt, a difficult journey of mourning begins… 45 years later, the author chooses to go back over this episode and to go through each moment of the drama. With frankness and sensitivity, he probes his memory and that of his family to recount the immediate and more distant aftermath of the accident, struggling to draw the tragic loss of a little brother of 11 years old who continues to exist in the family history…
Born in 1958 in Montauban, JeanLouis Tripp published his first short stories in the late 1970s, before branching out into painting, sculpture and teaching. In 2006, he published with Régis Loisel the successful series Magasin Général, then in 2017 and 2020 the two volumes of Extases, a sincere and intimate autobiographical story.
Le Poids des héros, David Sala (Casterman)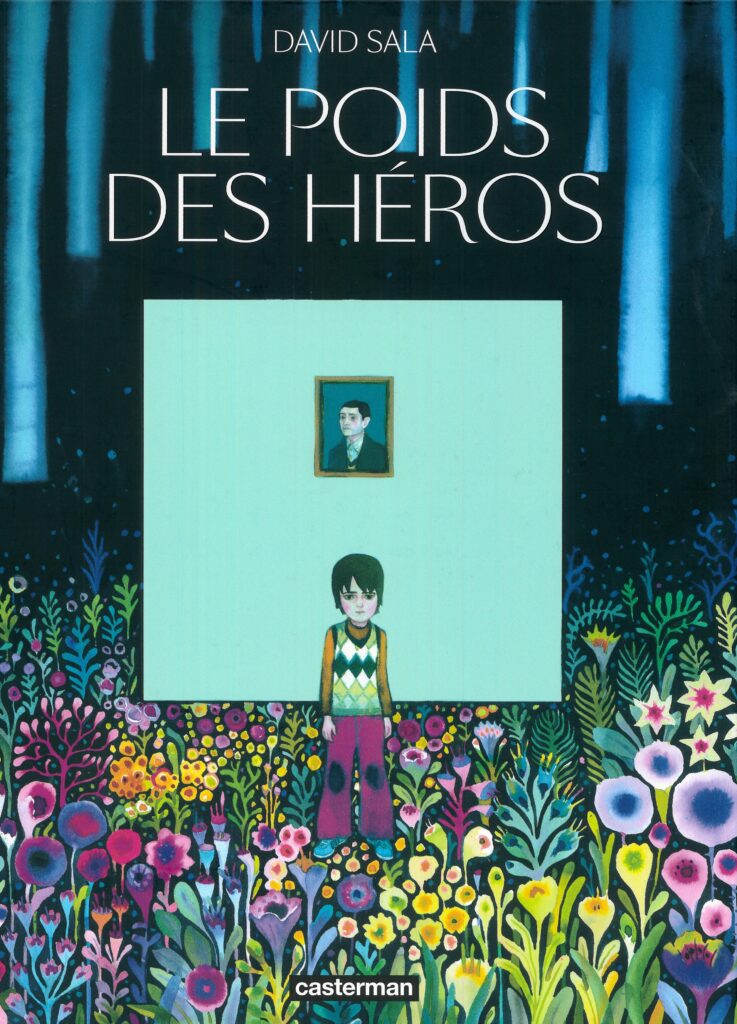 In Le Poids des héros, David Sala traces his early personal trajectory marked by the tutelary, but no less overwhelming, figures of his grandfathers, heroes of war and the resistance. By summoning his point of view as a little boy, he plunges us into a majestic and abundant exploration of childhood and adolescence. The use of imagination allows us to approach the dark areas and the flaws from a safe distance, while recomposing a universal learning and transmission path for the reader. Without forgetting the imperishable taste of bike races, the discovery of the first US rap songs, the first times of artistic initiation at the Emile Cohl school.
David Sala was born on July 18, 1973, in Décines. After studying at the Émile Cohl school in Lyon, he produced various covers for novels. Then he published, with Jorge Zentner, his first comic book series, Replay (three volumes, Casterman, 2000). This collaboration continues with the four volumes of Nicolas Eymerich's Inquisitor (Delcourt) between 2004 and 2007. He also works for the youth edition, for which he produces more than ten albums, including his great success La Colère de Banshee, but also La Belle et la Bête or Féroce (all in the Casterman Jeunesse catalog). In 2013, he returned to comics and published Cauchemar dans la rue. In 2017, he brilliantly tackled the work of Stefan Zweig, signing a remarkable adaptation of The Chess Player. He is back in comics, in 2022, with Le Poids des héros.
Merel, Clara Lodewick (Dupuis)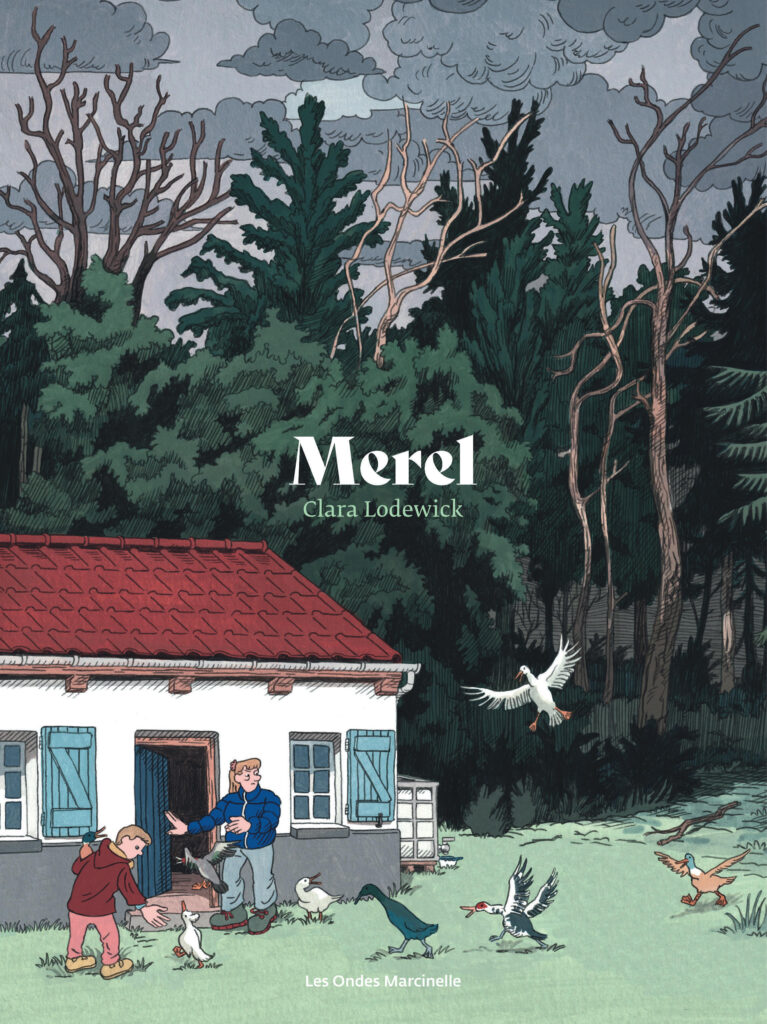 Merel is a fan of soccer, ducks and parties with friends. But Merel is also a big fan of her single life. After an innocent joke, the forty-year-old unfortunately finds herself at the heart of a rumor: she sleeps with all the men in the village. The small Flemish town will then gang up on her, making her a scapegoat against whom all violence becomes justifiable…
Clara Lodewick, born in Brussels in 1996, grew up between two linguistic communities: the Dutch-speaking and the French-speaking. She attended the drawing academy of Saint-Gilles, and when she moved to Flanders as a teenager, the one in Halle. Clara then spent three years discovering the possibilities of comics with her teachers at the Haute École Saint-Luc in Brussels. She is interested in people's lives, their relationships, their problems, the social inequalities they face, and their connection to nature. In 2022, she published Merel, her first comic book, at Dupuis Editions, in the collection Les Ondes Marcinelle.
Peau, Mieke Versyp et Sabien Clement (Éditions çà et là)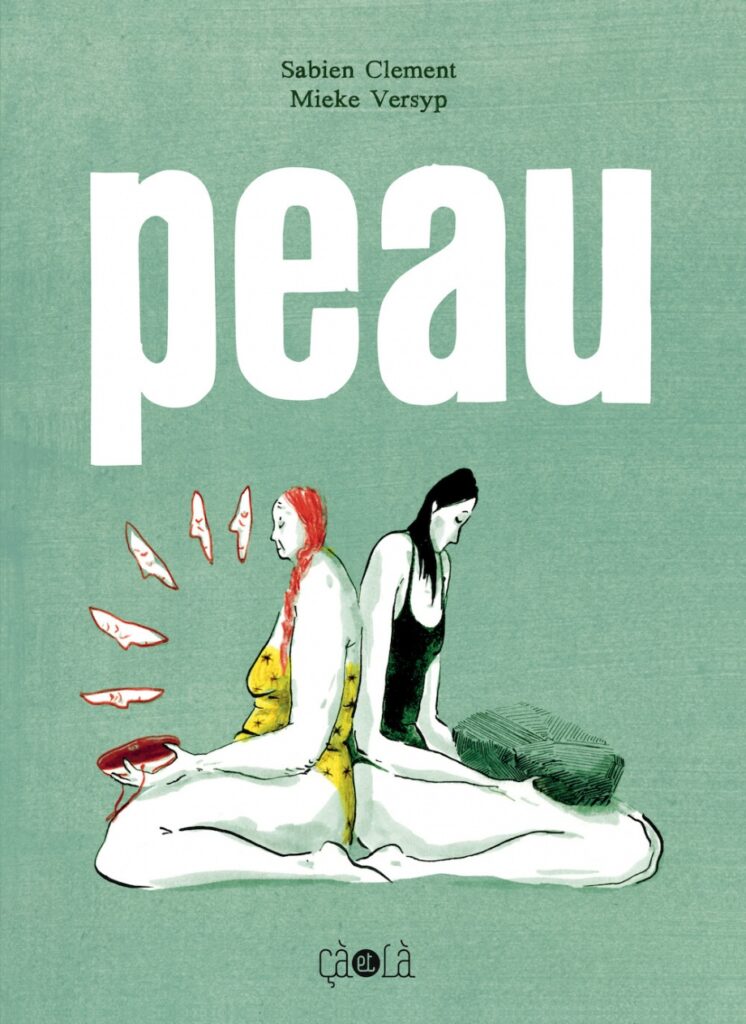 Esther and Rita meet in a drawing workshop. The first, a young artist, teaches a nude drawing class for adults. Rita, an older divorced mother, is also a live model to make ends meet. As different as they are, the two women are nevertheless linked as a drawer and model. A relationship that revolves around vulnerability and physicality, around looking and being looked at. Outside of these moments, each leads her own life. Both struggle with their own past, their own insecurities. Esther can't find love, Rita has a difficult relationship with her daughter… Both women are waiting for something and, in the meantime, they cope as best they can. Peau is a story of body and exposure. A story about aging, motherhood, the ideal of beauty, the thirst for perfection and the impact of time. About scars, shame, pride, sexuality, intimacy. And about life.
Sabien Clement, a Flemish illustrator, born in 1978, made her debut in 2002 with Jij lievert, written by Geert de Kockere, for which she immediately received an award. This was followed by numerous children's books and a series of awards (Gouden Uil 2008, Boekenpauw 2009, Boekenpluim 2003, 2008, 2013, 2014, Winnares Picturale Ronse 2013, Prijs Letterkunde West-Vlaanderen 2014…). Her style cannot be categorized. Sometimes she draws cheerful lines with a pen, other times she uses paint and a brush, or paper and scissors. Her work also goes beyond drawing on paper, with live drawing on stage; her book De koningin is verdwenen was adapted for the theater at the Kopergietery in Ghent.
Mieke Versyp was born in Ghent in 1965. After studying philosophy, she was a theater and dance critic for several years, and from 1996 to 2011 she was in charge of the Kopergietery theater. Since 2013, she has been in charge of the programming of the Laika company in Antwerp. She regularly mentors master students and early career creators. Mieke Versyp started her career as an author in 2007 with the text of the children's book Linus, illustrated by Sabien Clement, which received numerous awards (Gouden Uil 2008, Boekenwelp 2008, CJ Picture Book Award 2008, Korea). She went on to write the texts for several children's books, including Hoe ik het kopbeest versloeg (special mention in the Flanders Province Children's Literature Awards 2015). Peau (Vel, 2021) is her first graphic novel.
Petar & Liza, Miroslav Sekulic-Struja (Actes sud)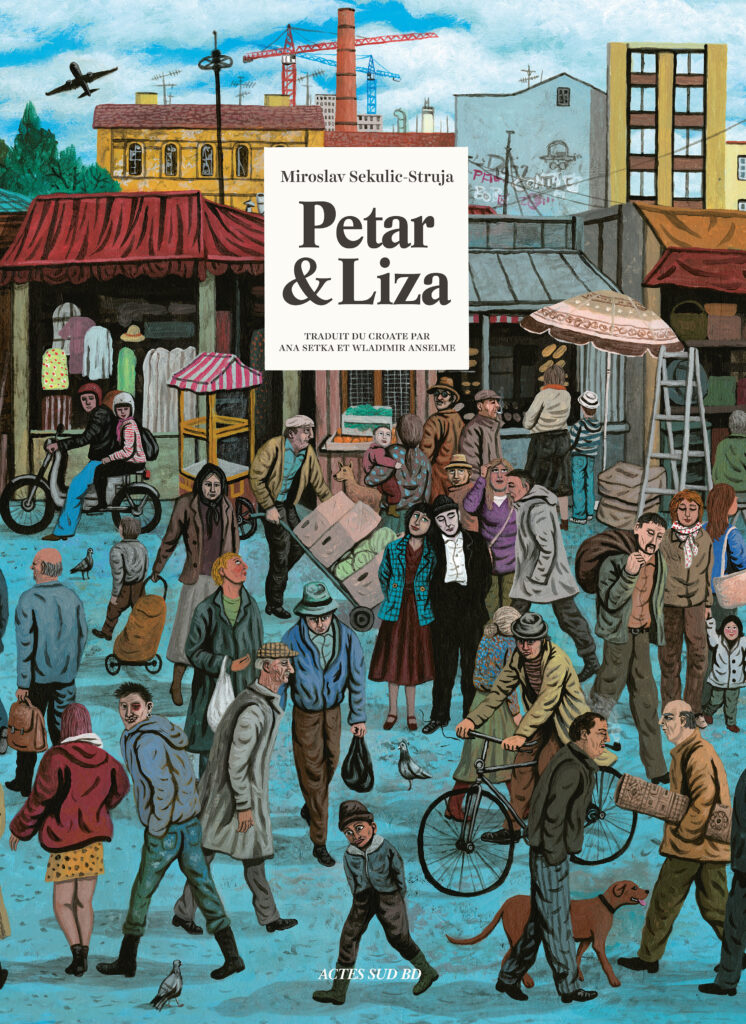 In the army, Petar wrote love letters for his fellow soldiers. Then, it was the bohemian life in the streets and squats until he met Liza. Then begins a luminous romance between the vagabond poet and the young dancer. But Petar's demons will not leave him alone for long and Liza will have to abandon him to his sad fate…
Born in Rijeka (Croatia) in 1976, Miroslav Sekulic-Struja is a painter, but his curiosity pushes him towards other disciplines such as comics and animation. In 2010, he won the Young Talents competition at the Angoulême Festival, with L'homme qui acheta un sourire. He evolves in a poetic universe with a very precise drawing. With him, every little detail contributes to the construction of the story. His technique (especially the use of direct color) and his sense of narrative give him a very personal style with great potential. In 2012, he created a mural at the Rotonde in Paris, on the occasion of the year of Croatia in France. Pelote dans la fumée. I. L'été/L'automne was awarded the Prix BD de Montreuil in 2015.
Shadow life, Hiromi Goto, Ann Xu (Ankama)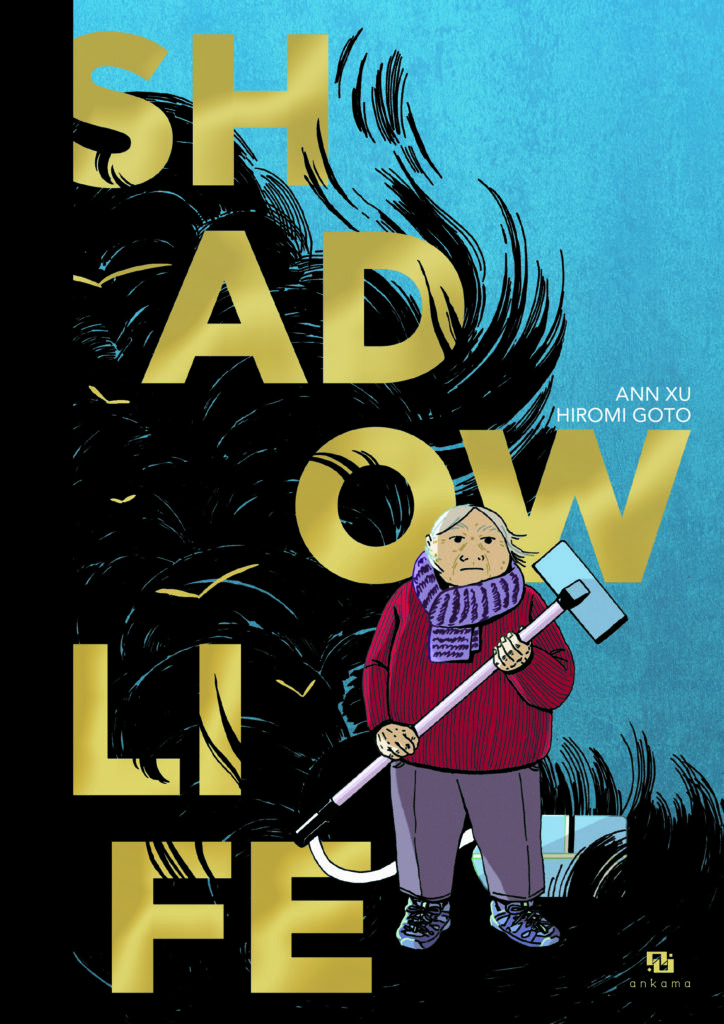 When Kumiko's well-meaning adult daughters place her in an assisted living home, the seventy-six-year-old widow gives it a try, but it's not where she wants to be. She goes on the lam and finds a cozy bachelor apartment, keeping the location secret even while communicating online with her eldest daughter. Kumiko revels in the small, daily pleasures: decorating as she pleases, eating what she wants, and swimming in the community pool. But something has followed her from her former residence – Death's shadow. Kumiko's sweet life is shattered when Death's shadow swoops in to collect her. With her quick mind and sense of humor, Kumiko, with the help of friends new and old, is prepared for the fight of her life. But how long can an old woman thwart fate?
Hiromi Goto is an emigrant from Japan who gratefully lives on the Unceded Musqueam, Skwxwú7mesh, and Tsleil Waututh Territories. She's written Chorus of Mushrooms, The Kappa Child, along with three novels for children and youth, a book of poetry, and a collection of short stories. Shadow Life is her first graphic novel.
Ann Xu is an Ignatz-nominated cartoonist and illustrator working in Baltimore. She graduated with a BFA in Illustration from the Maryland Institute College of Art in 2017. Her graphic novel work includes Shadow Life and Measuring Up.