PROGRAMMING FOR THE 10th ANNUAL MCAF
Montreal, May 6, 2021 – The Montreal Comic Arts Festival (MCAF) is celebrating its first decade with three full days of activities, presented live and online on May 28, 29, and 30. This 100% virtual event will bring the Festival experience straight to attendees, no matter where they are. This year's programming highlights, as always, the work of the amazing creators who are at the heart of the event.
Working closely with the comic arts community, MCAF has developed a lineup of panels, workshops, and interviews that showcase the very best of the 9th Art. Following a call for proposals in February, the MCAF team worked with artists, writers, journalists, and publishers to create a unique program that will appeal to all audiences.
A Wide-Ranging Slate of Events
A variety of fantastic virtual activities will be presented over the three days of the Festival: Workshops, round-table discussions bringing together cartoonists from near and far to discuss unique themes (including "Monster Love," "Afterlives and Alternate Worlds," "Portrait de l'artiste," "Création inclusive," "10 ans de BD québecoise," and "La science en BD"), in-depth conversations with creators (Jean-Paul Eid, Yasmine Phan and Djibril Morissette-Phan, Zviane, Louis Rémillard, Scott Snyder and Charles Soule, and Syan Rose), and live drawing sessions. Naturally, the lineup also includes the presentation of the 22nd annual Bédélys Awards on the opening night of the Festival!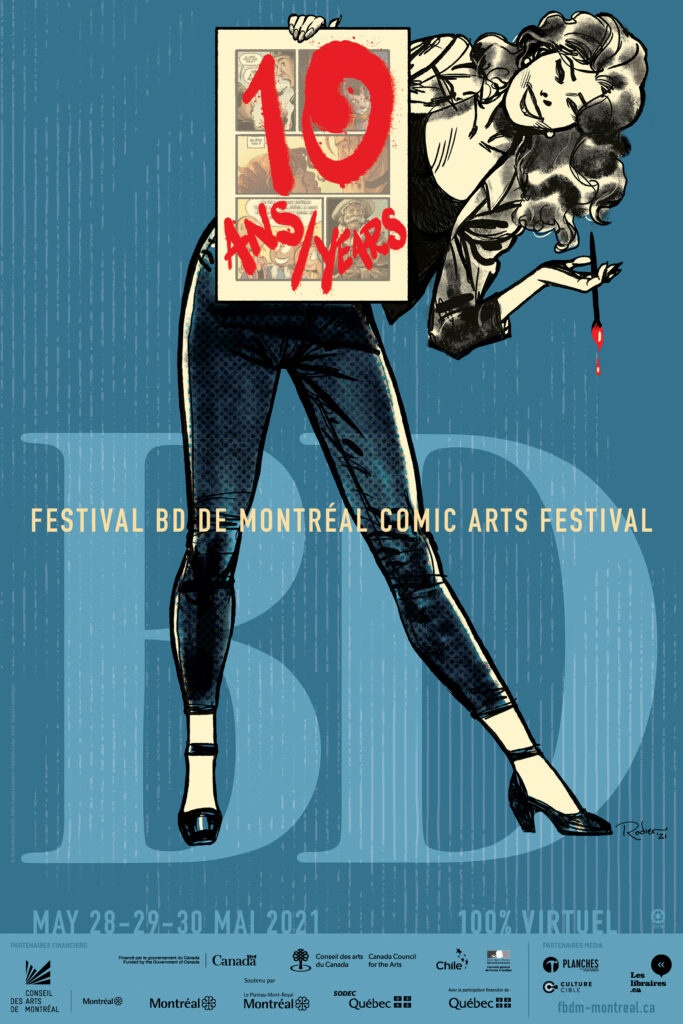 This year's live drawing sessions will be can't miss events, with pairs of artists discussing their work live as they create works of art for the camera. This series of illustrated encounters, presented in French and English, will reunite unforgettable duos such as Jean-Paul Eid and Réal Godbout, Alex A. and Félix Laflamme, Cab and Cathon, Boum and Lunarbaboon. These meetings of the minds (and pens) will be hosted by Jeik Dion (co-creator of the Bédélys Award-nominated Aliss).
The best comics from the last year will be well-represented in the Festival's programming, with conversations connecting cartoonists from all over the world of comics.
Two international events deserve a special mention. On Saturday morning the Trade Commission of Chile – ProChile will be hosting a Q&A session dedicated to women cartoonists of Chile (one of the creators, Elisa Echeverría Parra, will also be participating in the "Monster Love" panel as well). The next day, a group of Ukranian creators will share their experiences in adapting Herge's classic Tintin.
Thanks to a collaboration with the brand new Cinéma Public, film and comics will be meeting and mixing, with a special screening of the film Turbo Kid, followed by a conversation with the Roadkill Superstar Collective (Anouk Whissell, Yoann-Karl Whissel et François Simard) et the cartoonist Jeik Dion, creator of the official Turbo Kid comic book.
Technology to The Rescue
With the ongoing constraints of the pandemic, for the second year in a row MCAF's programming will be presented live and direct on screens across the globe. While nothing can beat an in-person Festival on a beautiful sunny day in the midst of Park La Fontaine, it has to be noted that modern technology allows the Montreal Comic Arts Festival to present events and guests that would have been impossible to recreate in person! With distances erased, our round table discussions and interviews bring together people from here and elsewhere to both artistic and social current affairs, allowing a more in-depth and varied look at the whole of comics.
All activities are broadcast live on the festival's website, Facebook page and Youtube channel simultaneously. All workshops will be hosted on Zoom to encourage exchanges between the teachers and participants. Capsules will be presented each morning to highlight elements from the Festival's 10th anniversary year.
May, Comic Arts Month
And that's not all! All month long, MCAF will be celebrating Comics Month with a panoply of offerings, hosted alongside our partners including the Salon du Livre de Montréal, BAnQ, and our sister events the Toronto Comic Arts Festival, Vancouver Comic Arts Festival, and Festival Québec BD. What's more, the campaign "Moi, Je Lis de la BD" will highlight the comic arts with 10 short videos featuring some unexpected comic fans from all walks of life, from artists to politicians! Fun prizes will be shared as part of this campaign.
For up-to-date information on MCAF's programming and all the activities for Comics Month, follow our website and our official Facebook and Instagram accounts. And don't forget to check out our frequently-updated Comic Arts Calendar online!
About MCAF
This year MCAF is celebrating its 10th anniversary! To mark the occasion, a full lineup of programming will be presented live online on May 28, 29 and 30th, celebrating the work of cartoonists from here and abroad. This year is also marked by the appearance of the Festival's second anthology, X, published by Presses du FBDM | MCAF Press.
As always MCAF would like to thank our partners for their support and collaboration:
Emploi Québec, Conseil des arts du Canada, Conseil des arts de Montréal, SODEC, Patrimoine Canada, Service de la culture – Ville de Montréal, and the Arrondissement Le Plateau Mont-Royal.
Special thanks also to our media partners LesLibraires.ca, Culture Cible, and the "booktubers" Nos Lectures Bleues, Evelynebiz and Abookandacup.
Thanks to Denis Rodier for his magnificent illustration for this year's poster.
And finally thank you to the MCAF volunteer team, without whom the Festival simply couldn't happen.
– 30 –
Further Information
MCAF Contact
Johanne Desrochers
General Direction
johanne.desrochers@fbdm-mcaf.ca
Press Agency Rugicomm Contact
Camille P. Parent
Community relations and management
camille@rugicomm.ca