22th BÉDÉLYS AWARDS – FINALISTS
Montreal, March 18, 2021 – The Montreal Comic Arts Festival (MCAF) has announced the finalists for the 22th Bédélys Awards in all five categories: Bédélys International Award, Bédélys Youth Award, Bédélys Independent Award Francophone, Bédélys Independent Award Anglophone, and the Bédélys Québec Award. The finalists are revealed to the public online, via a series of videos narrated by radio hosts Pierre Therrien and Jean-Michel Berthiaume.
The comic arts are enjoying a growing audience in Quebec, and the Bédélys Awards highlight the excellence of the creators who have given readers joy over the last year, even in the midst of a pandemic. The 29 finalists were selected by juries of readers: librarians, community professionals and elementary students. Without further ado, the finalists are:
BÉDÉLYS INTERNATIONAL
Best comic book published in French-language outside of Québec
Anaïs Nin : Sur la mer des mensonges, Léonie Bischoff (Casterman)
Carbone & Silicium, Mathieu Bablet (Ankama)
Clyde Fans, Seth (Delcourt)
Eileen Gray : Une maison sous le soleil, Charlotte Malterre-Barthes & Zosia Dzierzawska (Dargaud)
Géante, Jean-Christophe Deveney et Tamarit (Delcourt)
Hors-saison, James Sturm (Delcourt)
L'accident de chasse, David Carlson & Landis Blair (Sonatine)
Peau d'homme, Hubert & Zanzim (Glénat)
Pucelle 1 : Débutante, Florence Dupré la Tour (Dargaud)
Vernon Subutex, Virginie Despentes & Luz (Albin Michel)
BÉDÉLYS YOUTH
Best French-language comic book published in Quebec for an audience of 7 to 14 years of age
Blue au pays des songes, Davide Tosello (Vents d'Ouest)
Nat tout court, Maria Scrivan (Scholastic)
Nico Bravo et le chien d'Hadès, Mike Cavallaro (Kinaye)
Omniscients, Vincent Dugomier & Renata Castellani (Lombard)
Sacrées Sorcières, Pénélope Bagieu (Gallimard)
BÉDÉLYS INDEPENDENT FRANCOPHONE
Best self-published francophone comic book created in Quebec
Boumeries volume 10, Boum
Grosses colères, Val-Bleu
Kalipso Volume 1, Marie Blanchet
Le feu des jours, Colin Effray
Saperli, Catherin
BÉDÉLYS INDEPENDENT ANGLOPHONE
Best self-published anglophone comic book created in Quebec
Frog and Toad are Queer, Nina Drew
Hi, Stranger, Anouk
Kalipso Part 01, Marie Blanchet
OKOK Comics Volume 1, Colin L. Racicot
BÉDÉLYS QUÉBEC
Best comic book created and published in Quebec
Aliss, Patrick Senécal & Jeik Dion (Front Froid & Alire)
Bouée, Catherine Lepage (La Pastèque)
Casa Rodéo, Thom (Pow Pow)
C'est comme ça que je disparais, Mirion Malle (Pow Pow)
Temps libre, Mélanie Leclerc (Mécanique Générale)
For more details on the books and the careers of the nominated creators, we invite you to consult the attached media kit.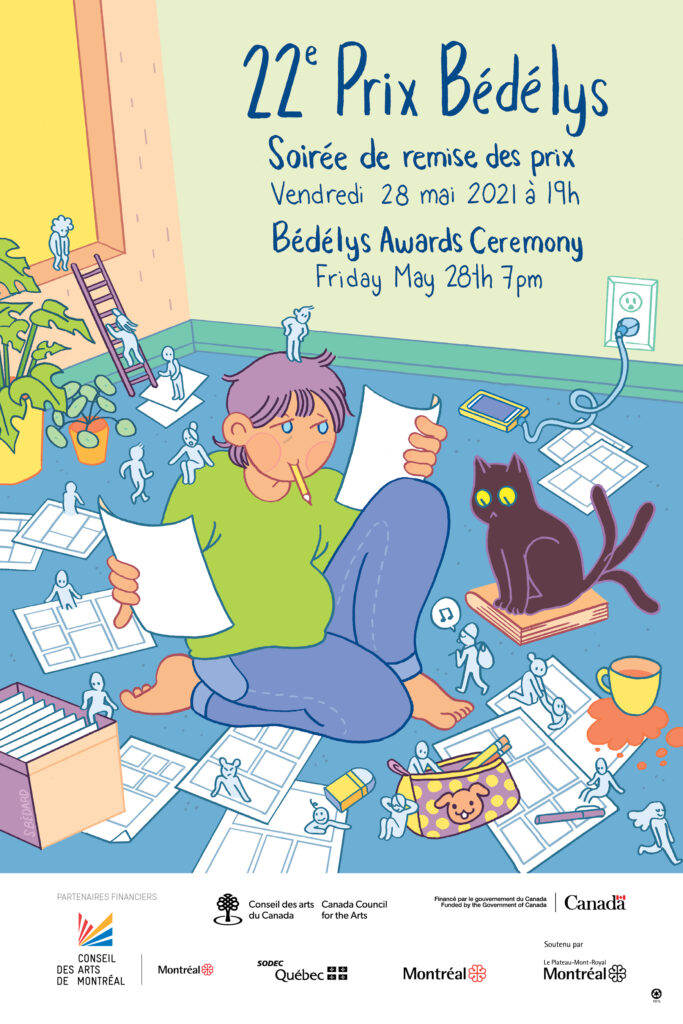 The winners of the 22th Bédélys Awards will be announced on May 28, 2021 as part of the 10th annual Montreal Comic Arts Festival. At that time, a prize of $1000 will be presented to both the winners of the Bédélys Independent Francophone and Bédélys Independent Anglophone awards. An additional prize of $1000 will be presented to the winner of the Bédélys Québec Award. All the winners will receive a unique trophy, hand-crafted from recycled objects by the artist Karl Dupéré-Richer, who has been creating the Bédélys Award trophies for the last 12 years.
About MCAF
This year, MCAF is celebrating its 10th anniversary! The Festival will be a hybrid event this year, combining elements of the all-virtual event held in 2020 and the traditional open-air events of years past. All health and social-distancing guidelines will be followed. This year will also see the publication of X, the second annual anthology from Presses du FBDM | MCAF Press, currently available here for pre-sale!
MCAF would like to thank its partners for their support and participation: Emploi Québec, the Canada Council for the Arts, Conseil des Arts de Montréal, Canadian Heritage, SODEC, Service de la culture Ville de Montréal, and the Arrondissement Le Plateau Mont-Royal.
Thanks as well to our media partners, the "booktubers" Nos Lectures Bleues, Evelynebiz et Abookandacup.
Thanks to Sophie Bédard for her beautiful illustration.
Finally, many thanks to the hard-working volunteers, without whom the event couldn't take place.
– 30 –
Further Information
MCAF Contact
Johanne Desrochers
General Direction
johanne.desrochers@fbdm-mcaf.ca
Press Agency Rugicomm Contact
Camille P. Parent
Community relations and management
camille@rugicomm.ca