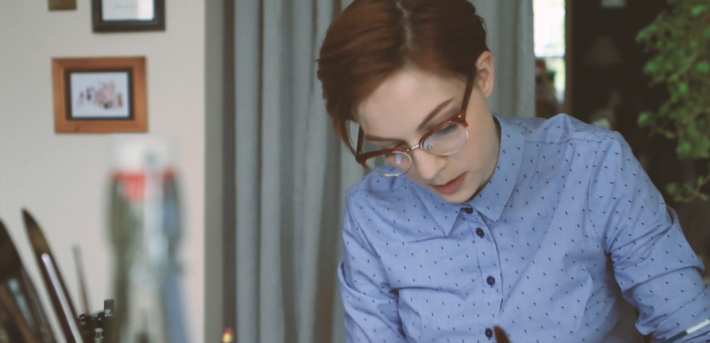 Meags Fitzgerald designed 2018 MCAF poster
After Michel Rabagliati, Les Nombrils, Jacques Ferrandez, Seth, Jean Paul Eid et Boum, our 2018 poster is designed by Meags Fitzgerald
Montreal-based illustrator, writer and performer. She is the author of the queer coming of age memoir Long Red Hair and of the history and travelogue, Photobooth: A Biography, for which she won the 2015 Doug Wright Spotlight Award and was nominated for the 2015 Joe Shuster Best Cartoonist Award.
Her books, originally in English are published by Conundrum Press. Her first French translation, Long cheveux roux was published by Éditions Pow Pow in spring 2017.
Over the last ten years Fitzgerald has performed improv theatre and live storytelling around the world. Active in Montreal's queer scene, Fitzgerald is now beginning to perform as a Drag King. Finally, Fitzgerald trains seriously with the circus and is an aspiring trapeze artist.
For its 7th year, MCAF is proud to count on Meags' talents to represent Careers in Comic Arts. With a colorful poster depicting a forest of comics, Meags is paying homage to the park in which our festival takes place, its fauna, and, obviously, comic artists.
---
Suport Meags on Patreon