Happy Holidays from the MCAF Team!
The holidays are coming! Without forgetting about the sometimes difficult situation we all find ourselves in currently, we think it's a wonderful time to embrace a festive mindset and turn our eyes towards a hopeful future.
This is our wish to all of you, that you are always able to find place for hope and joy, and that we will get to see each other again soon… So mark your calendars for next May (maybe we'll even give each other a hug… dare to dream!).
For the moment, we'd like to hank you so much for your ongoing support, and to offer up the following activities and suggestions for the holiday season. Take good care of yourselves and your loved ones, because that is always the best gift you can give or receive.
Take Advantage of Special Prices in Our Shop
The holidays are here, which means 2020 is finally coming to a close! Along with everything else that happened, let's not forget that MCAF marked our 9th anniversary this year (with the big 10 next year, woo hoo!), so in the spirit of the holidays we're celebrating with specials in our online shop!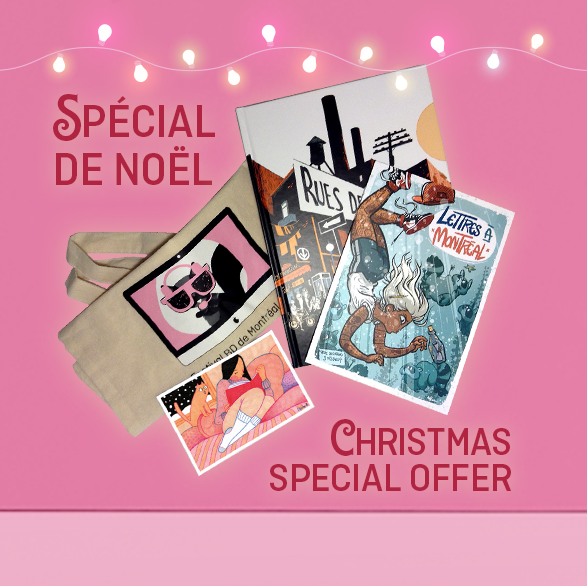 Everything in the shop is now 9% off, from T-shirts to tote bags, and of course not forgetting our MCAF Press books!
Use the coupon code 5CAGRUDZ for all your purchases until the end of the year, with no limit… Yes, we like to get wild for the festivities!
We are also offering an awesome gift bundle including our anthologies Lettres à Montréal et Rues de Montréal! This unique bundle of bookish joy is sure to make you the most beloved gift-giver in your entourage!
MCAF Activities
Dungeons, Dragons, & Drawings – Season 1, Episode 5 (The Grand Finale)
It's the end of an era! All great journeys must come to an end, including the first awe-inspiring (and occasional musical!) campaign of Dungeons, Drawings, & Drawings!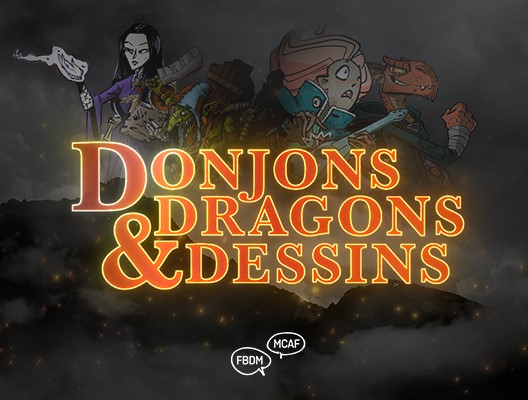 Watch as four brave companions join together for a final adventure on Saturday, December 12th at 7:00pm.
Join with us to watch LIVE on our Facebook page (BYOB!) as Laurence Dea Dionne, Olivier Carpentier, Anouk, and Julien Paré-Sorel bring their adventures to a rousing conclusion (and yes, we suspect that Drakul will be here for a final appearance we suspect will be full of surprises. Hosted by the inimitable Jean-Michel Berthiaume.
Catch up on earlier episodes on our YouTube channel!
MCAF Book Club – Family
With the new year on its way, we know that we aren't alone in hoping that we'll soon be able to put some of the less-than-ideal circumstances of "the-year-that-shall-not-be-named" behind us.
Since most of us won't be able to see as much as we'd like of our loved ones over the holidays, for our first Book Club meeting of the new year we're turning our attention to books that are all about that very theme: Family
We invite you to join us virtually on Wednesday, January 6th at 7:00pm via Zoom to discuss these fantastic tales of families (amongst others):
Le crépuscule des Dieux, by Djief & Nicolas Jarry (Soleil)
Longs cheveux roux, by Meags Fitzgerald (Pow Pow), available in English as Long Red Hair (Conundrum Press)
Paul à Québec, by Michel Rabagliati (La Pastèque), available in English as The Song of Roland (Conundrum Press)
You haven't read all of these yet? Not a problem, we're here to discover and share books together, so don't be shy, come say "Hi!"
Discussion is in French but don't forget that reading comics is the BEST way to practice a new language!
Celebrate Quebec Comics!
Expos Hit the Road
We all know that Montreal is well-known for our expositions, so much so that we send them traveling all around the world!
Following a visit to Algeria in 2018, our show Comment faire de la BD and les Métiers de la BD have now found themselves at Bilili BD, the international comics festival in Brazzaville, Congo, thanks to a collaboration with the organization's director, the Cameronian cartoonist and friend of MCAF Elyon's!
Recently, Bilili BD made note on their Facebook page that MCAF was able to hire an Expositions and Publications Manager and a Special Projects and Programming Manager thanks to the support of Emploi Québec… "A model to follow for Bilili BD!" We love the idea of ideas and inspirations traveling all around the world, and look forward to future collaborations with comic arts festivals everywhere!
An Advent Calendar for Comics Lovers
Make sure to follow us on Instagram, where we will be be highlighting our favorite Québecois comics and BD right until the end of the year!
You'll find 7 new titles every week on Tuesdays… And don't be afraid to share your own faves in the comments!
Here is the first week!