Comic Arts Invitations & programming committee
International Comic Arts Conference
We are happy to invite you to the Shaking the Foundations conference!
The conference is organized by the Montreal Comic Arts Festival (MCAF) and the Centre for Interdisciplinary Research on Montreal (CIRM) of McGill University. See you on October 28, 29 and 30 at BAnQ.
For more information, read our press release.
Important: to participate, it is mandatory to register and have proof of vaccination.
Bedélys Independent Submissions Now Open
The comic arts continue to grow and evolve, and new talented creators keep popping up all the time, so fast it can be hard to keep up!
If you have new self-published work, it's time to submit it for consideration for the Bédélys Independent Awards, a pair of prizes for the best self-published comics created in Quebec, with separate awards for comics published in French and in English.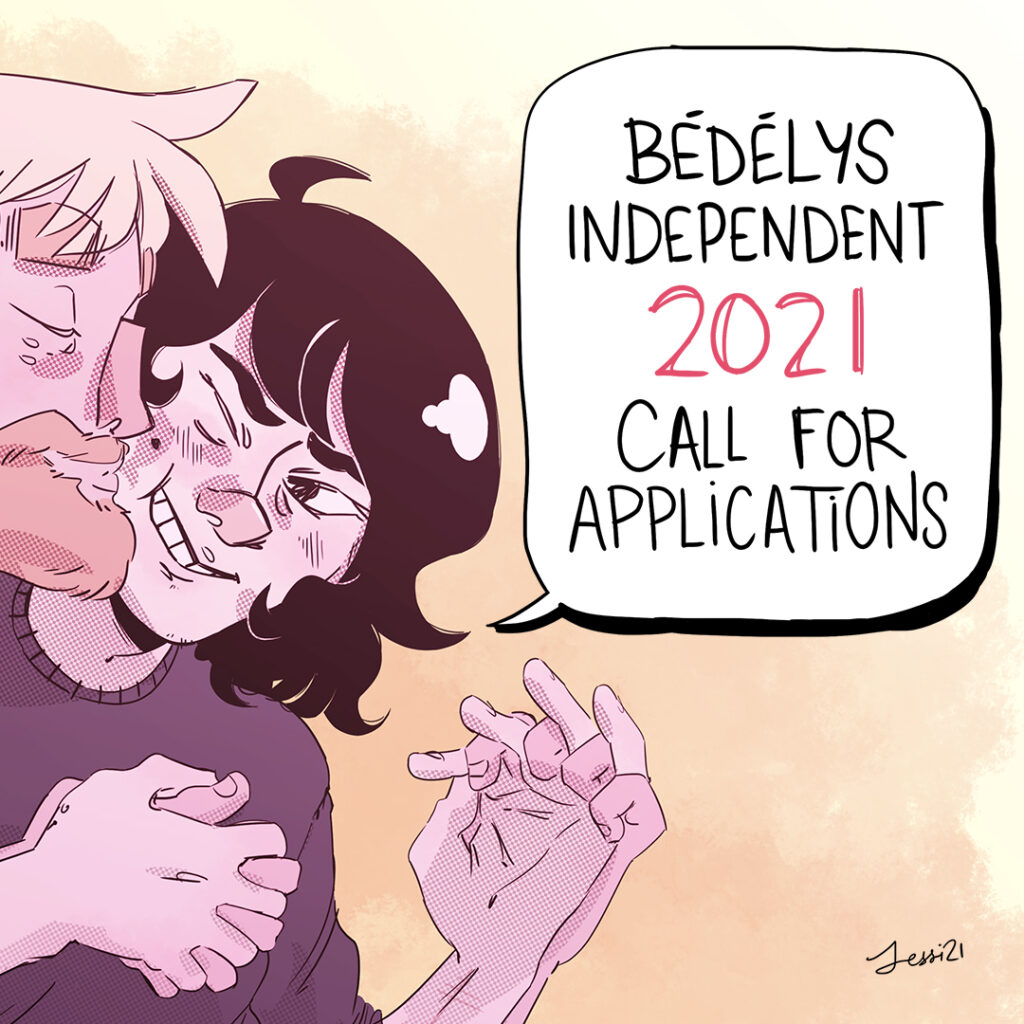 Each award is accompanied by a grant of $1000 and they will share an exhibitor table at next MCAF, furnished by the Montreal Comic Arts Festival.
Submit two copies of your comic and include a return address. All submitted comics must have been self-published in Québec in 2021. Important note: Don't forget to include your mailing address!
A print version must exist, webcomics that are not published in print will not be eligible.
Submit Your Application:
MCAF Offices – 2275, St-Jospeh Blvd E, local 1.130, Montréal, H1X 2C6
Librairie Planète BD – 4077, rue Saint-Denis, Montréal, H2W 2M7
Librairie Pantoute – 1100, rue Saint-Jean, Québec, G1R 1S5
The submission deadline is January 7, 2022.
For any questions, please contact us at bedelys@fbdm-mcaf.ca. We're looking forward to reading your work!
Introducing the 2022 Programming Committee
Every year the MCAF gets better and better and we are tireless in our pursuit of our mission, the foremost of which is to promote Quebec comics.
With this goal in mind, we are pleased to announce the creation of a Programming Committee. This committee will have the mandate to develop and prepare a unique, diverse and interesting programing slate for the Festival that reflects the broader cultural moment. All the people chosen have been involved with the Festival for several years and are important individuals in the Montreal comics community.
It is our pleasure to introduce them to you:
Catherine Emmanuel Brunet | Moderator
David Daneman | Cartoonist & Publisher
Dimani Mathieu Cassendo | Visual narrator
François Vigneault | Cartoonist & Translator
Sandrine Bourget-Lapointe | Bookseller
The committee is headed by Virginie Mont-Reynaud who has been in charge of the Festival's programming since 2017.
MCAF Book Club (in French)
Political issues are present in all the arts and comics are by no means an exception!
More and more often at the heart of graphic novels and BD, politics is a subject that has given life to beautiful and sometimes surprising creations. Join us on October 20th (right between a federal election and the municipal elections!) at the Livrerie, when our Book Club meets again IN PERSON!
Here are the 3 titles we suggest you read between now and when we meet again:
Okay, Universe, Valérie Plante et Delphie Côté-Lacroix (Drawn & Quarterly)
Comment les paradis fiscaux ont ruinés mon petit-déjeuner, François Samson-Dunlop (Écosociété)
Shenzhen, Guy Delisle (Drawn & Quarterly)