24th Bédélys Awards – Bédélys Québec
The Montreal Comic Arts Festival is proud to announce the finalists for the 2023 Bédélys Québec Award.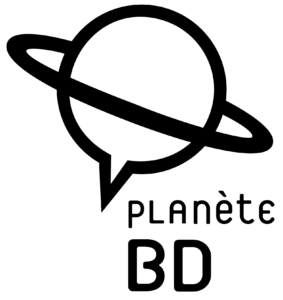 The Bédélys Québec category rewards the best comic book by a Québec artist published in Québec. The Bédélys Québec award and its $1,000 grant will be offered by Librairie Plantète BD.
The works in this category were selected by a jury of readers composed of librarians, booksellers, publishers and professionals working in the book industry.
The winners will be announced on Thursday, May 25, at Livart, during the opening night of the Montreal Comic Arts Festival. The event will be hosted by journalist and host Marie-Louise Arsenault.
Find all the details of the different categories of the Bédélys awards.
The finalists are:
La méduse, Boum (Pow Pow)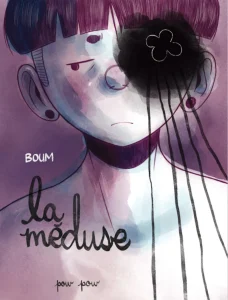 Odette has a jellyfish in her eye, that only she can see. A jellyfish that multiplies. With a small apartment to call her own, a steady job that she likes and a crush on a customer in her bookstore, you'd think Odette had everything she needed to be happy… but a jellyfish appears in her eye and turns her life upside down. At once touching and suffocating, La méduse is a story about the importance of taking the hand that is held out to us so that the darkness of illness and grief can finally dissipate.
Boum was born in Montreal in 1985. With a DEC and a bachelor's degree in animation, she has seen her short films travel around the world. However, since 2011, she has dedicated herself to comics. Author of La petite révolution (Front Froid) and Nausées matinales et autres petits bonheurs (La Pastèque), she is best known for her series Boumeries (Glénat Québec), which won the Bédélys 2021 Award. She has a husband, two daughters, a cat and a long list of things to do. Boum has been suffering from various eye diseases for over fifteen years. In March 2021, she lost the use of her right eye for good.

Les rescapés de l'éternité, Grégoire Bouchard (Moelle Graphik)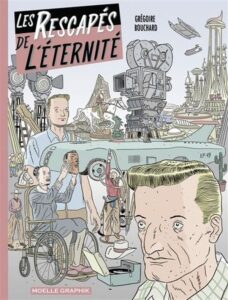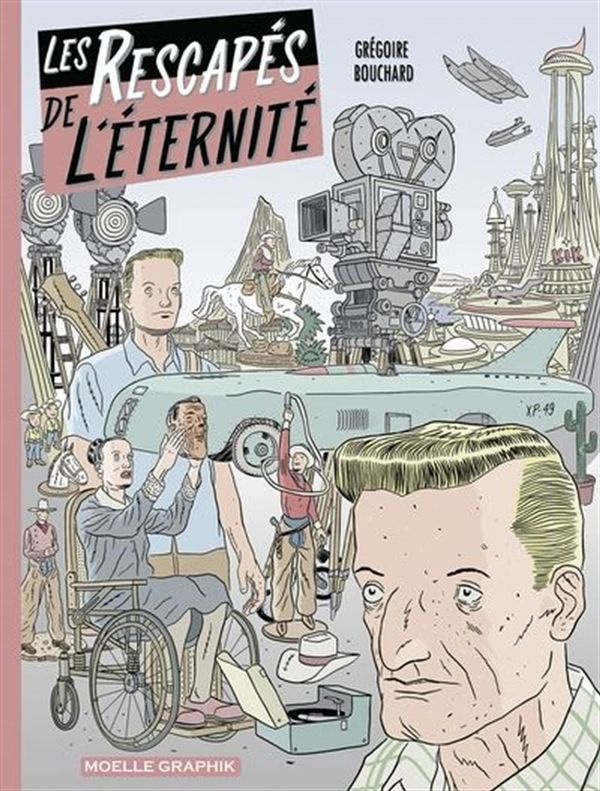 After annihilating the Martian civilization in Le cauchemar argenté and Terminus la Terre, Captain Bob Leclerc takes part in his strangest adventure yet in this story. It begins in the distant past, in Atlantis, and spans the centuries, including the neurotic era of race cars and speed records, the dark backdrops of old American westerns, and the outdated palette of 1950s rock and roll nihilism. It all culminates in a delirious vision of a dystopian future embraced by the shadow of one of the greatest human torments: impossible and unattainable love! Les rescapés de l'éternité is first and foremost a dense comic book, spanning 280 pages, which plunges us into a meditative reading and leads us to question ourselves about the passage of time and the indelible mark it leaves on our bodies and minds, whatever the aspirations and dreams that animated our youth.
Grégoire Bouchard was born in Montréal in 1965. In addition to obtaining a degree in visual arts in 1986, he studied graphic arts in Orléans, France. He has collaborated with various magazines, including Iceberg, where in 1993 he created Bob Leclerc, his character of a retired war pilot. Grégoire Bouchard is fascinated by the 1950s' imagery, which he uses in his disturbing science-fiction stories, anchored in a scathing second degree.

Symptômes, Catherine Ocelot (Pow Pow)
Like plants entwined in a greenhouse, the stories in Symptômes intertwine and interweave to expose the ties that bind us, but also how relationships, whether toxic or healthy, impact our bodies and minds. What if there are invisible threads that forever connect us to those who have played a role in our lives? The finesse of the dialogues and the drawing transmit to the readers all the emotions and reflections, sometimes funny, sometimes poetic, that punctuate the book. Symptômes, a bit like a waking dream, explores our inner movements, what transforms us.
Originally from Québec City, Catherine Ocelot lives in Montreal with her daughter and her little dog. She is the author of Talk-Show and La vie d'artiste, for which she won the 2019 Bédélys Québec Award for best comic book published here. Her books are full of existential questions that she stages with humor and melancholy.
Time zone J, Julie Doucet (Drawn & Quarterly)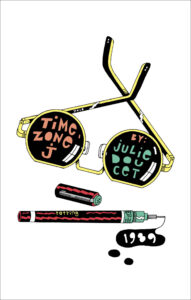 The year is 1989 and twenty-three-year-old Doucet is flying to France to meet with a soldier. He's a man she only knows through their mail correspondence, a common enough reality of the zine era, when comics were mailed from cartoonist to reader and close relationships were formed. Time is not on their side—the soldier is just on furlough for a few days—but the two make the most of their visit and discuss future plans, maybe even Christmas in Doucet's city, Montreal. Time Zone J is Julie Doucet's first inked comic since she famously quit in the nineties after an exhausting career in an industry that, at the time, made little room for women.

Julie Doucet is best known for her series of frank, funny and sometimes shocking comics, Dirty Plotte, which changed the landscape of alternative comics. In the 1990s, she moved between New York, Seattle, Berlin and Montreal and published My New York Diary, Lift Your Leg, My Fish Is Dead! and My Most Secret Desire, as well as L'affaire Madame Paul. In 2000, she abandoned comics to focus on other art forms. Time Zone J marks her return to the art form, with the French version Suicide Total published by L'Association.
Utown, Cab (Nouvelle adresse)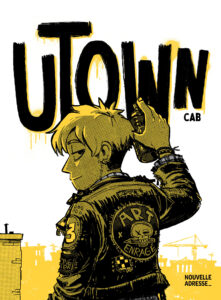 Sam makes every effort to avoid adult life. He stays up late, works at a video store, and draws in between sandwiches from the convenience store. For too long, he has lived in a decrepit building in Utown, an underprivileged neighborhood full of outcasts who, like him, do not want to be found. Over time, the neighborhood gentrifies and Sam learns that the building he lives in will be torn down. A bourgeois owner, who sells his coffee for much more than the Belmont Heritage, sees Sam as the perfect local artist to dress up his walls, bridging the gap between his wealthy clients and the old residents. It remains to be seen if Sam will be able to create something, and find himself, before everything falls apart…
Cab is a Montreal-based comic book artist. Creator of the Hiver nucléaire series at Front Froid (Nuclear Winter at Boom! Studios), she has also done covers for various American publishers. She loves wastelands, architecture, hot drinks and inking with a pen.