Call to Action – Bédélys Independent
We've started preparing for the 22nd annual Bédélys Awards, which reward the best and brightest comics from here and abroad.
It's time to submit your work for consideration for the Bédélys Independent Awards, a pair of prizes for the best self-published comics created in Quebec, with separate awards for comics published in French and in English. Each award is accompanied by a grant of $1000 and they will share an exhibitor table at next MCAF*, furnished by the Montreal Comic Arts Festival.
Submit two copies of your comic and include a return address. All submitted comics must have been self-published in Québec in 2020.
Webcomics that are not published in print will not be eligible.
You can send or drop off your application at one of those locations: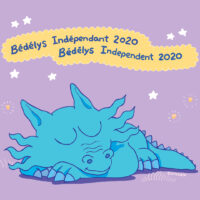 MCAF – 6590, Pie-IX Boul., Montreal, H1X 2C6
Planète BD – 4077, Saint-Denis Street, Montreal, H2W 2M7
Pantoute Bookstore – 1100, Saint-Jean Street, Québec, G1R 1S5
The submission deadline is January 8, 2021.
If you have any question, please contact us at bedelys@fbdm-mcaf.ca.

We're looking forward to reading your work!

*Depending on the capacity of MCAF to host physical exhibitors in 2021.