MCAF Takes Over Saint-Denis Street
The 11th annual Montreal Comic Arts Festival, presented in collaboration with the Journal de Montréal, took place from May 27 to 29 on Saint-Denis Street. The SDC Rue Saint-Denis and its merchants warmly welcomed the Festival and the public to Saint-Denis Street for the first time ever. This change of location was received with enthusiasm by the more than 80,000 people who came out for the occasion! It was a real celebration of comics and the MCAF team can't wait for next year. Here is a non-exhaustive report of this successful weekend. 
Making Connections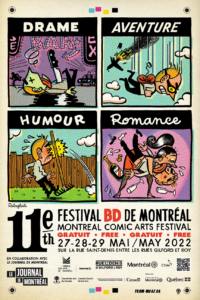 Poster Art by the Legendary Michel Rabagliati
L'équipe du festival s'est tournée vers Michel Rabagliati pour illustrer à la fois ce The festival team turned to Michel Rabagliati to illustrate both the poster for our 11th annual Festival as well as the cover of our latest anthology, Rencontres. The creator of "Paul" has been MCAF's greatest ambassador since the Festival first set up its tents over a decade ago. His continual enthusiasm and unconditional aid have made him a key supporter of the Festival, and we can never thank him enough.
This Year's Theme: Making Connections
A festival is by definition a place of encounter, discovery and learning, a mission we take seriously. But beyond meeting others, it is the spirit of community and exchange that increasingly drives creation. This is why our 2022 theme, "Making Connections," highlights this important aspect of comics and art in general.
This year, we are focusing on the art of conversation, by inviting creators to discuss subjects that are common to them in the form of a round table or a discussion for two. Topics such as spirituality, adaptation in comics, queer creation, anthropomorphism, punk culture and art will be the subject of exchanges between comic book creators and other members of the comics industry.
The weekend will be punctuated by a dozen free drawing workshops that will allow festival-goers to learn more about the art of comic book creation. And of course, let's not forget the live drawing performances, which will be an opportunity to see the artists at work, and sometimes even to guide their creative impulses.
Honouring Quebec Comics
For more than ten years now, the Festival has been welcoming Quebec comic artists and offering them a platform to showcase their art. What a pleasure to see these creators return year after year with their new books and creations, and this year will be no exception!
The recent high honours bestowed on members of the Quebec comics community, notably at Angoulême International Comics Festival, have confirmed the choices of our programming committee. Julie Doucet, winner of the Angoulême Grand Prix, will be in conversation with Jessica Campbell, creator of the new graphic novel Rave. Christian Quesnel, who received the Eco-Fauve Raja Award and the Grand Prix de la ville de Québec for Mégantic, un train dans la nuit, will be part of the panel on History with Marc Tessier and Emanuelle Dufour. We will also have the pleasure of welcoming Jean-Paul Eid, whose latest book, Le petit astronaute, won the ACBD Critics Award. He will be discussing stories of resilience with Marcello Quintanilha and Éloïse Marseille.
Furthermore, the Quebec youth author Alex A., known for his series L'Agent Jean, will also be on the program along with other local comic artists including: Jade Armstrong, Eloisa Aquino, Jean-Sébastien Bérubé, Cab, Cathon, Olivier Hamel and Olivier Carpentier, Jeik Dion, Iris, Philippe Lemieux and Garry, Billy Mavreas, Catherine Ocelot, Obom, Yanick Paquette, Salgood Sam and Zviane.
Welcoming International Guests
For the first time, MCAF will have the pleasure of welcoming artists hailing from Brazil, with Marcello Quintanilha (Écoute, jolie Marcia) and Marcelo Lelis (En fuite!) in attendance. This year's Festival will also feature an exhibition on Chilean women in comics, installed along our comics route. Chilean author Berna Labourdette and editor Vivian Lavin will be on hand to present the work and discuss the rich history of the 9th Art of this South American country.
The European continent will also be well-represented, including appearances by Brecht Evens (City of Belgium); Elene Usdin (René.e aux bois dormants), Léa Murawiec (Le grand vide), Juni Ba (Monkey Meat), and of course a special appearance by Diane Le Feyer and Mr Tan the creators of the hit series Mortelle Adèle. We will also welcome from Italy Lorena Canottiere and Pietro Scarnera, and the German creator Katharina Greve.