The 12th MCAF in review
A Tremendous Success for the 12th Edition of the Montreal Comic Arts Festival
Montréal, June 2nd 2023 – The 12th Montreal Comic Arts Festival set a new attendance record, with over 82,000 people present from May 26 to 28 on Saint-Denis Street.
"It's a pleasure to see the public's enthusiasm for comic arts. We want our celebration to spread the word about the medium and create encounters. It was a huge wave of love that washed over Saint-Denis." says Mélanie La Roche, the new Executive Director. MCAF also boasts a record number of volunteers, 175 in all."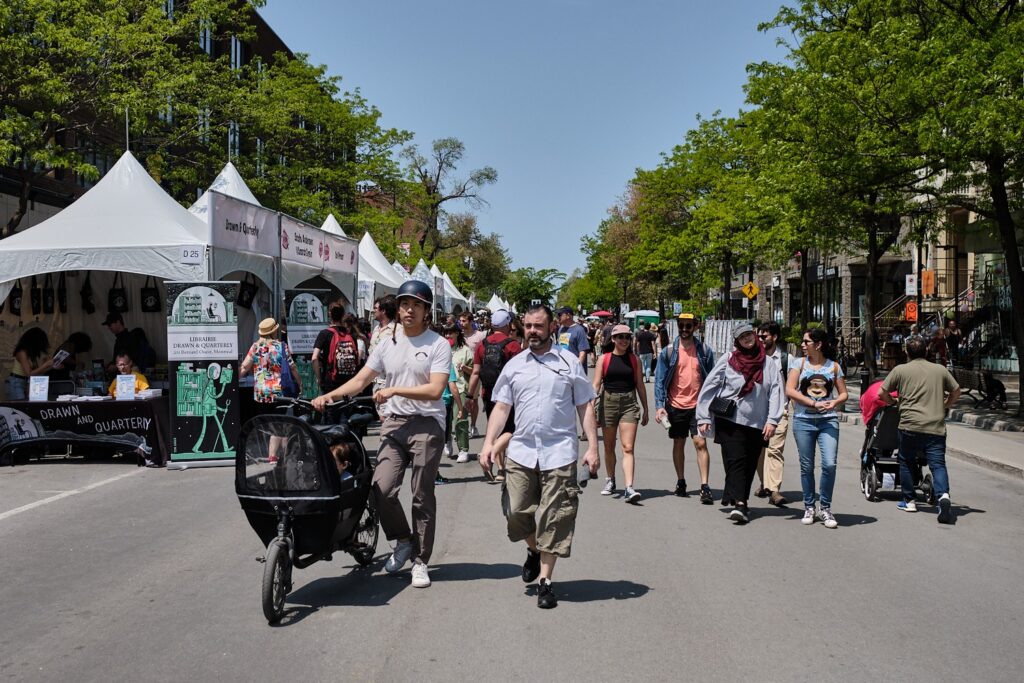 A Programming for Everyone
The 12th edition presented in collaboration with the SDC Rue Saint-Denis offered 55 free activities for the general public, outdoor exhibits and meetings with a total of more than 290 creators from here and abroad, another record.
The live drawing animations, presented by Desjardins, were so popular that the organization is considering increasing the size of the tents next year! "It's always fascinating to watch artists draw, and our team loves to make complementary duos, especially for comic improvisation" adds Mélanie La Roche.
The panels, which were presented by La Presse, are always interesting. The meeting between several comic artists from different backgrounds creates lively discussions. For those who were unable to attend in person, these will be progressively uploaded to the MCAF YouTube page this summer.
The creation workshops also attracted a great deal of interest. Young and old alike took advantage of the festival to learn or perfect their technique.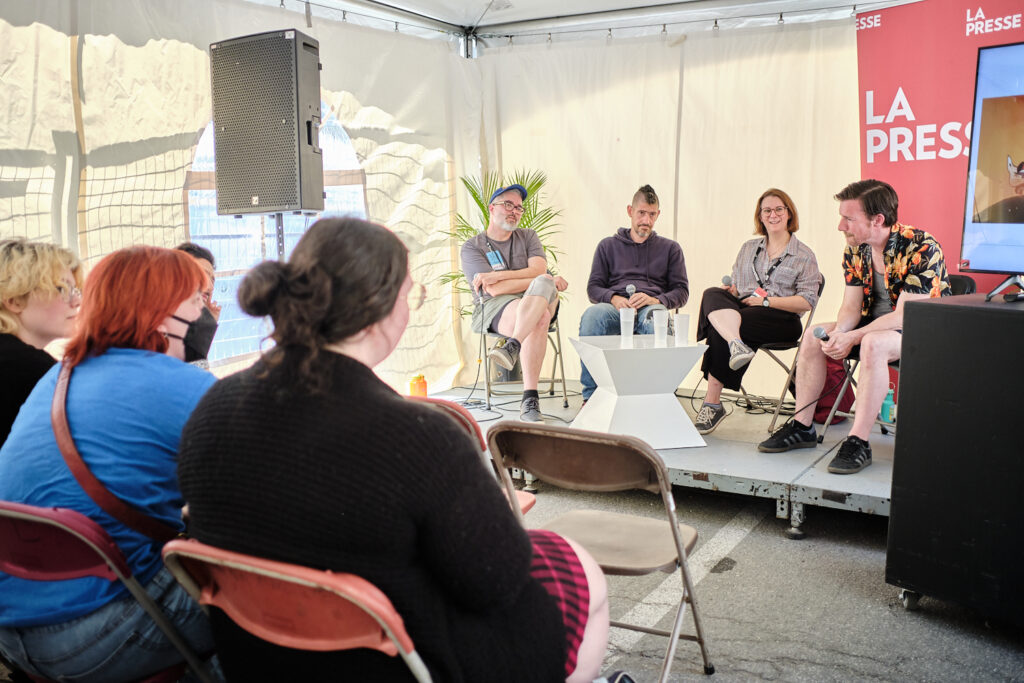 The Winners of the Bédélys Awards
Nearly 200 people from the comics world were present at La Tulipe for the festival's opening night on Thursday, May 25. The evening, hosted by journalist and host Marie-Louise Arsenault, rewarded the best comics published in 2022 as part of the 24th Bédélys awards. Six awards were given, for a total of $4,000 in grants. Each prize came with a unique trophy created by artist Karl Dupéré-Richer. The winning comics are :
Bédélys International: Peau, Mieke Versyp, Sabien Clement (Éditions çà et là)
Bédélys Youth: L'espace d'un instant, Niki Smith (Rue de Sèvres)
Bédélys Independent Francophone: Déphasé / Phase Shift, Jessi
Bédélys Independent Anglophone: Lost Virtue #0, ART or DIE
Bédélys Youth Québec: Si on était…, tome 2, Axelle Lenoir (Front Froid)
Bédélys Québec: Utown, Cab (Nouvelle adresse)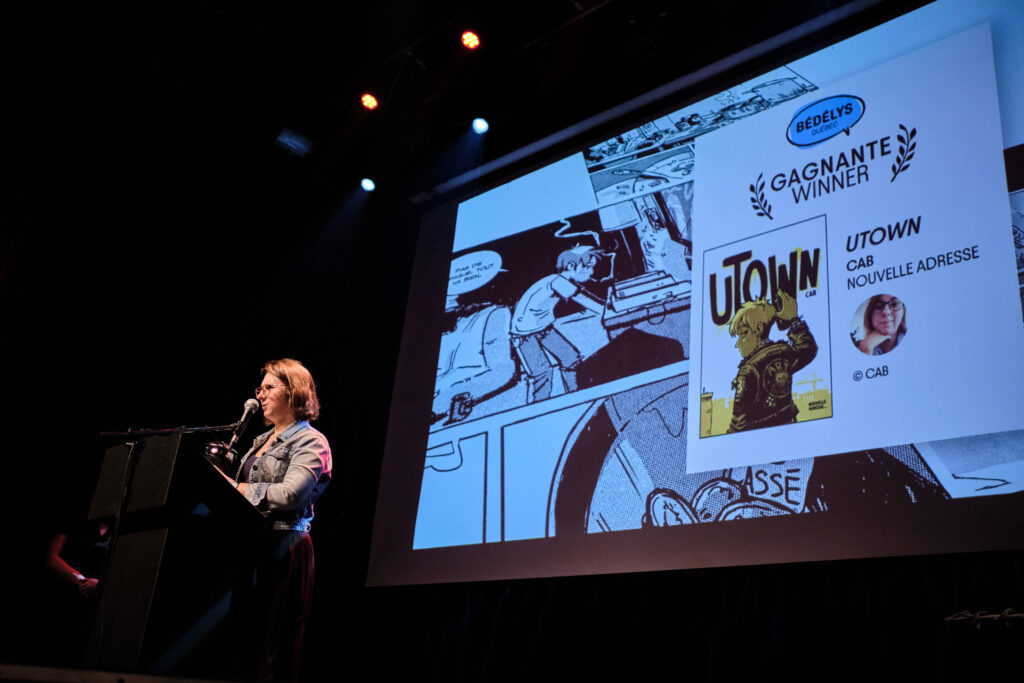 This year, the Bédélys Québec award was presented by Librairie Planète BD which offered a $1,000 grant to the winner, Cab, for her book Utown. The Bédélys Youth Québec, and Bédélys Independent Francophone and Anglophone also awarded $1,000 grants courtesy of the Montreal Comic Arts Festival.
See you next year!
Proud of its success, the Montreal Comic Arts Festival is looking forward to its 13th edition, to be held once again on Saint-Denis from May 24 to 26, 2024. The festival team promises plenty of surprises and discoveries!
---
Partners
The Montreal Comic Arts Festival, in collaboration with the SDC Rue Saint-Denis, would like to thank its partners for their precious collaboration: Desjardins, La Presse, Canadian Heritage, Canada Council for the Arts, SODEC, Ministère de l'Emploi et de la Solidarité sociale, Conseil des arts de Montréal, Service de la culture de la Ville de Montréal, Tourisme Montréal and Arrondissement Plateau–Mont-Royal.
MCAF aslo thanks its many programming partners: ProChile, le Consulat Général de France à Québec, Consulate General of Brazil in Montreal, Italian Cultural Institute of Montreal, Consulate of Switzerland in Quebec, Pro Helvetia, Wallonie-Bruxelles International, Bibliothèques de Montréal, École en Réseau, CSSDM, CSSMB, CSSDP, Le Livart, le Salon du livre de Montréal, Liseur Public, Cinéma Public, the NFB, Drink & Draw Montréal, the Cinémathèque québécoise and Montréal CoWork and librairie Planète BD.

About MCAF
For the past 12 years, the Montreal Comic Arts Festival has provided a platform for exchanges and encounters between comic book creators and publishers and the medium's ever-growing audience. Through its annual spring event, it promotes Québec and Canadian comics locally and internationally, while contributing to the development and dissemination of knowledge about the "9th Art." To learn more about MCAF, visit fbdm-mcaf.ca.
-30-
MCAF contact:
Mélanie La Roche, Executive Director, melanie.laroche@fbdm-mcaf.ca
Press agency Rugicomm contacts:
Stéphanie Culakowa, Senior Consultant, stephanie.culakowa@rugicomm.ca
Audrey Gosselin, Public Relations and Social Media Manager, audrey@rugicomm.ca