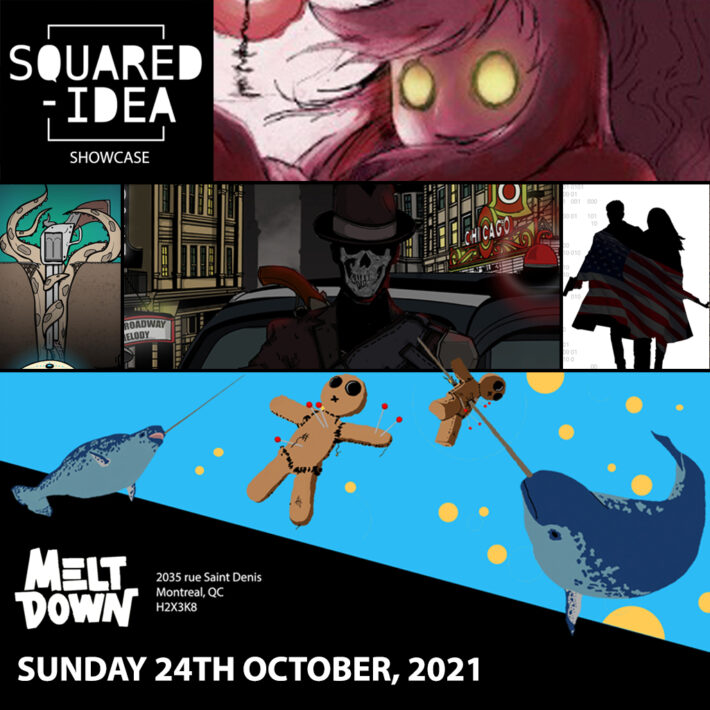 [EN] Squared-Idea Showcase
24 octobre 2021 15:00 - 00:00
Meltdown MTL
2035 Saint Denis St, Montreal, Quebec H2X 3K8
Squared-Idea is hosting a Comic Showcase event at Meltdown MTL. The team is extremely excited to showcase their projects + artwork, meet new people and have some fun. We have brand new projects in the works, as well as some new members. Podcast personality Brian Doc Holidae will host a series of panels on which all of our new members will present themselves and their comics/graphic novels. Included will be members from Geektastiq cypha and The Lore Boys.
We will also be having a pop culture game show where 3 members of the public can go up against 3 members of the Squared-Idea team. If you are a group of 3 and interested in going head-to-head, please DM us and tell us a little about yourselves. This will take place in person in Montreal so if you cannot be there in person or aren't over 18, maybe next time ;).
In order to attend you must be 18+ (it is taking place in a bar after all) and have your vaccine passport on hand. If for some reason you cannot attend in person, no problem, because we will be broadcasting all of the night's activities live on Facebook.
There is also one more special activity that we will announce 1 week prior to the event, so stay tuned (prizes to be won). If you like comics, art, beer and opportunities to win cool prizes, come to jam with us at Meltdown MTL on October 24th. We can't wait to see you there and have some good times!