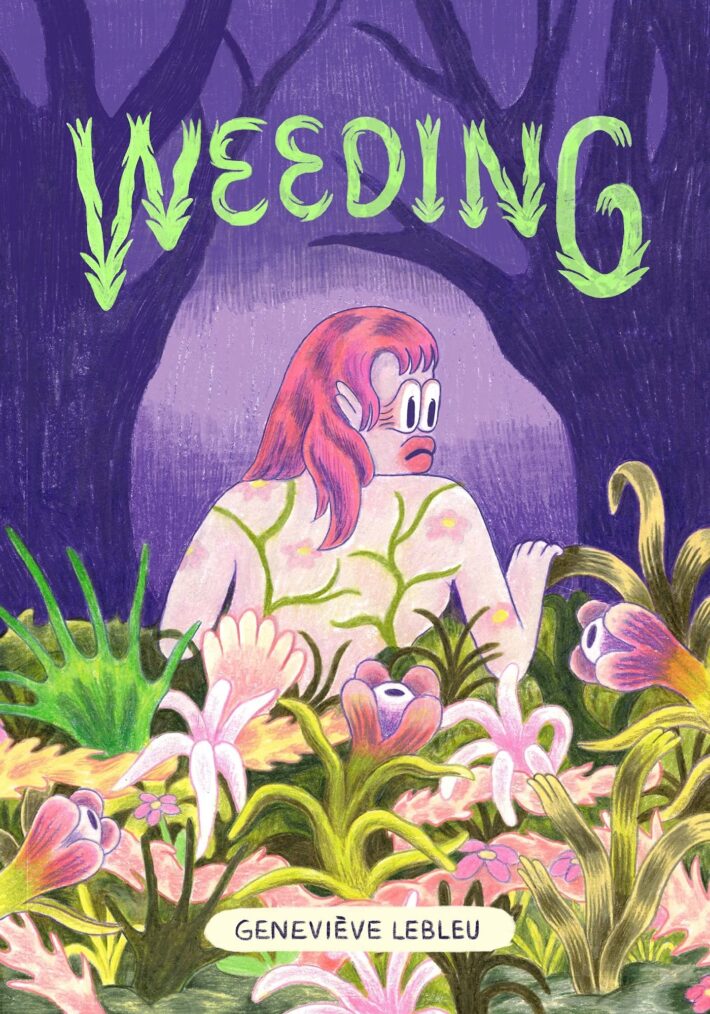 [EN] Graphic Novel Book Club: Weeding
VIRTUAL BOOKCLUB - VIA ZOOM
https://us02web.zoom.us/j/87951920498
Meeting ID: 879 5192 0498
Passcode: 419556
Join our Graphic Novel Book Club as we meet online Tuesday May 3rd at 8 PM to discuss Weeding by Geneviève Lebleu.
Where and How Can I purchase the book?
Find the book here: https://bit.ly/3utlTvO
We Ship Canada-wide, delivery locally in Montreal, and are open for pickups and shopping in our stores.
By purchasing your book at Librairie Drawn & Quarterly you help support events like this one, independent publishing and retailing, our neighborhood, and authors both local and from around the world who depend on independent bookstores for their livelihood. Your support is appreciated.
///////////////////////////////////////////
WEEDING
X-Files meets The Young and The RestlessOn a typical autumn afternoon, Martha hosts a group of middle-aged women at her suburban home. The day takes a sudden turn when Elisabeth, an estranged friend, turns up unexpectedly--and she isn't the only unwanted guest at the tea party. Martha's sister, Maureen, shows up after years of radio silence, along some painful memories and a lot of confusion. It doesn't take long for the guest list to change again when Martha disappears after a simple trip to the backyard for herbs. Martha is the most beloved of the women--but will any of the others be able to look past their own problems long enough to search for her?A satirical portrayal of feminine archetypes in the social landscape of the 60's, Weeding is inspired by soap operas that use unexplained disappearances and repetitive character reanimations to liven up otherwise uneventful plot lines. As a verb, "weeding" means "to remove an inferior or unwanted component of a group or collection." In Weeding, Geneviève Lebleu takes this definition to the extreme with a fable about social exclusion in a world where women turn against one another.
///////////////////////////////////////////
GENEVIÈVE LEBLEU is a multidisciplinary artist from Québec City and is currently based in Montréal. She graduated with distinction from Concordia University in Studio Arts (2016) and completed a semester at Bezalel Academy of Art and Design in Jerusalem (Israel).Her work was featured in various events, exhibitions and festivals in Montréal (Le Vidéographe, GIV [Groupe Intervention Vidéo], Eastern Bloc, Perte de Signal, Festival SOIR, Galerie Galerie) but also abroad—in Israel and in Indiana where she attended her first artist residency in August 2017. Geneviève has been granted funding from both Conseil des arts et lettres du Québec and Canada Council for the Arts. Her work in stop motion animation was featured on national television on CBC Arts The Exhibitionist in November 2018.
///////////////////////////////////////////
Librairie Drawn & Quarterly recognizes that our bookstores are located on the unceded territory of the Kanien'kehá:ka. Many of us refer to Montreal as our home, but it is named Tiohtiá:ke. This has always been a gathering place for many First Nations and continues to be home to a diverse population of Indigenous peoples. It is important to think about how each and every one of us has arrived here. We are grateful that creating and sharing stories has been a part of this land for thousands of years and we urge you to seek out a story that is different from your own.
/////////////////////////////////////////
Please email events@drawnandquarterly.com if you have any questions!