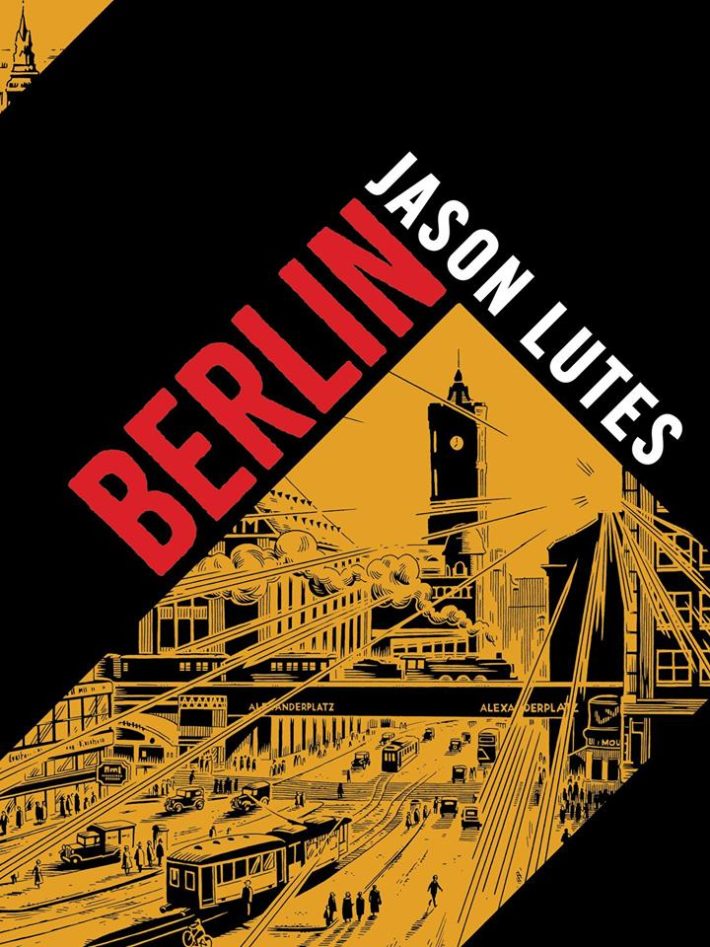 [ENG] Graphic Novel Book Club: Berlin by Jason Lutes
6 novembre 2019 19:00 - 21:00
Librairie Drawn & Quarterly
211 Rue Bernard O, Montréal, QC H2T 2K5
Each month we host a Graphic Novel Book Club, open to all, during which we hang out and informally discuss a featured graphic novel. Our pick for November is BERLIN by Jason Lutes, hosting the club will be Drawn & Quarterly Publisher Peggy Burns.
TWENTY YEARS IN THE MAKING, THIS SWEEPING MASTERPIECE CHARTS BERLIN THROUGH THE RISE OF NAZISM.
We will meet at La Petite Librairie Drawn & Quarterly (176 Rue Bernard Ouest) on Wednesday, November 6th at 7 p.m. Join us for refreshments and collective insights!
ABOUT:
During the past two decades, Jason Lutes has quietly created one of the masterworks of the graphic novel golden age. Berlin is one of the high-water marks of the medium: rich in its well-researched historical detail, compassionate in its character studies, and as timely as ever in its depiction of a society slowly awakening to the stranglehold of fascism.
Berlin is an intricate look at the fall of the Weimar Republic through the eyes of its citizens—Marthe Müller, a young woman escaping the memory of a brother killed in World War I, Kurt Severing, an idealistic journalist losing faith in the printed word as fascism and extremism take hold; the Brauns, a family torn apart by poverty and politics. Lutes weaves these characters' lives into the larger fabric of a city slowly ripping apart.
The city itself is the central protagonist in this historical fiction. Lavish salons, crumbling sidewalks, dusty attics, and train stations: all these places come alive in Lutes' masterful hand. Weimar Berlin was the world's metropolis, where intellectualism, creativity, and sensuous liberal values thrived, and Lutes maps its tragic, inevitable decline. Devastatingly relevant and beautifully told, Berlin is one of the great epics of the comics medium.
***We are offering a 20% discount on BERLIN from now until the meeting date!***
〰️〰️〰️
Librairie Drawn & Quarterly recognizes that our events and bookstores are located on the unceded territory of the Kanien'kehá:ka. Many of us refer to Montreal as our home, but it is named Tiohtiá:ke. This has always been a gathering place for many First Nations and continues to be home to a diverse population of Indigenous peoples. It is important to think about how each and every one of us has arrived here. We are grateful that creating and sharing stories has been a part of this land for thousands of years and we urge you to seek out a story that is different from your own.
〰️〰️〰️
La Petite Drawn and Quarterly Accessibility information:
- Our event space uses StopGap.ca ramps in an effort to encourage accessibility. Both the step at the entrance, followed by a half step and a door have StopGap ramps. The door opens inward and is not automated. Once inside, there are no additional steps.
- It is not a sober space, our events sometimes offer alcohol.
♥ Please email events@drawnandquarterly.com if you have any accessibility needs we can accommodate (for example, saving you a seat if you have mobility needs) ♥