Beyond Borders | Comic Arts International Conference
MCAF is proud to present its second comic arts international conference!
This conference will bring together researchers interested in the comic arts and their creators for discussions and presentations of research and field work on the theme Beyond Borders.
Beyond Borders
Whether political, geographical, social, linguistic, cultural, graphic, metaphorical, real or imaginary, borders are drawn and apprehended in many ways by comic artists.
Three directions have been proposed for the calls for papers:
Crossing Borders
Between Borders
Transcending Borders
> More information on the theme
Out of more than 40 proposals received, the Scientific Committee has chosen 15 to be presented from October 19 to 21, at the Réfectoire de l'esplanade Tranquille in Montreal.
Participation is free with registration.
Schedule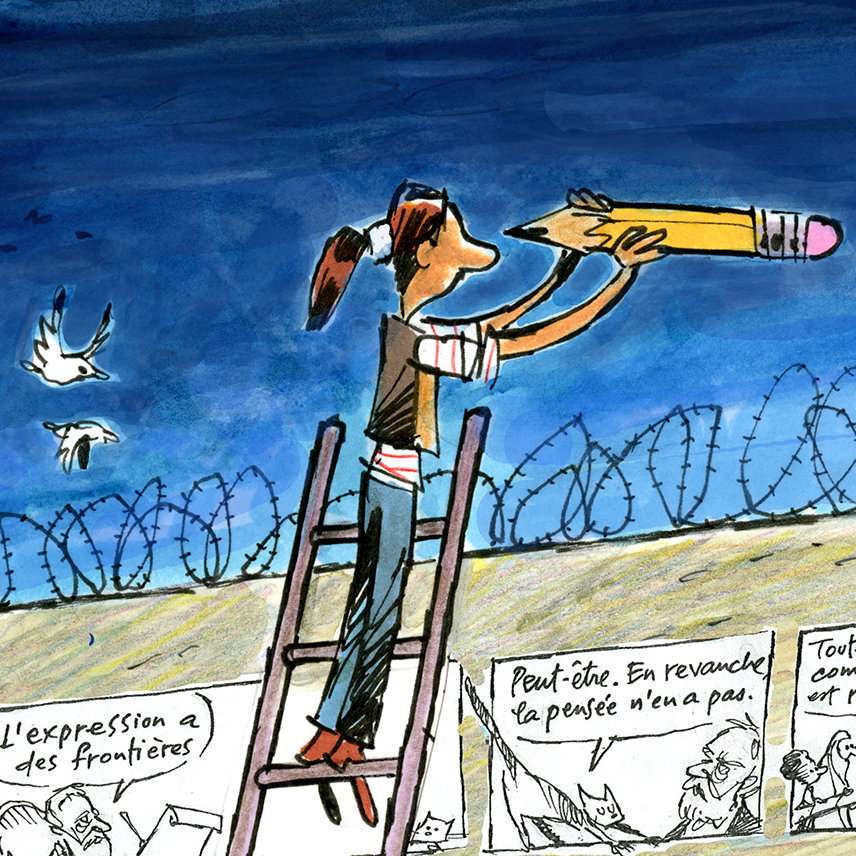 Thursday, October 19
Opening Conference With Jacques Goldstyn (in French)
Wartime Experience: Testifying in Comics
Friday, October 20
Intermediality in Comics: Transcending Borders
Migration Experiences: Humanizing Through Comics
Movement and Adaptation: Breaking Boundaries
Saturday, October 21
Representations and Perceptions: Comics as Agents of Change?
Borders of Exile: Destroying and Rebuilding
Scientific Committee
Scientific Director
Anna Giaufret, Department of Modern Languages and Cultures, University of Genoa
Members of the Scientific Committee
Chedly Belkhodja, Professor, School of Community and Public Affairs, Concordia University, Montreal, and director of the Centre for the Study of Politics and Immigration
Thara Charland, Postdoctoral researcher, Département des littératures de langue française, de traduction et de création, McGill University, Montreal
Johanne Desrochers, Montreal Comic Arts Festival director 2014-2022
Emanuelle Dufour, comic artist and postdoctorant, CIÉRA and Université du Québec en Abitibi-Témiscamingue, Quebec
Michel Hellman, comic artist and professor at l'École multidisciplinaire de l'image, Université du Québec en Outaouais, Gatineau
Laura Madokoro, associate professor, Department of History, Carleton University, Ottawa
Partners
MCAF would like to thank its partners for their support and collaboration:
the Canada Council for the Arts, Conseil des arts de Montréal, and the Center for Interdisciplinary Research in Montreal Studies (CIRM).
Thanks also to our service partner the Quartier des spectacles Partnership and Armada Film.
Thanks to Jacques Goldstyn for his magnificent illustration work.