24th Bédélys Awards – Bédélys Independent Francophone
The Montreal Comic Arts Festival is proud to announce the finalists for the 2023 Bédélys Independent Francophone Award.
The Bédélys Independent Francophone category rewards the best self-published francophone comic book created in Quebec and is accompanied by a $1,000 grant.
The works in this category were selected by a jury of readers composed of librarians, booksellers, publishers and professionals working in the book industry.
The winners will be announced on Thursday, May 25, at Livart, during the opening night of the Montreal Comic Arts Festival. The event will be hosted by journalist and host Marie-Louise Arsenault.
Find all the details of the different categories of the Bédélys awards.
The finalists are:
Déphasé / Phase Shift, Jessi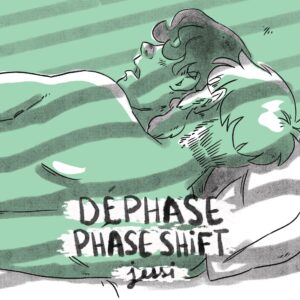 Déphasé/Phase Shift is the 6th erotic zine from the Semi Colon serie. It's about a warm morning rendez-vous between Mathis and Nicolas who, despite living together under the same roof, have a hard time seeing each other because of their very different schedule.
Jessi has a few erotic zines up his sleeve and a medieval fantasy webcomic, Sun's Blade, which he plans to pick up as soon as the weather permits. Hi, stranger, a queer erotic zine, won the 2021 English-language independent Bédélys award and Sun's Blade received the 2018 Jacques-Hurtubise Award.

Hier, Myriam Bourgeois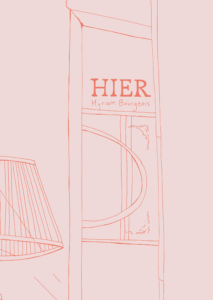 Hier talks about a time out of creation, a moment that is hollow and empty.

At 7 years old, Myriam Bourgeois wanted to write and illustrate books. She did a detour by getting a DEC in Cinema and a Degree in Fine Arts. All that to realise that what she wanted was to be a comic book artist. She writes melancholic autofiction and explores the day-to-day relations and emotions through objects, architecture and places. She lives and works in Montréal.

Le tour de l'île, Sara Pruneau Bélanger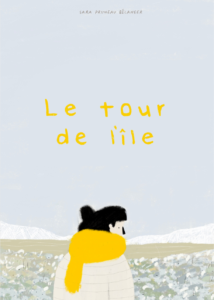 Le tour de l'île is a short zine that draws the landscapes of the St. Lawrence River and the imposter syndrome. The character is groping their way forward, questioning their place in the artistic world, but also bearings, daily life and… life in general.
Sara Prune was born in the 450 but opened her heart in the middle of the St. Lawrence River. Since then, she has picked flowers, learned to build fires and started drawing again. She is working on her first comic book, Les petites marées, which will be published by Nouvelle adresse.

Métamorphose, Catherine de Gongre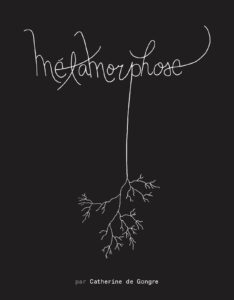 Metamorphose is to live a mourning and sow it in nature, to comfort ourselves and keep the disappeared in the living that surrounds us. Following a personal experience, the author has chosen to imitate this theme, which is not always easy to tackle. A firm believer that art helps us to live, this necessary project was born to provoke thoughts, emotions and above all to give comfort with a philosophy of mourning that is imbued with the beauty of nature.

Catherine de Gongre has always been a fan of artistic projects and cannot imagine her life without listening to music, cooking, drawing, and tinkering with her hands. For her, the world of comics is a real love at first sight, in tune with an ideal of freedom!

Montréal-Gaspé, Ariane Cloutier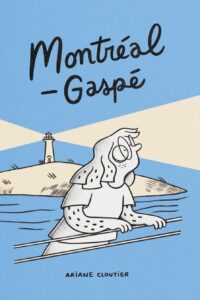 Montréal-Gaspé is a weird story about glasses and letting go that takes place in distorted sceneries from the Gaspésie region. A good excuse for both visual and poetic research!
Ariane Cloutier has been drawing characters filled with softness and anxiety ever since she completed her studies in Graphic Design at UQAM (2018). In between existential crises, she is working on her first long comic book – a project started during a residency with the publishing house Front Froid (2020).