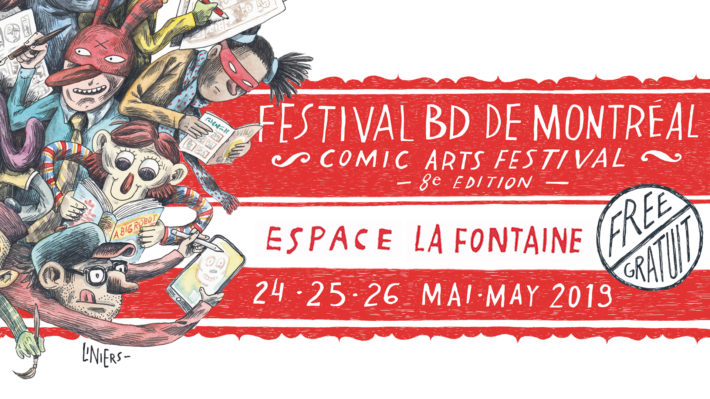 MCAF Unveils the 2019 Festival Poster by Liniers
(Montreal, April 18 2019) The Montreal Comic Arts Festival is proud to unveils the poster for its 8th annual Festival. Following creations by Michel Rabagliati, Delaf and Dubuc, Jacques Ferrandez, Seth, Jean Paul Eid, Boum et Meags Fitzgerald, the 8th annual MCAF features a poster by the celebrated Argentinian cartoonist and painter Liniers.

Liniers has created an gorgeous poster for the Festival, with a wealth of unique and colorful characters testifying to the diverse and vibrant comic arts scene of Montreal. MCAF is very pleased to have worked with this internationally-reknown artist.

About Liniers
Ricardo Liniers Siri – known as Liniers to comic fans around the world – was born in Argentina in 1973. After initially trying to follow the family tradition and become a lawyer before becoming a comics artist, an artistic career began with self-published fanzines created with friends. He is the creator several graphic novels, including the Eisner Award-winning Good Night, Planet. For the last 16 years, Liniers has written and drawn the daily comic strip Macanudo, published in Argentina in the pages La Nación and in several American newspapers through King Features Syndicate. This long-running strip also runs in the pages of El Pais (Espagne), El Tiempo (Colombie), and HoyxHoy (Chili). Macanudo is of the most well-loved comic strips in all of South America and Liniers is certainly one of the most popular cartoonists on the continent. He received an Inkpot award in 2018.

He is also the founder of the Spanish-language publishing house Editorial Común with his wife Angie. They have published over thirty books, some of which have been translated internationally into English, French, and many other languages.

His work has frequently graced the cover of The New Yorker. Liniers has also toured with the musician Kevin Johansen throughout Latin America and Spain, documenting the groups performances in drawings. His comical artwork has even shown up on the stage at comedy clubs as part of a collaboration with the Chilean artist Alberto Montt.

Liniers is currently in residence at the Center for Cartoon Studies (CCS) in White River Junction, Vermont, where he continues to draw Macanudo daily.

---
The 8th Edition
The 8th annual edition of the Montreal Comic Arts Festival will take place from May 24 to May 26, 2019, at Éspace La Fontaine in La Fontaine Park. MCAF is a is a bilingual, free, and eco-responsible public event. As always, the Festival will host round-table discussions, workshops, expositions, readings, and interviews that allow visitors to deepen their understanding and appreciation for the comic arts.

About MCAF
Founded in 2011, the Montreal Comic Arts Festival's mission is to be a leading platform for the comic arts in Quebec and beyond, to broaden public knowledge of and engagement with the comic arts, and to promote cultural exchanges and interactions between creators, readers, and the public at large.
www.fbdm-montreal.ca

-30-

Further Information :
Chantale Baar
MCAF Public Relations
(514) 992-6463
presse@fbdm-montreal.ca