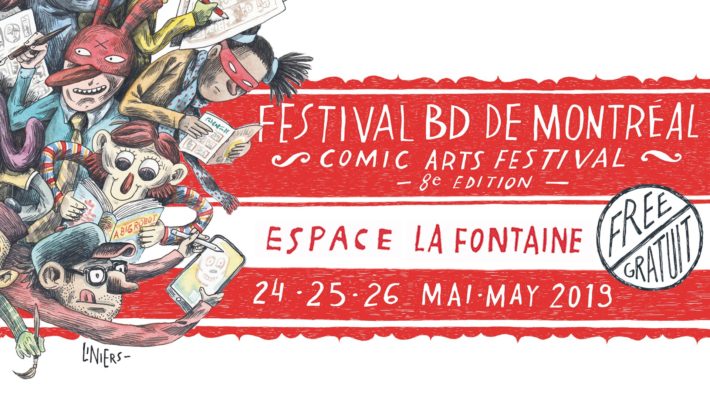 The 8th Annual Montreal Comic Arts Festival: Organizers Announce a Complete Success!
(Montreal, May 30 2019) The organizers of the Montreal Comic Arts Festival (MCAF) are proud to share some highlights from the recently completed 8th annual festival, confirming that this bilingual, eco-conscious, and free event continues to be greatly appreciated by the Festival's many participating artists, speakers, partners, and the public at large. 
A Festival Full of Activities and Artists 
The 2019 edition of the Festival, which took place from the May 24-May 26 at Espace La Fontaine, had more than its share of highlights that are worth taking note of: 
A Diverse and Impressive Roster of Artists and Publishers 
Special appearances from star creators such as Anne Simon, Birgit Weyne, Charles Forsman, Dubuc and Delaf, Élise Gravel, Fabien Toulmé, Julie Rocheleau, Julien Paré-Sorel, Michel Rabagliati, Yoann, Seth.
A record number of 79 exhibitors. 
The presence of three publishing houses who made the journey all the way from France: Rouquemoute, Misma and Super Loto Éditions/Requin Marteau. 
The presence of Black Panel Press of Toronto, along with a wide range of anglophone self-publishers.
Nearly 12,000 Visitors 
A field trip of 800 students organized by the Commission scolaire Marguerite-Bourgeoys and the Commission scolaire de Montréal. 
A steady stream of attendees on all three days of the event, right in the heart of La Fontaine Park. 
Both attendees and exhibitors happily rose to the challenge of keeping Park La Fontaine car-free, a first for the Festival. 
Special Highlights from the 8th Annual MCAF 
A beautiful poster created by the famed cartoonist LINIERS. 
The presentation of the 20th annual Bédélys Awards at the Festival's opening cocktail reception, with over 250 invited guests.
The very-successful launch of MCAF's first book, Rues de Montréal, in partnership with the comics revue Planches.
A new partnership with the Offices jeunesse internationaux du Québec (LOJIQ) for a call for applications for young cartoonists to participate in a week-long artists' residency at the Centre Belge de la Bande Dessinée in Brussels.
Many signing sessions throughout the weekend, marked by the warmth and generosity of our creators to their readers.
The presence of the brass band the Van Hornies, who performed on Saturday afternoon to an enthusiastic and delighted audience.
The presentation of 10 expositions, 60 activities, and 4 special events over the course of the weekend.
Spotlight on the Bédélys Awards 
The winners of the 210th annual Bédélys Awards are:
Bédélys Québec (Best comic book created and published in Quebec) 
La vie d'artiste, Catherine Ocelot (Mécanique Générale) 
Bédélys Indépendant (Best self-published comic created in Quebec) 
La fois où je suis tombé au carrefour, Daniel Pelchat (Éditions Trip) 
Bédélys Étranger (Best international comic book) 
Courtes distances, Joff Winterhart (Ça et Là) 
Bédélys Jeunesse (Best comic book published in Quebec for an audience of 7 to 12 years of age) 
Le garçon sorcière, Molly Knox Ostertag (Scholastic) 
Special Thanks 
To the entire team at Espace La Fontaine, to the exhibitors and creators who bring so much energy to the Festival each year, to Magali who offered massages to creators throughtout the weekend, to the amazing team of volunteers for their energy and generosity, to the members of MCAF organizing committee, and the board of directors for their ongoing work.
A Special Thank You to the Festival Partners 
Financial Partners : Caisse de la culture, Conseil des Arts de Montréal, Conseil des Arts du Canada, Consulat général de France à Québec, Goethe Institut, Gouvernement du Canada, SODEC, Tourisme Québec, Ville de Montréal, Wallonie – Bruxelles International.be. 
Service Partners: Bibliothèques Montréal, Commission scolaire Marguerite-Bourgeoys, Commission scolaire de Montréal, Espace La Fontaine, Newad and Le Plateau-Mont-Royal. 
Media Partners: 24 Heures, CISM 89,3, CULT Mtl, Culture Cible, La vitrine.com; Le Devoir, NATCHAV and PLANCHES.  
The Festival Returns in 2020
The 9th annual edition of MCAF will be held from May 29-31, 2020!
– 30 –
Further Information :
Chantale Baar
MCAF Public Relations
(514) 992-6463
presse@fbdm-montreal.ca