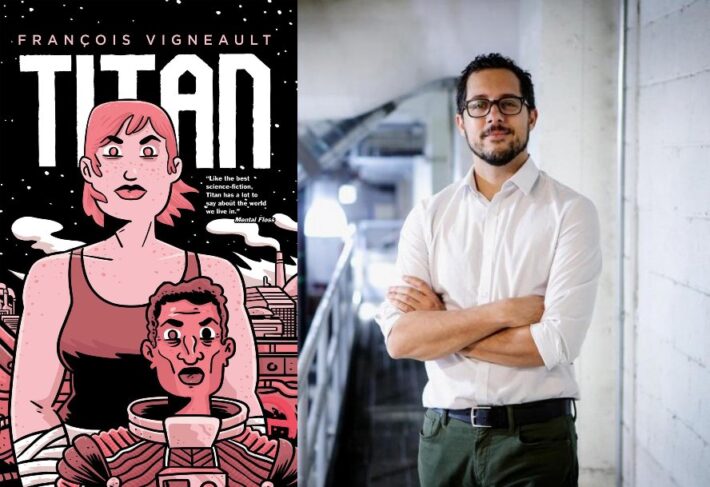 Librairie D+Q presents François Vigneault launching Titan!
12 November 2020 19:00 - 21:00
Join us for the virtual launch of François Vigneault's new graphic novel Titan, with guest Ben Winters!
RSVP here: https://bit.ly/33yp6hy
Where and How Can I purchase the books? Why our webstore of course... We ship Canada-wide!
http://mtl.drawnandquarterly.com/webstore
By purchasing your book at Librairie Drawn & Quarterly you help support events like this one, independent publishing and retailing, our neighborhood, and authors both local and from around the world who depend on independent bookstores for their livelihood. Your support is appreciated.

️
️
️
TITAN
When MNGR First Class João da Silva arrives on the moon of Titan to take charge of Homestead Station, he finds the massive mining colony plagued by tensions between the giant, genetically-engineered Titan workers and the Terran management. As anger mounts, what began as a routine posting quickly turns into something far more dangerous.Phoebe Mackintosh thought she left her fighting days behind her when she turned her back on the "mixing" circuit. Now, she finds herself caught between a past she'd rather forget and a future she can't predict.Together, they must find a way to pull Homestead back from the brink of disaster... Or Titan might be the spark that sets the entire solar system ablaze.

️
️
️
FRANÇOIS VIGNEAULT
François Vigneault is a freelance illustrator, designer, and cartoonist (not necessarily in that order). In addition to Titan, his work includes 13e Avenue (Éditions de la Pastèque), and his comics and illustrations have been appeared in publications such as Planches, Papercutter, Kayak, and Study Group Magazine. His work has been nominated for numerous awards, including the Joe Shuster Award, Prix des Libraires, and the Prix des Collèges. Born in the United States to immigrant parents, he has lived and worked in Montréal, Québec since 2015.BEN H. WINTERS is the author of the novel The Quiet Boy, which will be published by Mulholland/Little, Brown in the spring of 2021. He is also the author of the novel Golden State; the New York Times bestselling Underground Airlines; The Last Policeman and its two sequels; the horror novel Bedbugs; and several works for young readers. His first novel, Sense and Sensibility and Sea Monsters, was also a Times bestseller. Ben has won the Edgar Award for mystery writing, the Philip K. Dick award in science fiction, the Sidewise Award for alternate history, and France's Grand Prix de L'Imaginaire. His writing has appeared in Slate and in the New York Times Book Review. He also writes for film and television, and was a producer on the FX show Legion. He lives in LA with his family.
️
️
️Librairie Drawn & Quarterly recognizes that our events and bookstores are located on the unceded territory of the Kanien'kehá:ka. Many of us refer to Montreal as our home, but it is named Tiohtiá:ke. This has always been a gathering place for many First Nations and continues to be home to a diverse population of Indigenous peoples. It is important to think about how each and every one of us has arrived here. We are grateful that creating and sharing stories has been a part of this land for thousands of years and we urge you to seek out a story that is different from your own.