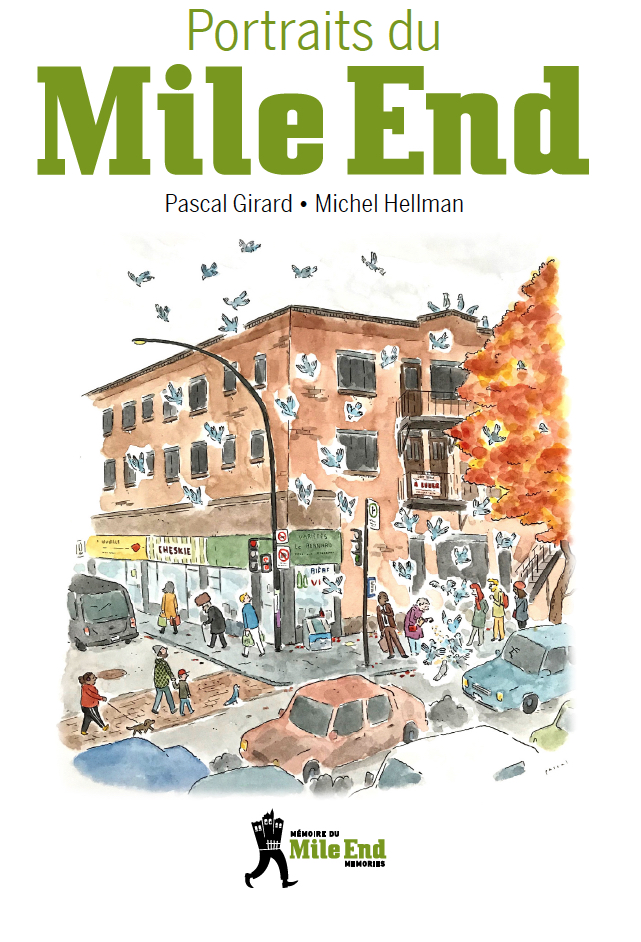 Launch: Portraits du Mile End!
20 September 2019 18:00 - 21:00
La Petite Librairie Drawn & Quarterly
176 Rue Bernard O, Montréal, QC H2T 2K2
Join us for the launch of a book that celebrates Mile End diversity! Mile End Memories, the local history group, associated itself with two local graphic artists, Michel Hellman and Pascal Girard, to publish a richly illustrated book who tells the neighborhood history. From the 19th century country inn to today's vibrant cultural life. Come meet the authors and have your book signed over a lovely evening at the heart of our neighborhood!
Mile End Memories is both a historical society and an active community group. We provide keys to understanding the past so that people may become better informed and involved actors in their community. In addition to our historical work, we also host discussions with people involved in current issues such as access to housing, preserving space for artists' workshops, appreciation of architectural heritage, and the celebration of cultural diversity.
Librairie Drawn & Quarterly recognizes that our events and bookstores are located on the unceded territory of the Kanien'kehá:ka. Many of us refer to Montreal as our home, but it is named Tiohtiá:ke. This has always been a gathering place for many First Nations and continues to be home to a diverse population of Indigenous peoples. It is important to think about how each and every one of us has arrived here. We are grateful that creating and sharing stories has been a part of this land for thousands of years and we urge you to seek out a story that is different from your own.
〰️️〰️️〰️️
La Petite Drawn and Quarterly Accessibility information:
- Our event space uses StopGap.ca ramps in an effort to encourage accessibility. Both the step at the entrance, followed by a half step and a door have StopGap ramps. The door opens inward and is not automated. Once inside, there are no additional steps.
- It is not a sober space, our events sometimes offer alcohol.
♥️ Please email events@drawnandquarterly.com if you have any accessibility needs we can accommodate (for example, saving you a seat if you have mobility needs) for you to be able to enjoy our events, worry-free, and feel free to contact us for any concerns you may have ♥️