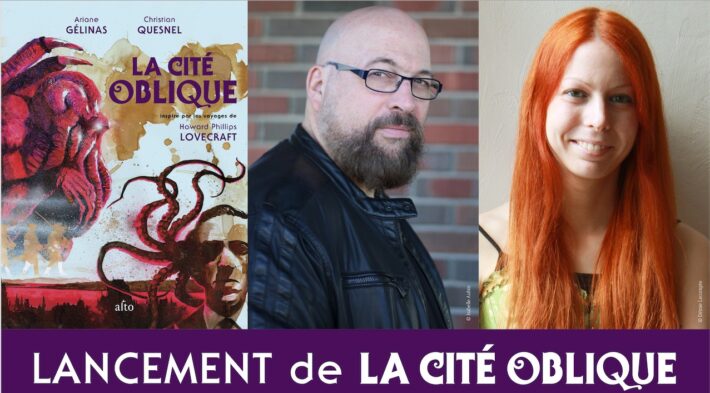 [FR] Lancement à Montréal | La cité oblique
31 August 2022 17:30 - 20:00
Nestor
6289 Rue St-Hubert, Montréal, QC H2S 2L9
C'est avec beaucoup d'enthousiasme qu'Alto vous invite au lancement tentaculaire du roman graphique LA CITÉ OBLIQUE, le mercredi 31 août à 17 h 30, au Bar Nestor à Montréal (6289, rue St-Hubert), en compagnie de Christian Quesnel et Ariane Gélinas !
L'esprit d'Howard Phillips Lovecraft, qui a inspiré l'ouvrage, devrait aussi être présent, mais Cthulhu a décliné notre invitation…
Vous pourrez vous procurer le livre sur place et obtenir un exlibris signé par les auteur·rice·s.
On vous y attend pour célébrer avec nous!
-------------------------
LA CITÉ OBLIQUE
Au début des années 1930, Québec est l'hôte d'un visiteur taciturne et discret, dont la vision a marqué au fer rouge la littérature fantastique : Howard Phillips Lovecraft. Celui qui a donné naissance au mythe de Cthulhu, peuplé de créatures antédiluviennes, a rédigé lors de ses trois séjours dans la «cité aux énigmes murées » une histoire de la Nouvelle-France qui sera publiée à titre posthume en 1976 dans l'ouvrage intitulé To Quebec and the Stars. Inspirée de cette entreprise méconnue, La cité oblique propose une relecture hallucinée et magnifiquement illustrée des débuts de la colonisation jusqu'à la Conquête.
Oubliez l'histoire officielle, voici celle que l'on vous a cachée, narrée par un de Ceux-qui-savent
Pour consulter la biographie de CHRISTIAN QUESNEL : https://bit.ly/3wgpCP3
Pour consulter la biographie d'ARIANE GÉLINAS : https://bit.ly/3AvkJ7b