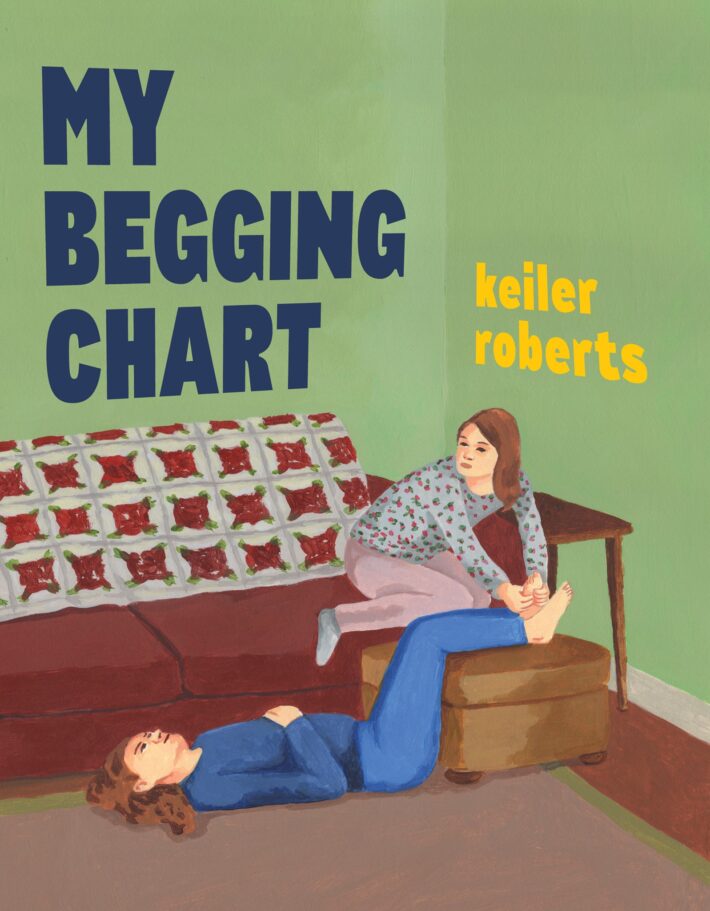 Graphic Novel Book Club: My Begging Chart by Keiler Roberts
VIRTUAL BOOKCLUB - VIA ZOOM: https://us02web.zoom.us/j/88413492799
Meeting ID: 884 1349 2799
Passcode: 240336
Join our Graphic Novel Book Club as we meet online to discuss contemporary Graphic Novels!
At our next meeting, Wednesday, October 20th, at 8 PM ET, we'll discuss My Begging Chart by Keiler Roberts.
Where and How Can I purchase the book?
Find the book here: https://bit.ly/3AxrFhM
More info on our webstore here: http://mtl.drawnandquarterly.com/posts/webstore-faq
We Ship Canada-wide!
By purchasing your book at Librairie Drawn & Quarterly you help support events like this one, independent publishing and retailing, our neighborhood, and authors both local and from around the world who depend on independent bookstores for their livelihood. Your support is appreciated.
///////////////////////////////////////////
MY BEGGING CHART
"One of comics' preeminent humorists." —The AV ClubKeiler Roberts mines the passing moments of family life to deliver an affecting and funny account of what it means to simultaneously exist as a mother, daughter, wife, and artist. Drawn in an unassuming yet charming staccato that mimics the awkward rhythm of life, no one's foibles are left unspared, most often the author's own.When Roberts considers whether or not to dust the ceiling fan, it's effectively relevant. She can get lost in the rewarding melodrama of playing Barbies with her daughter and will momentarily snap out of her depression. Her harmless fibs to get through the moment are brought up by her daughter a year or two later, yet without hesitation Roberts will request that her daughter's imaginary friend not visit when she is around. Her MS diagnosis lingers in the background, never taking center stage.In My Begging Chart, her most encompassing work yet, Keiler meditates on routine and stillness. The vignettes of her everyday life exude immense presence, making her comics thoroughly relatable and reflective of our all-too-human lives as they unfold with humour, sadness, and relieving joy. In transporting these stories onto paper, Keiler observes, and at times relishes, a fleeting present.
///////////////////////////////////////////
KEILER ROBERTS makes autobiographical comics. She is the recipient of the Slate Cartoonist Studio Prize for Chlorine Gardens and is the author of Powdered Milk, Happy Happy Baby Baby, Miseryland, Rat Time, and Sunburning which was translated into Spanish as Isolada. Also the winner of the Ignatz Award, she teaches comics at The School of The Art Institute in Chicago.
///////////////////////////////////////////
Librairie Drawn & Quarterly recognizes that our bookstores are located on the unceded territory of the Kanien'kehá:ka. Many of us refer to Montreal as our home, but it is named Tiohtiá:ke. This has always been a gathering place for many First Nations and continues to be home to a diverse population of Indigenous peoples. It is important to think about how each and every one of us has arrived here. We are grateful that creating and sharing stories has been a part of this land for thousands of years and we urge you to seek out a story that is different from your own.
/////////////////////////////////////////
Please email events@drawnandquarterly.com if you have any questions!