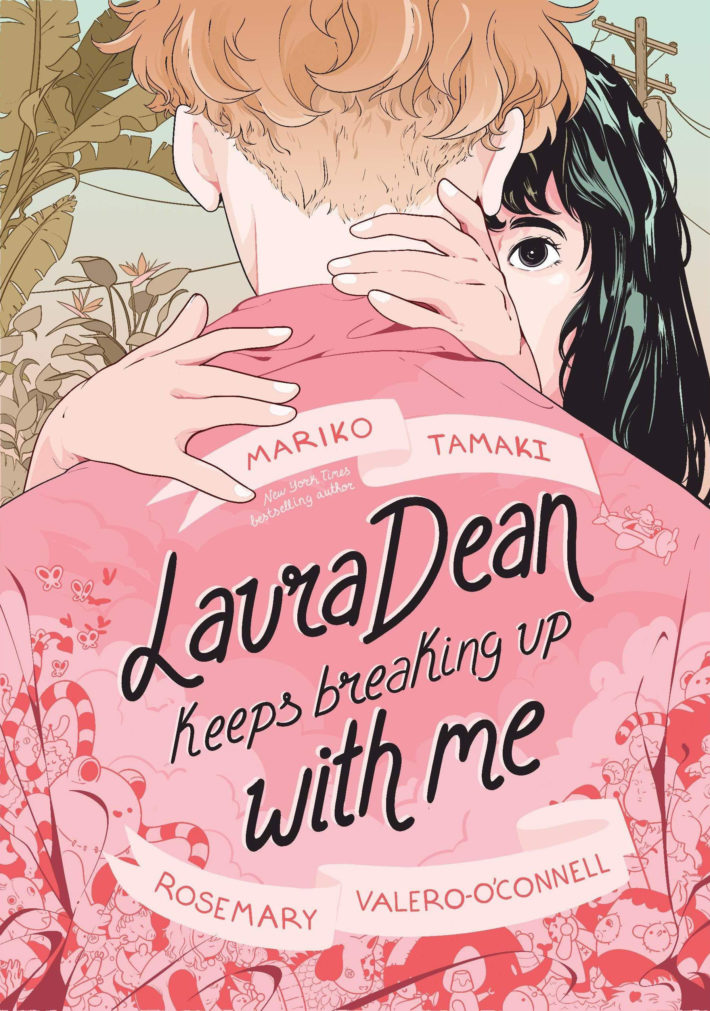 Graphic Novel Book Club: Laura Dean Keeps Breaking Up With Me
12 September 2019 19:00 - 21:00
La Petite Librairie Drawn & Quarterly
176 Rue Bernard O, Montréal, QC H2T 2K2
Each month we host a Graphic Novel Book Club, open to all, during which we hang out and informally discuss a featured graphic novel. Our pick for September is LAURA DEAN KEEPS BREAKING UP WITH ME by Mariko Tamaki and Rosemary Valero-O'Connell.
We will meet at La Petite Librairie Drawn & Quarterly (176 Rue Bernard Ouest) on Thursday, September 12th at 7 p.m. Join us for refreshments and collective insights!
Hosting the club will be Drawn & Quarterly Production Assistant Megan Tan.
ABOUT:
All Freddy Riley wants is for Laura Dean to stop breaking up with her. The day they got back together was the best one of Freddy's life, but nothing's made sense since. Laura Dean is popular, funny and SO CUTE … but she can be really thoughtless, even mean. Their on-again, off-again relationship has Freddy's head spinning — and Freddy's friends can't understand why she keeps going back.
When Freddy consults the services of a local mystic, the mysterious Seek-Her, she isn't thrilled with the advice she receives. But something's got to give: Freddy's heart is breaking in slow motion, and she may be about to lose her very best friend as well as her last shred of self-respect. Fortunately for Freddy, there are new friends, and the insight of advice columnist Anna Vice, to help her through being a teenager in love.
Mariko Tamaki and Rosemary Valero-O'Connell bring to life a sweet and spirited tale of young love that asks us to consider what happens when we ditch the toxic relationships we crave to embrace the healthy ones we need.
***We are offering a 20% discount on LAURA DEAN KEEPS BREAKING UP WITH ME from now until the meeting date!***
〰️〰️〰️
Librairie Drawn & Quarterly recognizes that our events and bookstores are located on the unceded territory of the Kanien'kehá:ka. Many of us refer to Montreal as our home, but it is named Tiohtiá:ke. This has always been a gathering place for many First Nations and continues to be home to a diverse population of Indigenous peoples. It is important to think about how each and every one of us has arrived here. We are grateful that creating and sharing stories has been a part of this land for thousands of years and we urge you to seek out a story that is different from your own.
〰️〰️〰️
La Petite Drawn and Quarterly Accessibility information:
- Our event space uses StopGap.ca ramps in an effort to encourage accessibility. Both the step at the entrance, followed by a half step and a door have StopGap ramps. The door opens inward and is not automated. Once inside, there are no additional steps.
- It is not a sober space, our events sometimes offer alcohol.
♥ Please email events@drawnandquarterly.com if you have any accessibility needs we can accommodate (for example, saving you a seat if you have mobility needs) ♥