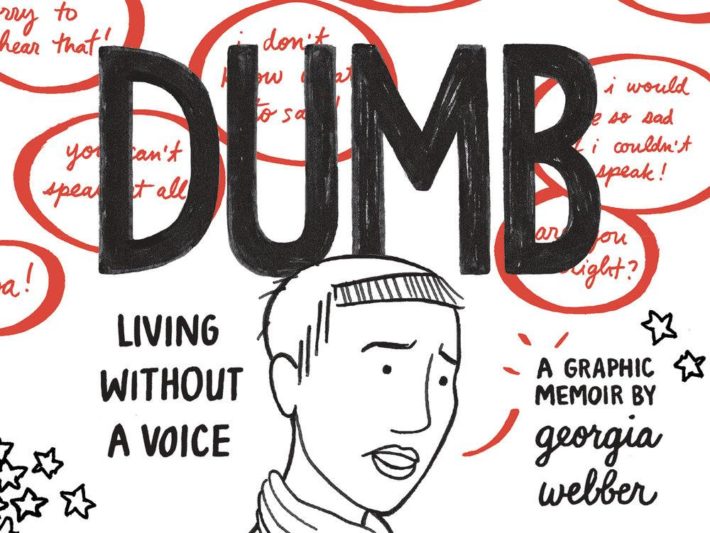 Graphic Novel Book Club: Dumb
13 March 2019 19:00 - 21:00
La Petite Librairie Drawn & Quarterly
176 Rue Bernard O, Montréal, QC H2T 2K2
Each month we host a Graphic Novel Book Club meeting, open to all, during which we hang out and informally discuss a featured graphic novel. Our pick for MARCH is Dumb by Georgia Webber.
We will meet at La Petite Librairie Drawn & Quarterly (176 Rue Bernard Ouest) on Wednesday March 13th at 7 p.m. The discussion will be hosted by Librairie Drawn & Quarterly Bookseller Catherine Bedard. Join us for refreshments and collective insights!
--Dumb's protagonist Georgia lives the relatively carefree and ordinary life of a twentysomething in Montreal: working at a café, volunteering at a local bike co-op, and going out on the town with friends. But when a sudden unanticipated throat injury forces her into months of silence, her life is thrown into disarray. Unable to work her customer service job, she must find new income. Conversing with friends becomes complicated and exhausting. And she is forced to give up a hobby she loves — singing! Navigating a world that appears to be closing in on her seems more and more impossible.
Part memoir, part medical cautionary tale, Dumb tells the story of how the book's author copes with the everyday challenges that come with voicelessness.
--
***We are offering a 20% discount on Dumb from now until the meeting date!***
~ ~
Librairie Drawn & Quarterly recognizes that our events and bookstores are located on the unceded territory of the Kanien'kehá:ka. Many of us refer to Montreal as our home, but it is named Tiohtiá:ke. This has always been a gathering place for many First Nations and continues to be home to a diverse population of Indigenous peoples. It is important to think about how each and every one of us has arrived here. We are grateful that creating and sharing stories has been a part of this land for thousands of years and we urge you to seek out a story that is different from your own.
~ ~
La Petite Drawn and Quarterly Accessibility information:
- Our event space uses StopGap.ca ramps in an effort to encourage accessibility. Both the step at the entrance, followed by a half step and a door have StopGap ramps. The door opens inward and is not automated. Once inside, there are no additional steps.
- It is not a sober space, our events sometimes offer alcohol.
♥ Please email events@drawnandquarterly.com if you have any accessibility needs we can accommodate (for example, saving you a seat if you have mobility needs) for you to be able to enjoy our events, worry-free, and feel free to contact us for any concerns you may have ♥