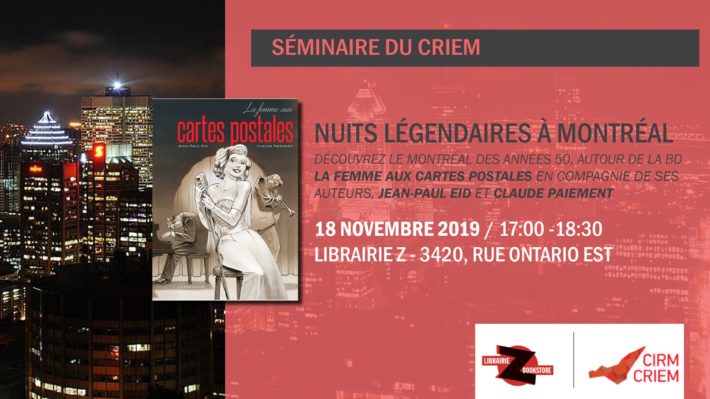 [FR] Séminaire du CRIEM | Nuits légendaires à Montréal
Librairie Z Bookstore
3420 Rue Ontario E, Montreal, QC H1W 1P9
CIRM, in collaboration with the Librairie Z, invites you to discover the life in 1950s Montreal: the municipal government under Jean Drapeau, the Montreal nightlife, the golden age of jazz cabarets...
This discussion will gather five panelists from various backgrounds to share their perspectives on the city's history and on its visual representation in the comic "La femme aux cartes postales" (Claude Paiement & Jean-Paul Eid).
👉November 18th, from 5pm to 6:30pm;
👉Librairie Z, 3420 Ontario Street East.
The event will be held in French. For more information: http://bit.ly/2p6TOge;
Please confirm your presence to the following link : http://bit.ly/36TCBIo.