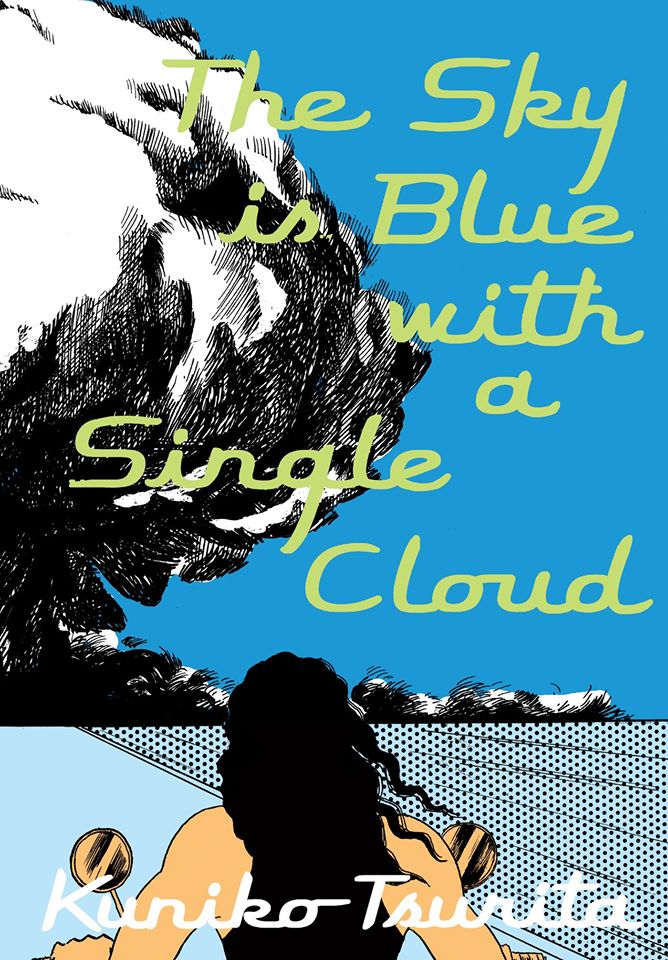 Graphic Novel Book Club: The Sky is Blue with a Single Cloud
VIRTUAL BOOKCLUB - ONLINE VIA ZOOM
Meeting ID880 6597 4883
Meeting Password 338849
♥
Join our Graphic Novel Book Club as we meet online every month to discuss contemporary Graphic Novels!
At our next meeting, Wednesday August 19th, at 7 PM EDT, we'll discuss THE SKY IS BLUE WITH A SINGLE CLOUD by Kuniko Tsurita!
By purchasing your book from our online store --
mtl.drawnandquarterly.com -- you help support community events like this one, independent publishing and retailing, our neighborhood, and authors both local and from around the world who depend on independent bookstores for their livelihood. Your support is appreciated.
///////////////////////////////////////////
THE SKY IS BLUE WITH A SINGLE CLOUD
The work of a visionary and iconoclastic feminist cartoonist—available in English for the first time
The Sky is Blue with a Single Cloud collects the best short stories from Kuniko Tsurita's remarkable career. While the works of her male peers in literary manga are widely reprinted, this formally ambitious and poetic female voice is like none other currently available to an English readership. A master of the comics form, expert pacing and compositions combined with bold characters are signature qualities of Tsurita's work.
Tsurita's early stories "Nonsense" and "Anti" provide a unique, intimate perspective on the bohemian culture and political heat of late 1960s and early '70s Tokyo. Her work gradually became darker and more surreal under the influence of modern French literature and her own prematurely failing health. As in works like "The Sky is Blue with a Single Cloud" and "Max," the gender of many of Tsurita's strong and sensual protagonists is ambiguous, marking an early exploration of gender fluidity. Late stories like "Arctic Cold" and "Flight" show the artist experimenting with more conventional narrative modes, though with dystopian themes that extend the philosophical interests of her early work.
An exciting and essential gekiga collection, The Sky is Blue with a Single Cloud is translated by the comics scholar Ryan Holmberg and includes an afterword cowritten by Holmberg and manga editor Mitsuhiro Asakawa delineating Tsurita's importance and historical relevance.
/////////////////////////////////
KUNIKO TSURITA
Kuniko Tsurita was born in 1947 in Japan. In 1965, at age 18, while still in high school, she debuted in the legendary alt-manga monthly Garo, where she was the magazine's first and only regular female contributor until the late 1970s. Tsurita's early work reflects her interest in bohemian youth culture, while her later work became more surreal and dystopian, with influences ranging from modern French literature to the manga of her peers in Garo, including Yoshiharu Tsuge, Seiichi Hayashi, and Shigeru Mizuki, for whom she worked as an assistant for a short time in the late '60s. In 1973, Tsurita was diagnosed with lupus, at which point specters of death began to heavily shadow her work. She died in 1985 at age thirty-seven.
/////////////////////////////////////////
Librairie Drawn & Quarterly recognizes that our bookstores are located on the unceded territory of the Kanien'kehá:ka. Many of us refer to Montreal as our home, but it is named Tiohtiá:ke. This has always been a gathering place for many First Nations and continues to be home to a diverse population of Indigenous peoples. It is important to think about how each and every one of us has arrived here. We are grateful that creating and sharing stories has been a part of this land for thousands of years and we urge you to seek out a story that is different from your own.
/////////////////////////////////////////
♥ Please email events@drawnandquarterly.com if you have any questions ♥