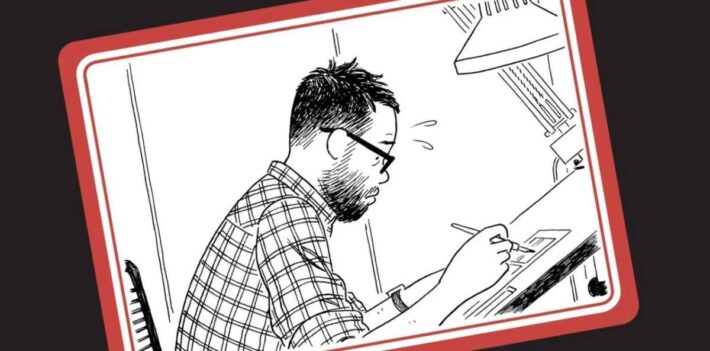 Graphic Novel Book Club: The Loneliness of the Long Distance
16 September 2020 19:00 - 21:00
Librairie Drawn & Quarterly
211 Rue Bernard O, Montréal, QC H2T 2K5
VIRTUAL BOOKCLUB - ONLINE VIA ZOOM
ID de réunion : 833 8122 2629
Mot de passe : 557129

Join our Graphic Novel Book Club as we meet online every month to discuss contemporary Graphic Novels!
At our next meeting, Wednesday September 16th, at 7 PM EDT, we'll discuss THE LONELIESS OF THE LONG DISTANCE CARTOONIST by Adrian Tomine!
By purchasing your book from our online store --mtl.drawnandquarterly.com -- you help support community events like this one, independent publishing and retailing, our neighborhood, and authors both local and from around the world who depend on independent bookstores for their livelihood. Your support is appreciated.
///////////////////////////////////////////
THE LONELINESS OF THE LONG DISTANCE CARTOONISTA comedic memoir about fandom, fame, and other embarrassments from the life of a New York Times bestsellerWhat happens when a childhood hobby grows into a lifelong career? The Loneliness of the Long-Distance Cartoonist, Adrian Tomine's funniest and most revealing foray into autobiography, offers an array of unexpected answers. When a sudden medical incident lands Tomine in the emergency room, he begins to question if it was really all worthwhile: despite the accolades and opportunities of a seemingly charmed career, it's the gaffes, humiliations, slights, and insults he's experienced (or caused) within the industry that loom largest in his memory.Tomine illustrates the amusing absurdities of how we choose to spend our time, all the while mining his conflicted relationship with comics and comics culture. But in between chaotic book tours, disastrous interviews, and cringe-inducing interactions with other artists, life happens: he fumbles his way into marriage, parenthood, and an indisputably fulfilling existence. A richer emotional story emerges as his memories are delineated in excruciatingly hilarious detail.In a bold stylistic departure from his award-winning Killing and Dying, he distills his art to the loose, lively essentials of cartooning, each pen stroke economically imbued with human depth. Designed as a sketchbook complete with placeholder ribbon and an elastic band, The Loneliness of the Long-Distance Cartoonist shows an acclaimed artist at the peak of his career.
/////////////////////////////////
ADRIAN TOMINEAdrian Tomine is the author of Scenes from an Impending Marriage, Shortcomings, Summer Blonde, Sleepwalk, 32 Stories, and the comic book series Optic Nerve. He is also an illustrator for The New Yorker, Esquire, and Rolling Stone, and his stories have appeared in The Best American Nonrequired Reading and An Anthology of Graphic Fiction, Cartoons, and True Stories. A graduate of the University of California at Berkeley, Tomine lives in Brooklyn, New York.
/////////////////////////////////////////
Librairie Drawn & Quarterly recognizes that our bookstores are located on the unceded territory of the Kanien'kehá:ka. Many of us refer to Montreal as our home, but it is named Tiohtiá:ke. This has always been a gathering place for many First Nations and continues to be home to a diverse population of Indigenous peoples. It is important to think about how each and every one of us has arrived here. We are grateful that creating and sharing stories has been a part of this land for thousands of years and we urge you to seek out a story that is different from your own.
/////////////////////////////////////////
Please email events@drawnandquarterly.com if you have any questions