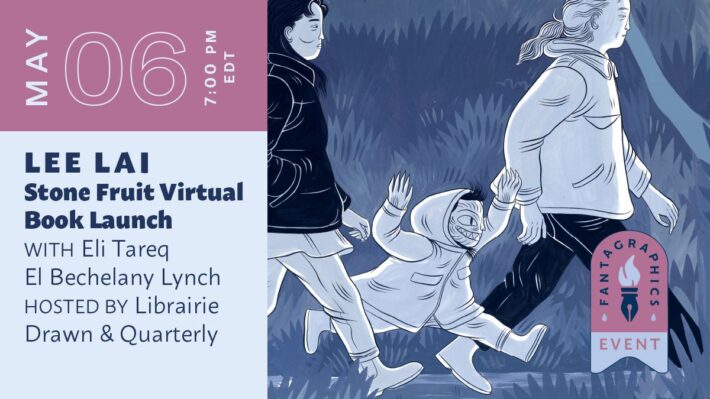 Librairie D+Q presents Lee Lai launching Stone Fruit
Join us to celebrate the release of Lee Lai's debut original graphic novel, Stone Fruit. Lee is joined in conversation by poet Eli Tareq El Bechelany-Lynch.
Find the book here: https://bit.ly/39pON6B
More info on our webstore here: http://mtl.drawnandquarterly.com/posts/webstore-faq
By purchasing your book at Librairie Drawn & Quarterly you help support events like this one, independent publishing and retailing, our neighborhood, and authors both local and from around the world who depend on independent bookstores for their livelihood. Your support is appreciated.
///////////////////////////////////////
STONE FRUIT
Bron and Ray are a queer couple who enjoy their role as the fun weirdo aunties to Ray's niece, six-year-old Nessie. Their playdates are little oases of wildness, joy, and ease in all three of their lives, which ping-pong between familial tensions and deep-seeded personal stumbling blocks. As their emotional intimacy erodes, Ray and Bron isolate from each other and attempt to repair their broken family ties — Ray with her overworked, resentful single-mother sister and Bron with her religious teenage sister who doesn't fully grasp the complexities of gender identity. Taking a leap of faith, each opens up and learns they have more in common with their siblings than they ever knew. At turns joyful and heartbreaking, Stone Fruit reveals through intimately naturalistic dialog and blue-hued watercolor how painful it can be to truly become vulnerable to your loved ones — and how fulfilling it is to be finally understood for who you are.
///////////////////////////////////////
LEE LAI
Lee Lai is an Australian cartoonist and illustrator living in Tio'tia:ke (Montreal, QC). ELI TAREQ EL BECHELANY-LYNCH
Eli Tareq El Bechelany-Lynch is a queer Arab poet living in Tio'tia:ke, unceded Kanien'kehá:ka territory (Montreal).
///////////////////////////////////////
Librairie Drawn & Quarterly recognizes that our events and bookstores are located on the unceded territory of the Kanien'kehá:ka. Many of us refer to Montreal as our home, but it is named Tiohtiá:ke. This has always been a gathering place for many First Nations and continues to be home to a diverse population of Indigenous peoples. It is important to think about how each and every one of us has arrived here. We are grateful that creating and sharing stories has been a part of this land for thousands of years and we urge you to seek out a story that is different from your own.