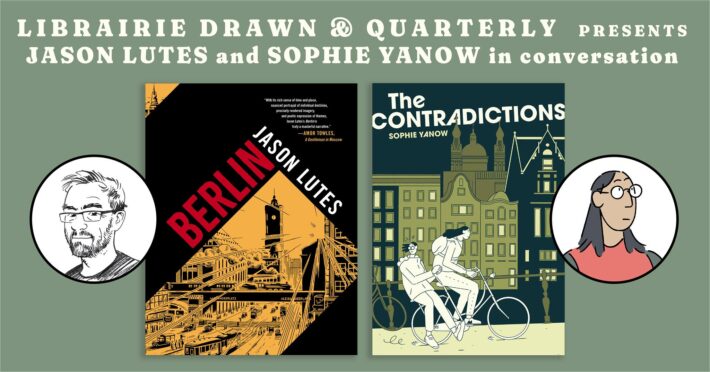 Librairie D+Q presents Jason Lutes and Sophie Yanow in conversation
1 October 2020 19:00 - 21:00
Join us for the virtual launch of Sophie Yanow's The Contradictions and Jason Lutes' Berlin!
RSVP here: https://us02web.zoom.us/.../reg.../WN_N6ENZYbvSVeKEzpDigO1jQ
Where and How Can I purchase the books? Why our webstore of course... We've got signed copies & we ship Canada-wide!
http://mtl.drawnandquarterly.com/posts/webstore-faq
By purchasing your book at Librairie Drawn & Quarterly you help support events like this one, independent publishing and retailing, our neighborhood, and authors both local and from around the world who depend on independent bookstores for their livelihood. Your support is appreciated.
️
️
️
THE CONTRADICTIONS
Sophie is young and queer and into feminist theory. She decides to study abroad, choosing Paris for no firm reason beyond liking French comics. Feeling a bit lonely and out of place, she's desperate for community and a sense of belonging. She stumbles into what/who she's looking for when she meets Zena. An anarchist student-activist committed to veganism and shoplifting, Zena offers Sophie a whole new political ideology that feels electric. Enamored—of Zena, of the idea of living more righteously—Sophie finds herself swept up in a whirlwind friendship that blows her even further from her rural California roots as they embark on a disastrous hitchhiking trip to Amsterdam and Berlin, full of couch surfing, drug tripping, and radical book fairs.Capturing that time in your life where you're meeting new people and learning about the world—when everything feels vital and urgent—The Contradictions is Sophie Yanow's fictionalized coming-of-age story. Sophie's attempts at ideological purity are challenged time and again, putting into question the plausibility of a life of dogma in a world filled with contradictions. Keenly observed, frank, and very funny, The Contradictions speaks to a specific reality while also being incredibly relatable, reminding us that we are all imperfect people in an imperfect world.
️
️
️
BERLIN
An intricate look at the fall of the Weimar Republic through the eyes of its citizens—Marthe Müller, a young woman escaping the memory of a brother killed in World War I, Kurt Severing, an idealistic journalist losing faith in the printed word as fascism and extremism take hold; the Brauns, a family torn apart by poverty and politics. Lutes weaves these characters' lives into the larger fabric of a city slowly ripping apart.The city itself is the central protagonist in this historical fiction. Lavish salons, crumbling sidewalks, dusty attics, and train stations: all these places come alive in Lutes' masterful hand. Weimar Berlin was the world's metropolis, where intellectualism, creativity, and sensuous liberal values thrived, and Lutes maps its tragic, inevitable decline. Devastatingly relevant and beautifully told, Berlin is one of the great epics of the comics medium.
️
️

Sophie Yanow is an artist and writer based in the San Francisco Bay Area. The Contradictions is her first book with Drawn & Quarterly, the webcomic of which won an Eisner Award and was nominated for the Ringo- and Harvey Awards. Yanow is also the author of What Is a Glacier? and War of Streets and Houses. Her comics have appeared in The New Yorker, The Guardian, Fusion, Los Angeles Review of Books, and The Nib. She has been a MacDowell Colony Fellow, and her translation of Dominique Goblet's Pretending Is Lying received the Scott Moncrieff prize for translation from French. Yanow has taught at the Center for Cartoon Studies, the New Hampshire Institute of Art, and the Animation Workshop in Denmark.
️
️
️
Jason Lutes was born in New Jersey in 1967. He graduated from the Rhode Island School of Design with a BFA in illustration in 1991, and in 1993 began drawing the weekly comic Jar of Fools for the Seattle newspaper The Stranger. His graphic novel Berlin has been widely hailed as a masterpiece of the medium, receiving the 2019 Vermont Book Award and appearing on more than twenty best-of lists for 2018 including The Guardian, The Washington Post, The Boston Globe, and the New York Public Library. Lutes lives in Vermont with his partner and two children, where he teaches comics at the Center for Cartoon Studies.
️
️
️
Librairie Drawn & Quarterly recognizes that our events and bookstores are located on the unceded territory of the Kanien'kehá:ka. Many of us refer to Montreal as our home, but it is named Tiohtiá:ke. This has always been a gathering place for many First Nations and continues to be home to a diverse population of Indigenous peoples. It is important to think about how each and every one of us has arrived here. We are grateful that creating and sharing stories has been a part of this land for thousands of years and we urge you to seek out a story that is different from your own.