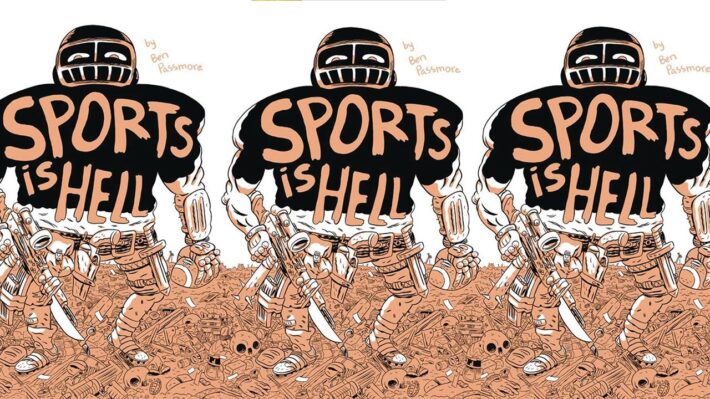 Graphic Novel Book Club: Sports Is Hell
VIRTUAL BOOKCLUB - VIA ZOOM
Join our Graphic Novel Book Club as we meet online every month to discuss contemporary Graphic Novels!
At our next meeting, Tuesday February 23rd, at 8 PM EDT, we'll discuss Sports Is Hell by Ben Passmore.
Where and How Can I purchase the book?
Find the book here: https://bit.ly/3ptxR4X
More info on our webstore here: http://mtl.drawnandquarterly.com/posts/webstore-faq
We Ship Canada-wide! By purchasing your book at Librairie Drawn & Quarterly you help support events like this one, independent publishing and retailing, our neighborhood, and authors both local and from around the world who depend on independent bookstores for their livelihood. Your support is appreciated.
SPORTS IS HELL
Some wars are for religion and some are for political belief, but this one is for football. After her city wins the Super Bowl for the first time, Tea is separated from her friend during a riot and joins a small clique fighting its way through armed groups of football fanatics to meet a star receiver that just might end the civil war or become the city's new oppressive leader.
BEN PASSMORE is a Philadelphia, PA based cartoonist and illustrator best known for his award-winning comic Your Black Friend (Silver Sprocket), which deftly tackles issues of racism, identity and alienation, and was adapted into a short animated film. His political cartooning appears in The Nib, and he is the cartoonist behind the post-apocalyptic series Daygloahole (Silver Sprocket). He will be partnering with Ezra Claytan Daniels (Upgrade Soul) to bring the body horrific BTTM FDRS (Fantagraphics).
Librairie Drawn & Quarterly recognizes that our bookstores are located on the unceded territory of the Kanien'kehá:ka. Many of us refer to Montreal as our home, but it is named Tiohtiá:ke. This has always been a gathering place for many First Nations and continues to be home to a diverse population of Indigenous peoples. It is important to think about how each and every one of us has arrived here. We are grateful that creating and sharing stories has been a part of this land for thousands of years and we urge you to seek out a story that is different from your own.
Please email events@drawnandquarterly.com if you have any questions!