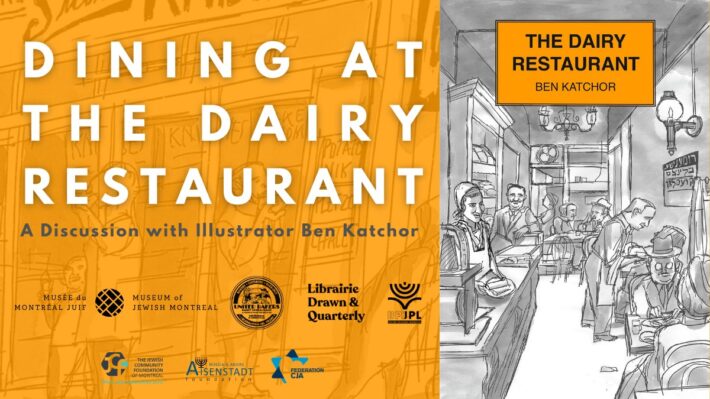 Dining at the Dairy Restaurant: A Discussion with Illustrator Ben Katchor Online Event
13 May 2021 19:45 - 20:45
Throughout the nineteenth century, dairy restaurants were among the most important culinary establishments for the Jewish diaspora across North America and Europe. They served blintzes, pastries with cheese, and other vegetarian delicacies. But they were more than just places to gather for milchig (dairy) delights. Just in time for dairy-friendly Shavuot, join us as we dive into this under-appreciated aspect of culinary history in a discussion with illustrator Ben Katchor on his acclaimed book, The Dairy Restaurant. Towards the end of the program we will also discuss dairy in Montreal and the family owners of Toronto's United Bakers Dairy Restaurant — one of the last establishments of its kind in North America, at nearly 110 years old — will join us for their perspective of this ongoing story. This event will be hosted by food historian Lara Rabinovitch.
Participants will have the opportunity to engage with our presenters in a Q&A. If you'd like to get your own copy of The Dairy Restaurant ahead of the event, you can purchase it in-store or online at Librairie Drawn & Quarterly.
Attendees will receive 15% off for in-store and curbside purchases only — just tell them the Museum of Jewish Montreal sent you!
Link to purchase online: https://mtlshop.drawnandquarterly.com/?q=h.tviewer...
This event is presented in partnership with the Jewish Public Library, Librairie Drawn & Quarterly, and United Bakers Dairy Restaurant. We thank the support of the Nussia and Andre Aisenstadt Foundation, the Jewish Community Foundation, and Federation CJA for making this event possible.
Please note that registration is required ahead of time to attend this event.
You can reserve your spot here.
You will receive a link to join the meeting ten minutes before the event is scheduled to begin.
ABOUT OUR SPEAKERS
LARA RABINOVITCH, PhD, is a writer and consultant specializing in food, restaurant culture, and immigrant history. Her work has appeared in the Los Angeles Times, Saveur, The Globe & Mail, and other media outlets. She is Co-Curator of the upcoming exhibition at the Skirball Cultural Center, "I'll Have What She's Having: The Jewish Deli".
Website: www.lararabinovitch.com
Instagram and Twitter: @laraeats
BEN KATCHOR is a Brooklyn-based cartoonist and illustrator. Ben Katchor's picture-stories have been collected in a number of books: Cheap Novelties: The Pleasures of Urban Decay; Julius Knipl, Real Estate Photographer: Stories; The Cardboard Valise; The Jew of New York; Hand-Drying in America and Other Stories and The Dairy Restaurant. He has collaborated with composer Mark Mulcahy on six musical theatre shows, most recently The Imaginary War Crimes Tribunal (2014). He was the recipient of a MacArthur Foundation Fellowship, a Guggenheim Fellowship, and a fellowship at the American Academy in Berlin. He is an Associate Professor at Parsons, The New School in New York City.
Website: www.katchor.com
Twitter: @benkatchor
Instagram: @bkatchor
UNITED BAKERS DAIRY RESTAURANT is the oldest and last surviving dairy restaurant in Toronto. Founded in 1912 by the Ladovsky family, United Bakers continues to serve delicious homemade treats and meals to its diverse community of customers. UB has undoubtedly become a culinary landmark in Canada's largest city.
Website: www.unitedbakers.ca
Instagram: @unitedbakers