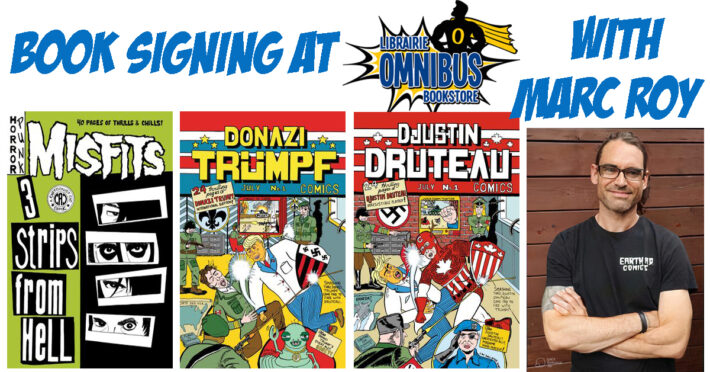 Book signing with Marc (Cac) Roy from Earth A.D comics
20 August 2022 12:00 - 17:00
Librairie Omnibus
625 Saint-Catherine St W, Montreal, QC H3B 1B8
Get your copy signed of the
Misfits : 3 Strips From Hell and Donazi Trümpf signed and meet author & cartoonist Marc (Cac) Roy
(copies available in-store)
Misfits : 3 Strips From Hell was nominated for a Bedelys award in 2022,
About the;
The Misfits : 3 Strips From Hell is a humor/horror anthology, 3 ghoulish tales loosely inspired by classic Misfits songs! SCREAM of fright with Little Glenn in pure Archie Comics style humor in "Halloween"! SEE Glenn and Bobby Steele reunited again on stage in "Vampira"! TAKE A RIDE on a casting call with Hollywood Glenn in "Hollywood Babylon"! 40 pages of thrills and chills from Earth A.D. Comics!
Donazi Trümpf :
Six years after being elected president, Donazi Trümpf now rules the USA with an iron fist. By adopting extreme right-wing policies, the Trümpf administration has gradually sent all ethnic and religious minorities in forced-labor camps to help fuel the president's expansionist wars against Mexico and Canada. Surviving a devastating air strike on his nation's capital, Canada's PM Djustin Druteau fled east across the Canadian border, seeking the assistance of The Republic of Quebec. Upset by the US Air Force's botched raid on his sworn enemy, President Trümpf has vowed to personally lead the hunt for Druteau in the Great White North.