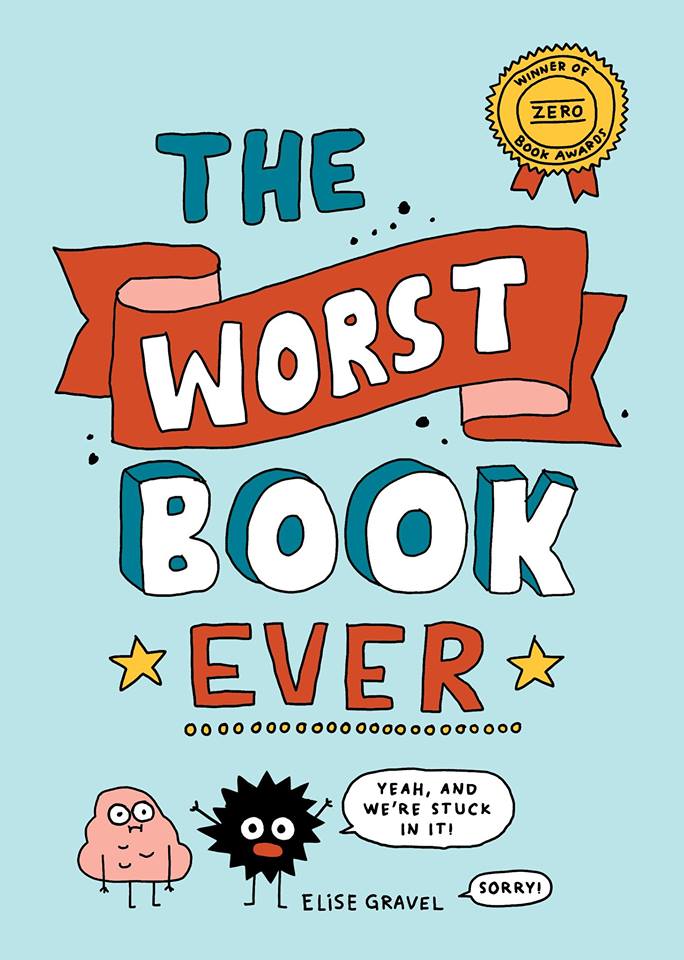 Elise Gravel launches The Worst Book Ever
2 June 2019 13:00 - 15:00
La petite librairie Drawn & Quarterly
176 Rue Bernard O, Montréal, QC H2T 2K2
Join best-selling author Elise Gravel at La Petite Librairie Drawn & Quarterly for the launch of The Worst Book Ever, a truly wonderful but terrible new release featuring tired tropes, cliches, and enough spelling errors for a spelling error treasure hunt! We will be celebrating this book by serving veggie hot dogs for all, so please bring your families.
ABOUT THE AUTHOR:
Elise Gravel is an author illustrator from Montreal, Quebec. After studying Graphic Design, Gravel pursued a career writing and illustrating children's books, where her quirky and charming characters quickly won the hearts of children and adults worldwide. In 2012, Gravel received the Governor General's Literary Award for her book La clé à molette. A prolific artist, she currently has over thirty children's books to her name, which have been translated into a dozen languages, including The Disgusting Critters series, and If Found…Please Return to Elise Gravel, her challenge to young artists to keep a sketchbook. Elise Gravel lives in Montreal with her spouse, two daughters, cats, and a few spiders.
〰️〰️〰️
Librairie Drawn & Quarterly recognizes that our events and bookstores are located on the unceded territory of the Kanien'kehá:ka. Many of us refer to Montreal as our home, but it is named Tiohtiá:ke. This has always been a gathering place for many First Nations and continues to be home to a diverse population of Indigenous peoples. It is important to think about how each and every one of us has arrived here. We are grateful that creating and sharing stories has been a part of this land for thousands of years and we urge you to seek out a story that is different from your own.
〰️〰️〰️
La Petite Drawn and Quarterly Accessibility information:
- Our event space uses StopGap.ca ramps in an effort to encourage accessibility. Both the step at the entrance, followed by a half step and a door have StopGap ramps. The door opens inward and is not automated. Once inside, there are no additional steps.
- It is not a sober space, our events sometimes offer alcohol.
♥ Please email events@drawnandquarterly.com if you have any accessibility needs we can accommodate (for example, saving you a seat if you have mobility needs) for you to be able to enjoy our events, worry-free, and feel free to contact us for any concerns you may have ♥