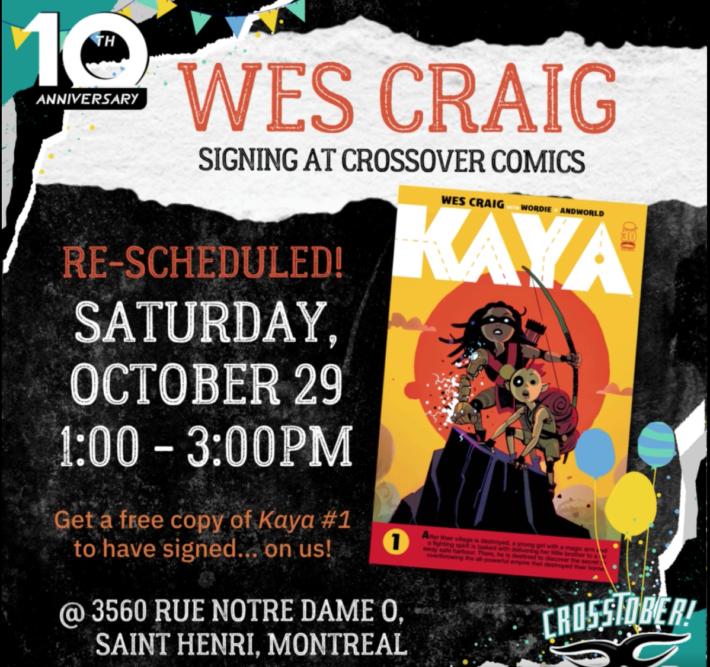 Crossovers Comics 10th Anniversary – Wes Craig Signing
29 October 2022 13:00 - 15:00
Crossover Comics
3560 rue Notre-Dame Ouest Montréal, QC H4C 1P4
514-284-7373
On October 29, Crossover Comics will be hosting local comics hero Wes Craig for an epic signing. Celebrating not only our 10 years of existence, but also the release of Kaya #1, it is only apt that we give away FREE COMICS! Yes, you are reading right: along with the rest of your Wes Craig library, show up to the signing and we will gift you each a complimentary issue of Kaya #1 for him to sign, FOR YOU!
Drop in at 1am to 3pm to celebrate with us and Wes Craig! If you are a comics aficionado and saint who already had Kaya #1 pre-ordered or on your pull list and got it on October 5th at release, we will credit you at the signing.
Kaya is the story of siblings surviving in a world of monsters and mutants. After the destruction of their village, a young girl with a magic arm and a fighting spirit is tasked with delivering her little brother to a faraway safe haven. There, he's destined to discover the secret to overthrowing the all-powerful empire that destroyed their home.