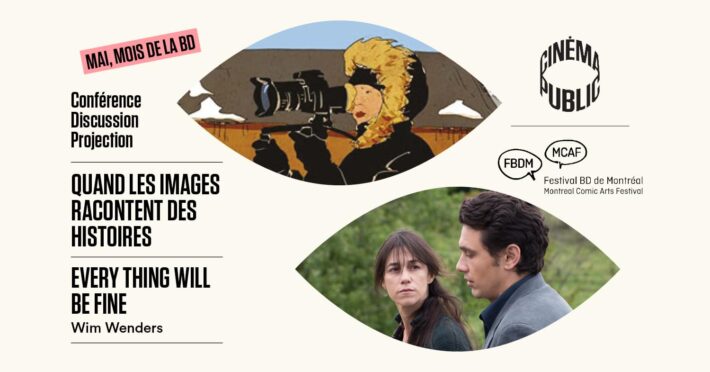 [FR] Conférence, discussion, projection: Quand les images racontent des histoires
- - - - - - - - - - - - - - - - - - - -
Quand les images racontent des histoires
Dans le cadre de Mai, mois de la BD, en partenariat avec le Festival BD de Montréal, le Cinéma public vous convie à un programme double où le 7e et le 9e art sont à l'honneur !
En 2014, Stéphane Lemardelé dessine le storyboard du film Every Thing Will Be Fine du célèbre réalisateur Wim Wenders. Il tirera de cette expérience une bande dessinée, Le storyboard de Wim Wenders (La boîte à bulles, 2022) qui relate son expérience de tournage et la création propre aux différents médiums. Le bédéiste vous plongera dans son approche de la narration par les images, autant en BD qu'en cinéma.
La conférence gratuite sera suivie d'une projection payante de Every Thing Will Be Fine, toujours en présence de Stéphane Lemardelé.
- - - - - - - - - - - - - - - - - - - -
Every Thing Will Be Fine
Wim Wenders / 2015 / Allemagne, Canada, Suède / 119 min / anglais avec sous-titres français
Après une dispute avec sa compagne, Tomas, un jeune écrivain en mal d'inspiration, conduit sa voiture sans but sur une route enneigée. En raison de l'épaisse couche de neige et du manque de visibilité, Tomas percute mortellement un jeune garçon qui traversait la route. Après plusieurs années, et alors que ses relations volent en éclats et que tout semble perdu, Tomas trouve un chemin inattendu vers la rédemption : sa tragédie se transforme en succès littéraire. Mais au moment où il pensait avoir passé ce terrible événement, Tomas apprend à ses dépens que certaines personnes n'en ont pas fini avec lui...