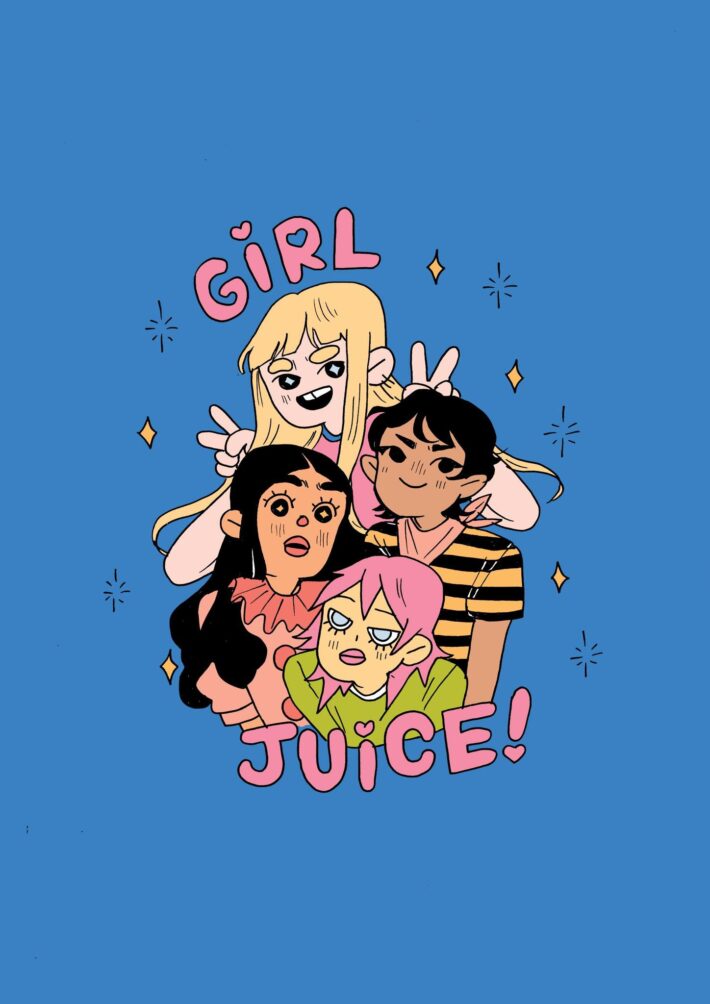 Benji Nate launches Girl Juice in conversation with Arizona O'Neill
Librairie Drawn & Quarterly
211 Rue Bernard O, Montréal, QC H2T 2K5
Join Benji Nate in conversation with Arizona O'Neill for the launch of her latest graphic novel, Girl Juice. The event will take place at La Petite Librairie Drawn & Quarterly at 176 rue Bernard O at 7 pm on Monday, May 1st, and will feature a reading, a conversation, Q&A and signing.
The event is free and open to all. Books will be available for purchase at the event and both authors will sign copies of their books.
Please note that we are asking all guests to wear masks at this event. Masks will be available free of charge upon entry.
////////////////////////////////////////////////////////
A hilarious slice of twentysomething life in the twenty-first century
Welcome to the Girl Juice House, home of the hottest gang in town. Benji Nate's stylish and rambunctious sense of humor lovingly takes digs at the young and tragically hip–reserved and introspective Nana, comically hypersexual Bunny, fledgling U-tuber Tula, and Designated Mom™ Sadie–as they navigate life, love, and the pursuit of a good time.
Girl Juice flaunts the gloriously messy and hilariously self-indulgent day-to-day hijinks of four young women doing the most. Watch them bicker over making rent and come up with creative solutions for getting there! Cringe as they attend an adult prom! Split your sides as they try their hand at camping! Cower as they confront their mommy issues, and cheer as they battle inner demons that feed off attention-seeking behavior!
Nate's colorful attention to detail and gift balancing for graphic hyperbole with subtle comedy are a deep, much-needed breath of fresh air. With front-facing cameras ever at the ready, Girl Juice is a snappy reminder that the time of your life is always just a text away.
////////////////////////////////////////////////////////
Benji Nate is a Puerto Rico-born cartoonist whose works include Lorna, Catboy, and Hell Phone. Her webcomic Girl Juice was shortlisted for the 2022 Cartoonist Studio Prize. She is currently hiding out in the Ozarks with her husband, three cats, and dog.
////////////////////////////////////////////////////////
Arizona O'Neill is a multidisciplinary artist from Montreal, known for her directing and illustration work. She is very active in the Montreal art scene and has had her video productions shown on the web, in galleries, on the CBC, in flats and on the street. Her painted illustrations grace the window of the Mile End bookstore Drawn & Quarterly on a monthly basis. She has created original music videos in collaboration with artists such as Walter Scott, Laurence Philomène and Patrick Watson, and has been the literary director for two collectives.
////////////////////////////////////////////////////////
Librairie Drawn & Quarterly would like to acknowledge that our events and bookstores are located on the unceded territory of the Kanien'kehá:ka. Many of us refer to Montreal as our home, but it is named Tiohtiá:ke. It has always been a gathering place for many First Nations and continues to be home to a diverse population of Indigenous peoples. We are grateful that creating and sharing stories has been a part of this land for thousands of years.
//////////////////////////////////////////////////////
La Petite Drawn and Quarterly Accessibility information:
- We encourage the wearing of masks at our events.
- Our event space uses StopGap.ca ramps in an effort to encourage accessibility. Both the step at the entrance, followed by a half step and a door have StopGap ramps. The door opens inward and is not automated. Once inside, there are no additional steps.
- It is not a sober space, our events sometimes offer alcohol.
Please email events@drawnandquarterly.com if you have any questions!