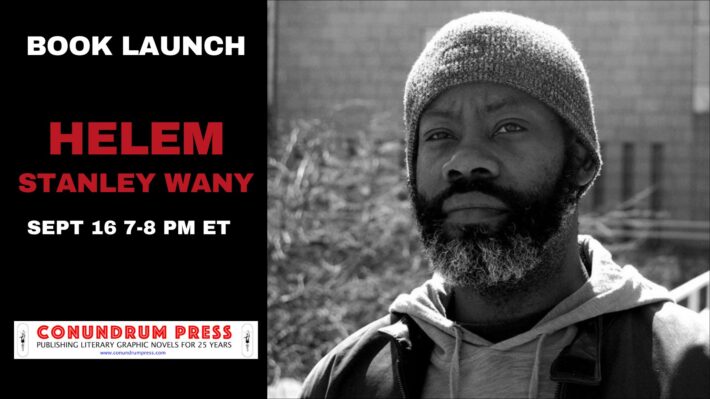 [EN] Virtual Graphic Novel Launch: HELEM by Stanley Wany
16 septembre 2021 18:00 - 19:00
Join us on Thursday, September 16th from 7:00-8:00 p.m. ET to celebrate the launch of Stanley Wany's new graphic novel, HELEM.
The event will feature a presentation by Stanley Wany, who will be joined in conversation by Australian artist, writer and cartoonist Jonathan McBurnie.
Listed as one of CBC Books' 21 Canadian Comics to Watch for in Fall 2021, HELEM is a surrealist journey through alienation, lost dreams, and self-redemption. The nearly wordless stories contained in HELEM delve deep into the internal lives of their characters. HELEM, created while Wany was in a hallucinatory state brought on by a severe lack of sleep, also provides an intimate look into his own personal dreamscape.
This event will be live-streamed on Zoom. Watch this space—a link will be shared a few hours before the event.
-----------
ABOUT STANLEY WANY
Originally from Montreal, Stanley Wany is an Afro-Canadian artist based in Canada's national capital region whose practice includes graphic novels, pen and ink drawings, and paintings.Agalma, his first graphic novel, was nominated for a Doug Wright Award, highlighting the best experimental comics at the Toronto Comics and Arts Festival in 2016. As an author, Wany has participated as a guest and panelist in festivals in Canada, France, Finland, Portugal and the United States. In 2018, he completed an artist residency at the Arteles Centre, west of Tampere in Finland, and over the years he has been the recipient of several travel and creation grants from the Canada Council for the Arts and the Conseil des arts et des lettres du Québec.
ABOUT JONATHAN MCBURNIE
Jonathan McBurnie is an artist, writer and cartoonist based in Queensland, Australia and completed a PhD at the University of Sydney in 2014, charted the shifting role of drawing in the digital age. Jonathan is a frequent exhibitor, zine maker and an occasional curator.He is presently winding up a lengthy stint as Creative Director of Perc Tucker Regional Gallery and Pinnacles Gallery, finalizing exhibitions with such exciting and iconoclastic contemporary cartoonists as Ed Luce and Lale Westvind, as well as a 90-artist risograph exhibition, for 2022. His most recent graphic novel, FLOODLAND, was published by Argle Bargle books in 2021, and he is currently, as well as co-writing a book on comics and literary theory for Rutger's University Press, NY.