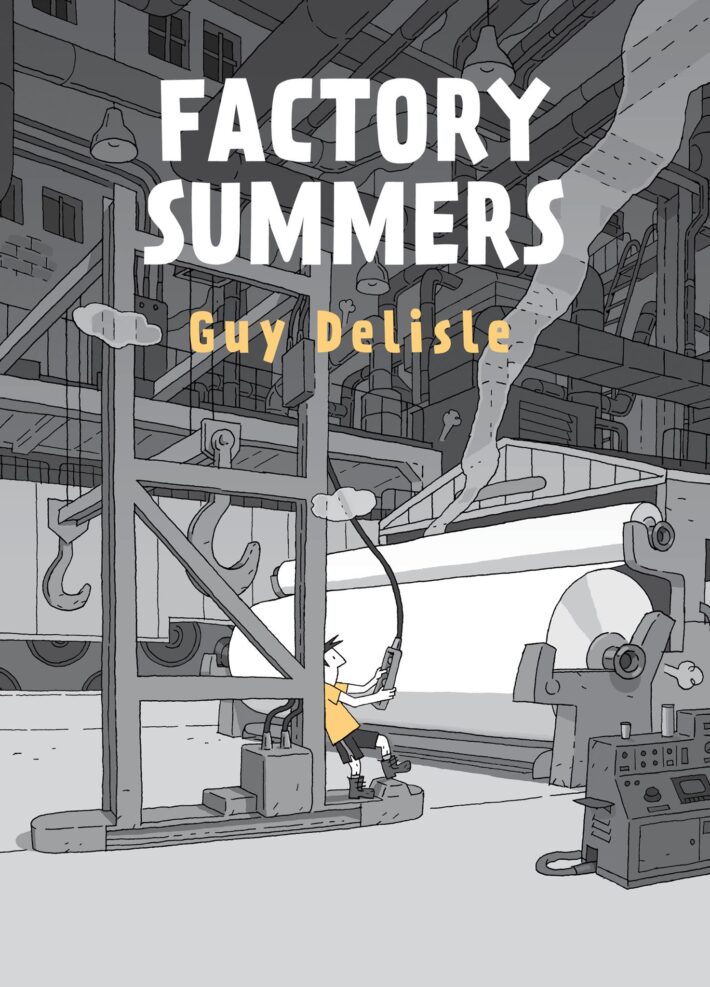 [EN] Graphic Novel Book Club: Factory Summers
VIRTUAL BOOKCLUB - VIA ZOOM https://us02web.zoom.us/j/81691302305
Meeting ID: 816 9130 2305
Passcode: 972879
Join our Graphic Novel Book Club as we meet online Tuesday, November 30th, at 8 PM to discuss Factory Summers by Guy Delisle, translated by Helge Dascher and Rob Aspinall.
This event is co-presented by the French Embassy in Canada.
Where and How Can I purchase the book?
Find the book here: https://bit.ly/3AAsu9z
More info on our webstore here: http://mtl.drawnandquarterly.com/posts/webstore-faq
We Ship Canada-wide!
By purchasing your book at Librairie Drawn & Quarterly you help support events like this one, independent publishing and retailing, our neighborhood, and authors both local and from around the world who depend on independent bookstores for their livelihood. Your support is appreciated.
///////////////////////////////////////////
FACTORY SUMMERS
For three summers beginning when he was 16, cartoonist Guy Delisle worked at a pulp and paper factory in Quebec City. Factory Summers chronicles the daily rhythms of life in the mill, and the twelve hour shifts he spent in a hot, noisy building filled with arcane machinery. Delisle takes his noted outsider perspective and applies it domestically, this time as a boy amongst men through the universal rite of passage of the summer job. Even as a teenager, Delisle's keen eye for hypocrisy highlights the tensions of class and the rampant sexism an all-male workplace permits.Guy works the floor doing physically strenuous tasks. He is one of the few young people on site, and furthermore gets the job through his father's connections, a fact which rightfully earns him disdain from the lifers. Guy's dad spends his whole career in the white collar offices, working 9 to 5 instead of the rigorous 12-hour shifts of the unionized labor. Guy and his dad aren't close, and Factory Summers leaves Delisle reconciling whether the job led to his dad's aloofness and unhappiness.On his days off, Guy finds refuge in art, a world far beyond the factory floor. Delisle shows himself rediscovering comics at the public library, and preparing for animation school–only to be told on the first day, "There are no jobs in animation." Eager to pursue a job he enjoys, Guy throws caution to the wind.
///////////////////////////////////////////
GUY DELISLE was born in Québec City, Canada, in 1966, and now lives in the south of France with his wife and two children. Delisle spent ten years working in animation, which allowed him to learn about movement and drawing. He is best known for his travelogues about life in faraway countries, Burma Chronicles, Jerusalem: Chronicles from the Holy City, Pyongyang, and Shenzhen.In 2012, Guy Delisle was awarded the Prize for Best Album for the French edition of Jerusalem at the Angoulême International Comics Festival.
///////////////////////////////////////////
Librairie Drawn & Quarterly recognizes that our bookstores are located on the unceded territory of the Kanien'kehá:ka. Many of us refer to Montreal as our home, but it is named Tiohtiá:ke. This has always been a gathering place for many First Nations and continues to be home to a diverse population of Indigenous peoples. It is important to think about how each and every one of us has arrived here. We are grateful that creating and sharing stories has been a part of this land for thousands of years and we urge you to seek out a story that is different from your own.
/////////////////////////////////////////
Please email events@drawnandquarterly.com if you have any questions!