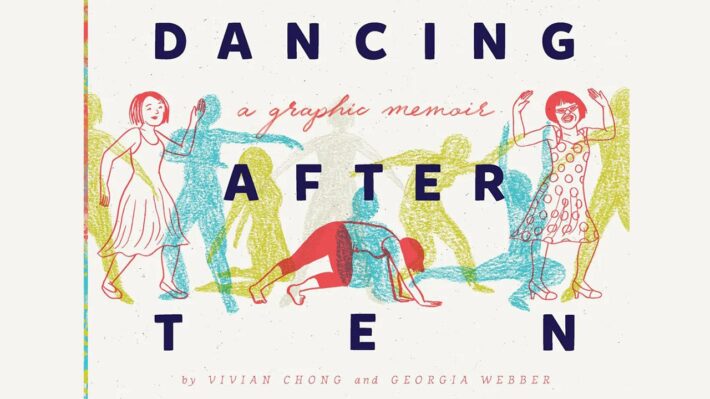 [EN] Graphic Novel Book Club: Dancing After TEN
VIRTUAL BOOKCLUB - VIA ZOOM
Meeting ID: 859 8951 0618
Passcode: 515906
Join our Graphic Novel Book Club as we meet online every month to discuss contemporary Graphic Novels!
At our next meeting, Thursday March 18th, at 8 PM ET, we'll discuss Dancing After TEN by Vivian Chong and Georgia Webber.
Where and How Can I purchase the book?
Find the book here: bit.ly/2ZpdEBM
More info on our webstore here:
http://mtl.drawnandquarterly.com/posts/webstore-faq
We Ship Canada-wide!
By purchasing your book at Librairie Drawn & Quarterly you help support events like this one, independent publishing and retailing, our neighborhood, and authors both local and from around the world who depend on independent bookstores for their livelihood. Your support is appreciated.
///////////////////////////////////////////
DANCING AFTER TEN
A graphic biography about a woman who lives a vital and fulfilling artistic life after a rare disease left her blind.
In late 2004, Vivian Chong's life was changed forever when a rare skin disease, TEN (Toxic Epidermal Necrolysis), left her with scar tissue that would eventually blind her. As she was losing her sight, she put down as many drawings on paper as she could to document the experience. In Dancing After TEN, Chong teams up with cartoonist Georgia Webber — whose graphic autobiography, Dumb, chronicled her own disability — to trace her journey out of the darkness and into the spotlight. Chong now expresses her art through singing, stand-up, drumming, running, and dancing. This graphic novel is an inspirational tale and a powerful work of graphic medicine.
///////////////////////////////////////////
GEORGIA WEBBER is a comics artist, writer, and editor living in southern Ontario. She is entirely occupied by the intersection of health and art, making music, comics, and facilitating health workshops from this point of fascination.Georgia is best known for her debut graphic memoir, Dumb: Living Without a Voice (Fantagraphics 2018), the chronicle of her severe vocal injury and sustained vocal condition which causes her pain from using her voice. This difficult experience lead her to work as a Cranial Sacral Therapist, a meditation facilitator, and as an improvising musician, blending elements of healthcare, body awareness and creative expression within constraints. She has extended her love of the voice into the community with a project called MAW Vocal Arts. MAW hosts a vocal arts showcase event every few months in Toronto, Ontario, as well as a regular online practice sessions called Breathing Music where people can explore breath through deep listening, movement, meditation and sounding practices.
/////////////////////////////////////////
Librairie Drawn & Quarterly recognizes that our bookstores are located on the unceded territory of the Kanien'kehá:ka. Many of us refer to Montreal as our home, but it is named Tiohtiá:ke. This has always been a gathering place for many First Nations and continues to be home to a diverse population of Indigenous peoples. It is important to think about how each and every one of us has arrived here. We are grateful that creating and sharing stories has been a part of this land for thousands of years and we urge you to seek out a story that is different from your own.
/////////////////////////////////////////
Please email events@drawnandquarterly.com if you have any questions!