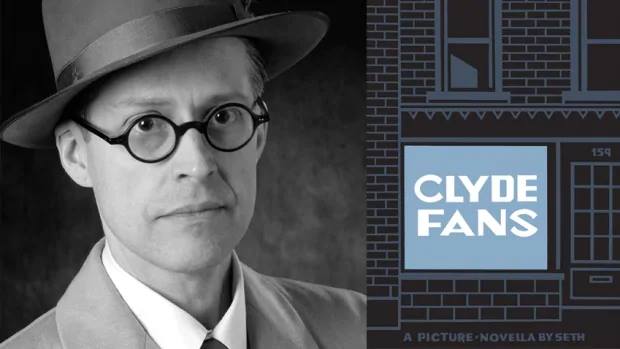 [ENG] Seth Launches Clyde Fans
23 mai 2019 19:00 - 23:00
Join acclaimed cartoonist Seth for a discussion and book signing to launch Clyde Fans, his highly-anticipated masterpiece.
Clyde Fans follows Abe and Simon Matchcard, two brothers whose lives are defined by their doomed family business, selling oscillating fans in a world switching to air conditioning. Seth's incisive storytelling and gorgeous urban landscapes are showcased in this epic yet intimate time capsule of the mid-century capitalist dream.
ABOUT THE AUTHOR:
Seth is a cartoonist, illustrator, and book designer. He has published a dozen graphic novels with Drawn & Quarterly, including George Sprott, It's A Good Life, If You Don't Weaken, and Wimbledon Green. His comics have also appeared in the New York Times Magazine, Best American Comics, and McSweeneys Quarterly. His illustrations have appeared in numerous publications including on the cover of the New Yorker. He is Lemony Snicket's partner for the series All the Wrong Questions.
In 2014 he was the subject of a National Film Board documentary entitled Seth's Dominion. Seth lives in Guelph, Canada, with his wife Tania and two cats in a house he has named Inkwell's End.
〰️〰️〰️
Librairie Drawn & Quarterly recognizes that our events and bookstores are located on the unceded territory of the Kanien'kehá:ka. Many of us refer to Montreal as our home, but it is named Tiohtiá:ke. This has always been a gathering place for many First Nations and continues to be home to a diverse population of Indigenous peoples. It is important to think about how each and every one of us has arrived here. We are grateful that creating and sharing stories has been a part of this land for thousands of years and we urge you to seek out a story that is different from your own.
〰️〰️〰️
♥ Please email events@drawnandquarterly.com if you have any accessibility needs we can accommodate (for example, saving you a seat if you have mobility needs) for you to be able to enjoy our events, worry-free, and feel free to contact us for any concerns you may have ♥