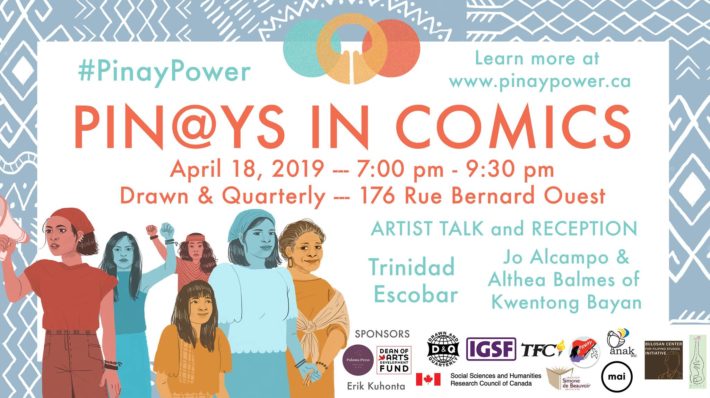 [ENG] Pinay Power II: Pinays in Comics
18 avril 2019 19:00 - 21:00
Librairie Drawn & Quarterly
211 Rue Bernard O, Montréal, QC H2T 2K5
Join us for Pinays in Comics reading with Filipina and Fillipinx artists Trinidad Escobar and Jo Alcampo and Althea Balmes of Kwentong Bayan as part of the Pinay Power II conference.
About the artists:
Kwentong Bayan Collective (KBC) is the artist duo, ALTHEA BALMES and JO SIMALAYA ALCAMPO. They make komiks/comics, facilitate community arts activities, and have exhibited their multidisciplinary artwork across Canada, the US, and just returned from launching their first international group exhibition in Paris, France. KBC is published in the anthology, Drawn to Change: Graphic Histories of Working Class Struggle, edited by the Graphic History Collective. It was awarded the 2017 Canadian Historical Association Public History Prize, and the 2017 Wilson Book Prize for making Canadian history accessible to transnational audiences. Their artistic mandate is to explore a critical and intersectional approach to community-based art, labour, and education. Kwentong Bayan's work is part of Philippine Arts and Social Sciences, Ontario Curriculum for student in grades 6 to 8. The curriculum provides culturally-relevant materials to Filipino students, who so rarely see themselves in mainstream historical narratives and representations.
TRINIDAD ESCOBAR is an author, poet, and cartoonist active in the San Francisco Bay Area. She is also an adjunct professor at California College of the Arts. Her work has been published in The Nib, The Brooklyn Review, Walang Hiya, Mythium, and other publications. Her graphic memoir Crushed was self-published in 2018. Her forthcoming graphic novel Of Sea and Venom will be published by Farrar, Straus and Giroux.For her Graphic Novel/Comic Community Talk, Trinidad will discuss the genesis of Crushed and how it interweaves her personal story of transnational adoption, mental illness, recovery and decolonization. She will also speak about decolonizing comics and indigenous talk story.
For other events at the Pinay Power II conference, check out the website: https://pinaypower2.wordpress.com/